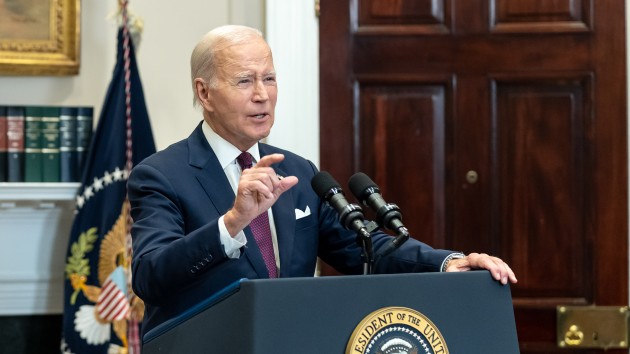 (WASHINGTON) — President Joe Biden said Wednesday night he believes there should be a "pause" in the Israel-Gaza conflict to get the hostages out after he was interrupted by a heckler at a campaign fundraiser, according to a pool report from the event.
"I think we need a pause," Biden told the heckler, who had interrupted a speech to call for a cease-fire in the conflict.
The heckler asked what Biden meant by his comment and the president replied, "A pause means give time to get the [hostages] out. Give time."
"I'm the guy that convinced Bibi to call for a cease-fire to let the [hostages] out. I'm the guy that talked to Sisi to convince him to open the door," Biden said of Israeli Prime Minister Benjamin Netanyahu and Egyptian President Abdel Fattah El-Sisi, the latter remark seemingly a reference to the Rafah crossing between Egypt and Gaza.
Biden's comment Wednesday night is different from the position the White House has pushed since the conflict began: That they would not tell Israel how to respond to Hamas' deadly terror attack.
"The fact of the matter is that Hamas is a terrorist organization — a flat-out terrorist organization," Biden said Wednesday evening.
A White House official told ABC News Wednesday evening that Biden did not misspeak when he said that he convinced Netanyahu to call for a "cease-fire." The official suggested the president was talking about the temporary pause to free the two American hostages last month, arguing that the term has multiple meanings and that it could be interchangeable with "humanitarian pause."
The U.S. had called for a humanitarian pause in recent days to get aid to civilians stuck in Gaza.
"In a tactical sense, as Secretary [of State Antony] Blinken said, we do think that there should be consideration made right now for humanitarian pauses," White House national security spokesperson John Kirby told ABC News last week.
"These are localized, temporary specific pauses on the battlefield so that humanitarian assistance can get in to … people that need it or … people can get out of that area in relative safety. That's what a humanitarian pause is, and we think it's an idea worth exploring," Kirby added.
Copyright © 2023, ABC Audio. All rights reserved.