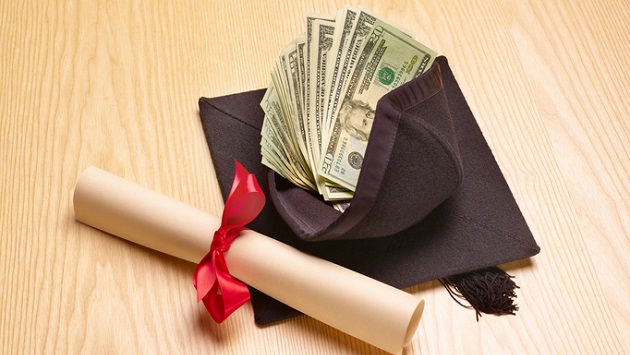 (WASHINGTON) — The government's unprecedented three-year pause on federal student loan payments officially ends this Sunday, Oct. 1, when roughly 28 million borrowers will once again be on the hook for their loans.
The restart to payments comes after eight extensions of the pandemic-era pause, beginning during former President Donald Trump's administration. The end to the pause was finally set in stone after the Biden administration's attempt at broader debt cancellation was thwarted by the Supreme Court in June.
Throughout the twists and turns, many borrowers have been left confused about the status of their loans and how policy changes could impact them.
Here's what borrowers need to know.
Find out how much you owe and when you owe it
Not all borrowers' bills will be due on Oct. 1 — you can find your specific payment date through your loan servicer, a private company that handles federal government loans. The bill due date could be at any point throughout the month.
The Department of Education encourages borrowers to log into their Federal Student Aid portals and check who their servicer is, then log onto their servicer portals.
Many Americans were moved to a new servicer during the pause and payment amounts could be different than they were three years ago.
Payment amounts could also be different because of loan servicer mistakes, which have been well-documented by debt relief advocacy groups. The groups have also reported long hold times for customer service representatives, or multiple different answers to the same question.
In particular, advocacy groups and the Consumer Financial Protection Bureau have shared concerns that servicers aren't providing adequate information on the Biden administration's newest repayment plan, called the SAVE Plan, which the administration calls the most affordable plan for the majority of Americans.
What is the SAVE Plan?
Under the new plan, the lowest-income borrowers would see their payments fall by about $0.83 per each dollar they owe, the Department of Education estimates, and people making below minimum wage wouldn't be required to make monthly payments at all.
The changes would also stop unpaid monthly interest from accruing and allow debts to be forgiven sooner, between 10 and 20 years after the loans were taken out.
But not everyone will see clear benefits from the new plan, so it's important to run the numbers before enrolling.
One option to do that: the Office of Federal Student Aid has a loan simulator for comparing different repayment plans.
What if the government shuts down?
In a messy twist of fate, a government shutdown could coincide exactly with the student loan restart. But even if the government doesn't have the money to stay open, borrowers will still need to pay up.
The government shutdown won't delay the student loan payment restart, government officials say.
It could make the process bumpier, though, by halting government coordination with loan servicers that provide them guidance on how to answer borrowers' questions or implement the new policies the Biden administration has rolled out, like the SAVE plan.
The borrower experience would likely get more muddled the longer a shutdown lasts.
"If it is a prolonged shutdown lasting more than a few weeks, it could substantially disrupt the return to repayment effort and long-term servicing support for borrows," White House Press Secretary Karine Jean-Pierre said in a briefing on Sept. 25.
The government also provides oversight of the student loan servicers, making sure servicers accurately bill borrowers the right amount or pass along the right information about new, lower payment options — two issues that advocates say borrowers are already running into, even without a shutdown getting in the way.
"I think even less oversight will be very harmful for borrowers as payments come due," said Persis Yu, deputy executive director at the Student Borrower Protection Center, an advocacy group for student debt relief.
What happens if I miss a payment?
For the next year, the Department of Education has created a temporary, yearlong on-ramp period through Sept. 30, 2024, during which borrowers won't be reported for missing payments.
According to the department, that will prevent the "worst consequences" of missed, late or partial payments.
However, interest will still continue to add up during the yearlong on-ramp period, meaning borrowers will see their balances grow whether they make the payments or not.
And the Department cannot ensure that credit scoring companies don't pull information on whether someone is making their payments, which could impact whether people qualify for credit cards or loans tied to their credit scores.
Could my loans still get cancelled?
There's still hope, but the details remain sparse as a rulemaking process plays out for the next few months.
President Joe Biden's initial plan was derailed by the Supreme Court — an attempt to grant between $10,000 and $20,000 of relief to 43 million Americans.
In the wake of that political defeat, Biden announced another attempt at debt relief through the Higher Education Act of 1965.
And on Friday, the Biden administration announced it's putting together a committee to discuss different ways to design the policy — a sign to borrowers that they haven't given up on debt relief, even as bills come due again.
The Department of Education specifically asked the committee to consider how to help people who, for example, are drowning in interest and owe more than they initially took out because of the accrual, or people who have been paying their loans for decades.
Some experts say the relief will need to be narrower than the previous attempt to have a better chance at holding up in the courts, but advocates are still pushing for broad cancellation.
ABC News' Karen Travers contributed to this report.
Copyright © 2023, ABC Audio. All rights reserved.