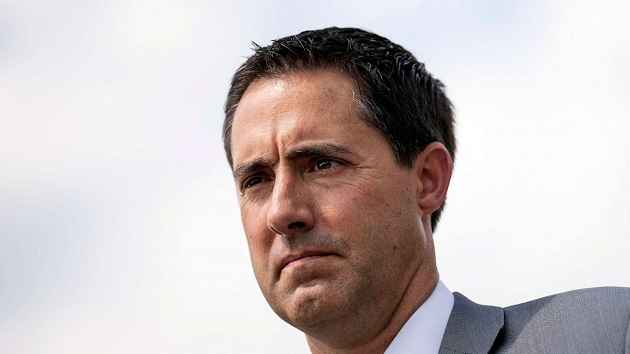 (SANDUSKY, Ohio) — Ohio Secretary of State Frank LaRose put Ohio's Issue 1, a measure that could have ultimately hindered statewide attempts at protecting abortion access, at the center of his recently announced campaign for Senate.
But now, after voters defeated the Republican-backed ballot measure, LaRose is left searching for a new campaign message.
LaRose said he had "left it all on the field" campaigning in support of the ballot measure over the past eight months, including the past three weeks, when he was also canvassing for his U.S. Senate bid. Then, Ohioans voted "no" on Issue 1.
The referendum's 14-point loss Tuesday sent Republicans not only scrambling to address a drumbeat of losses after last year's overruling of Roe v. Wade, but also speculating over the lifespan of LaRose's nascent Senate campaign.
"I think the issue for LaRose is, what is the thing that would reinvigorate his campaign? Because Issue 1 was supposed to be the thing," said David Niven, a political scientist at the University of Cincinnati. "I don't want to call the crash cart in, but what's the thing that's gonna make this a healthy campaign? It's hard to see what that would be right now."
LaRose's Issue 1 campaign work could have been an attempt to win over a voter like Nancy McKeen from Sandusky, who, after LaRose's stop at Berardi's Catering in Sandusky, told ABC News she was poised to vote for LaRose's opponent Bernie Moreno, but was swayed by LaRose's stump speech defending the ballot measure.
"I've made a choice because I think he's more in tune," McKeen said after LaRose's Sandusky stop.
"I liked – I loved everything [LaRose] said. He did a good job," she said.
The GOP-led Issue 1, which would have raised the threshold for a ballot initiative amending the state constitution from over 50% to 60%, went down by a 57-43 margin.
The Issue 1 vote took on national significance given an Ohio referendum set for later this year over whether to add abortion protections to the state constitution — a vote that would have been subjected to the 60% threshold had Tuesday's vote succeeded.
The referendum's thorough thumping was seen across Ohio – from Butler County near Cincinnati, which Trump won by 30 points three years ago but supported the referendum by 0.6 points, to Montgomery County, where Trump lost by 2 points in 2020 but the referendum lost by 14 points Tuesday.
All three of the major GOP Senate candidates– LaRose, businessman Moreno and state Sen. Matt Dolan, all supported Issue 1. But none made it the cornerstone of their bids the way LaRose did – and now the knives are out.
"Frank LaRose is staking his entire political career on Issue 1. He's our elected Secretary of State, and he has spent the entire summer campaigning for the 'Yes' campaign at the cost of doing his job of administering this election," Ohio Democratic Party Chair Elizabeth Walters told ABC News.
"I think the really interesting thing is how Republican politicians are going to use this issue to make political games and support their own ambitions."
LaRose spun the loss as evidence of his bonafides as a fighter despite the results.
"I've said for months now that there's an assault coming on our constitution, and that hasn't changed," he said in a statement. "I'm just getting started in the fight to protect Ohio's values."
In a phone interview after the election, LaRose noted that he didn't regret fighting for a cause he called "worthwhile."
"Of course, that's the message that the Democratic Party is trying to drive because, I mean, they know that this race comes down to me vs. Sherrod Brown, and I'm the clear front-runner on the GOP primary side. And, you know, they're already focused on trying to attack me because they know I'm the one that can be sure. But here's what's clear, Ohio, recognize who will go to battle for them and stand up for their values," LaRose said.
"I don't think there's a reasonable person who could say that I didn't give a full effort to winning the Issue 1 campaign and nobody worked harder than I did. Seventy-six different events throughout the state. Tens of thousands of miles."
Missteps by LaRose?
Some Republican strategists in the state cautioned against drawing straight lines between a single-issue campaign and a Senate primary or general election that will see actual candidates debate a whole host of policies.
"I don't think Issue 1 is going to affect, because the Republican base, Republican primary voters, I think they were supportive of Issue 1," said one Ohio GOP strategist. "Any issues for Frank in the primary aren't going to be from Issue 1, it'll be from other things."
Still, other strategists and critics pointed to what they said were missteps by LaRose that contributed to Tuesday's results.
While many observers drew a connection between Issue 1 and the abortion referendum later this year, Republicans had made a concerted effort to argue Tuesday's vote was about protecting the state constitution from what they warned as a wave of special interest spending that could sway such referenda in the future.
However, at a local event in June, LaRose seemed to say the quiet part out loud, telling the crowd Issue 1 was "100% about keeping a radical pro-abortion amendment out of our constitution," jolting Republicans' messaging and shifting the debate toward an issue where Democrats have taken the offensive, even in other red states.
LaRose later clarified that his comments were spliced out of context, telling ABC News that abortion is "just one of many reasons" for his support of Issue 1.
"It's simply about protecting the Constitution from a whole lot of bad ideas," he said.
Still, the anti-Issue 1 campaign and even his primary opponent Moreno seized on the remarks.
"The one thing I would knock Frank on is that he said it's '100% about abortion,' which has screwed up the messaging. It's 100% about protecting the constitution," Moreno said in a podcast ahead of the vote.
Moreno also kicked off his Senate run amid the Issue 1 campaign, but hung his political future much less on the issue. In Cuyahoga County on the Southern edge of Cleveland on the Monday morning before the Issue 1 vote, the two-time Senate hopeful made a few mentions of Issue 1 while delivering a robust introductory speech on the stump, where he pitched himself as a savvy businessman (like Trump) who was uninterested in political ambition (unlike LaRose).
"Anytime something you say is being used by the other campaign, anytime something you say is viewed as so productive that the other side's putting it in their campaign ads, it's really, really emblematic of failure," Niven said.
Critics also went after LaRose for not investing his own money in the referendum, especially after telling NBC News he had put in "sweat equity" but that Republicans ultimately lost because of a wave of Democratic spending against Issue 1.
LaRose raised $1 million for Leadership for Ohio, an outside group that is now supportive of his Senate campaign. While he could have directly coordinated with the group before he launched his run, LaRose did not send any of that money to back up the referendum.
"He blamed the loss on Republicans getting outspent by Democrat dark-money groups, yet despite raising a million dollars into an organization to assist with his Senate run the past six months, he admitted that he didn't direct a single dollar towards passing Issue 1, despite being legally allowed too," said one GOP strategist backing a rival candidate.
LaRose told ABC News that the outside group did not invest money through the group to avoid illegal "coordination," though he did not explain why the organization didn't donate money before his Senate campaign's launch.
Fight for Senate control
The GOP setback Tuesday takes place in the broader context of Republicans' hopes of taking back the Senate next year with the help of a highly favorable map.
Ohio Sen. Sherrod Brown, along with fellow Democratic senators in West Virginia and Montana, is a top GOP target next year. Losing the chance to unseat him would mark a significant blow to flipping the chamber in Republicans' favor in 2025 — and his opponents are warning that a LaRose nomination could throw off the GOP's focus in 2024.
"Make no mistake about it, if Frank is the Republican nominee, the entire campaign against him is going to be about abortion. Is that what Republican voters, operatives and donors want?" asked the strategist working for a rival.
The Issue 1 results also could energize Democrats to boost Brown after being burned by a string of losses in the erstwhile swing state.
"This is really the first proof of life that we've seen from Ohio Democrats, Ohio progressives, since Sherrod Brown won in 2018," he said.
Brown is still undoubtedly headed for a knife fight in a state that jolted to the right during the Trump years. But for now, at least, Democrats are celebrating, in part at LaRose's expense.
"Tonight was an important victory for our state, the voters of Ohio and the principle of majority rule," Walters said in a statement. "Ohio Democrats were proud to play our part in stopping this political power grab by out-of-touch politicians at the statehouse – most notably Frank LaRose, who made himself the face of this effort and is now officially Ohio's biggest loser."
Copyright © 2023, ABC Audio. All rights reserved.