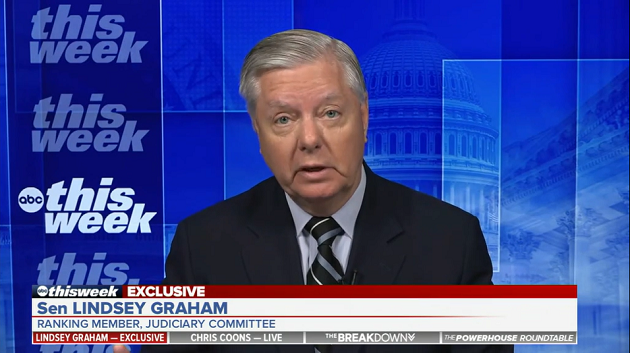 (WASHINGTON) — Sen. Lindsey Graham, one of Donald Trump's most ardent defenders on Capitol Hill, argued Sunday that in the wake of the former president's unprecedented federal indictment over how he handled government secrets, most conservatives see the case as politically motivated and Trump will emerge "stronger" in his reelection campaign.
Graham, at times testy in his back-and-forth with ABC "This Week" anchor George Stephanopoulos, was repeatedly pressed about the allegations against Trump — including, prosecutors claim in the indictment, Trump at one point being recorded discussing a sensitive record with others while acknowledging it was still classified.
"Donald Trump — you may hate his guts, but he is not a spy," Graham, R-S.C., said.
Trump has denied wrongdoing. He will be arraigned on Tuesday on 37 charges, including willful retention of national defense information and conspiracy to obstruct justice.
Graham began his fiery "This Week" interview by saying the case against Trump had parallels with that of Hillary Clinton — though a review of each investigation points to notable differences between them — and he maintained that Trump had been "overcharged" via the Espionage Act, referring to the counts of willful retention.
"Did he do things wrong? Yes, he may have. He will be tried about that. But Hillary Clinton wasn't," Graham, who has endorsed Trump for president in 2024, said of the former secretary of state and Democratic presidential candidate.
Stephanopoulos followed up, pointing to the alleged recording of Trump discussing classified government information that prosecutors cited in his indictment.
"You said that he did not disseminate any of this information. In fact, there's an audiotape in the indictment where he's talking about the secret information, saying he knows it's secret, knows it's not declassified," Stephanopoulos told Graham.
"I don't know what happened; I haven't heard the audio," Graham said. "But look at who's been charged under the Espionage Act: Julian Assange, Edward Snowden, Chelsea Manning — people who turned over classified information to news organizations … or provide it to a foreign power. That did not happen here."
Graham then again brought up Clinton.
"Senator, first of all, she was fully investigated," Stephanopoulos said, prompting a "yeah right" and "give me a break" from Graham.
"There is an audio tape of Donald Trump saying he knows this is secret information he knows he's sharing with other people. How is that OK?" Stephanopoulos followed up.
"I'm not saying it's OK," Graham said before again comparing Trump's behavior to Clinton's.
But a review of government documents from both investigations suggests there are key differences in the cases of Trump and Clinton, who used a personal email server that was later found to have been used to send or receive classified information, a scandal that cast a shadow over her entire 2016 presidential bid — and often prompted Trump to tout how much more seriously he would treat government secrets.
Around 193 emails containing classified information were sent to or from Clinton's personal email, authorities have said, while federal investigators have identified more than 322 individual documents containing classified information that were kept at Trump's Mar-a-Lago estate in Florida after he left the White House.
Prosecutors determined that the evidence and facts of Clinton's case showed "a lack of intent to communicate classified information on unclassified systems," especially since "[n]one of the emails Clinton received were properly marked to inform her of the classified status of the information," and investigators found evidence that Clinton and her aides "worded emails carefully in an attempt to 'talk around' classified information," according to a 2018 report from the Justice Department's inspector general.
However, the indictment against Trump underscored not only his alleged knowledge that he possessed classified information once he was no longer president but also how he is accused of working to conceal the records from federal authorities after they asked to retrieve them.
Then-FBI Director James Comey blasted Clinton as "extremely careless" in 2016 but prosecutors determined that the evidence and facts showed "a lack of intent to communicate classified information on unclassified systems," according to a Justice Department report.
On "This Week," Graham also sought to compare Trump keeping classified documents to what former Vice President Mike Pence and President Joe Biden did. They both kept sensitive records while out of office (in Biden's case, in his Delaware home's garage). But they cooperated with government authorities in returning them, in contrast to what prosecutors said was Trump's resistance.
The Department of Justice has told Pence they won't bring charges against him, ABC News previously reported. The investigation of Biden's handling of classified records is ongoing.
"I don't like what President Trump did in certain aspects. I don't like that Joe Biden had classified information on the garage. I don't like that Mike Pence carelessly took classified information. I don't like any of that," said Graham, who also pointed to former President Bill Clinton keeping "tapes in his sock drawer." (In the latter case, Bill Clinton designated some tapes as personal, rather than presidential, allowing him to keep them after his time in office.)
"I would like to review the system. But here's the point I'm trying to make: What's happening in Manhattan with Donald Trump has never happened to anybody in the history of New York," Graham said, referring to Trump's first indictment, in New York City, related to hush money he paid to an adult film actress. He has pleaded not guilty in that case.
"I think the espionage charges are completely wrong and I think they paint an impression that doesn't exist. This is not espionage," Graham said. "And I do believe, George, that most people on my side of the aisle believes when it comes to Donald Trump, there are no rules. And you can do the exact same thing or something similar as a Democrat and nothing happens to you."
Stephanopoulos interjected and said that experts believe if Trump had complied with the government efforts to retrieve the classified information he took, "There would be no case at all."
"Well, I don't know if that's true. He believes he has the power to do that," Graham responded.
He again pointed to other cases — Clinton, Biden's son Hunter Biden — that he said showed an unequal standard of justice. (Hunter Biden is currently under federal investigation himself and has maintained he will be cleared.)
"I think Donald Trump is stronger today politically than he was before. … We'll have an election, and we'll have a trial, but I promise you this: Most Americans believe, most Republicans believe, that the law is used as a weapon against Donald Trump," Graham said.
Stephanopoulos told him: "What I've not heard from you is the defense of Donald Trump's behavior and why you think that's the kind of behavior you want to see in a president of the United States."
"I'm not justifying his behavior. If it were up to me, nobody would take classified information in their garage or Mar-a-Lago," Graham said.
Still, he said, his view of Trump hadn't wavered.
"I think what's happening here is trying to delegitimize him," Graham said.
"It's not going to change my support for Donald Trump," he said. "He's innocent until proven guilty. But what I'm trying to convey to you, and I'm sorry I'm not doing a better job, that most Republicans believe that the law now is a political tool."
ABC News' Mike Levine contributed to this report.
Copyright © 2023, ABC Audio. All rights reserved.