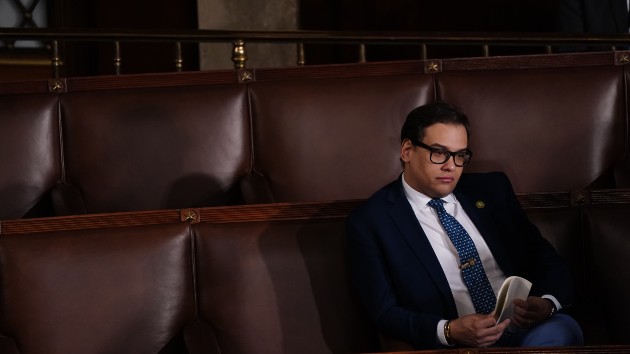 (NEW YORK) — Rep. George Santos, R-N.Y., has been indicted on 13 counts, including seven counts of wire fraud, three counts of money laundering, one count of theft of public funds, and two counts of making materially false statements to the House of Representatives, federal prosecutors in the Eastern District of New York said Wednesday.
The embattled congressman was taken into custody Wednesday morning on Long Island, New York.
Here's how the news is developing. All times Eastern:
May 10, 12:52 PM EDT
Several House Republicans reiterate calls for Santos to resign
About a dozen GOP members of the House had previously called on Santos to resign or be expelled from Congress in the face of allegations against him, and several of them are reiterating that stance today.
In a statement today, fellow New York Rep. Nicole Malliotakis, said, "The charges against Rep. Santos are extremely serious and deeply disturbing and as I've previously said, he simply doesn't have the trust of his constituents or colleagues. The sooner he leaves, the sooner his district can be represented by someone who isn't a liar and fraud."
Rep. Marc Molinaro, R-N.Y., told reporters on his way into a conference meeting this morning, "I can't wait for him to be gone."
Rep. Tony Gonzales, R-Tex., tweeted, "George Santos should be immediately expelled from Congress and a special election initiated at the soonest possible date," while Rep. Steve Womack, R-Ark., told reporters, "This has been going on now since we took the majority. Frankly, I would have hoped along the way that Mr. Santos would have done what I believed was the right thing and not force leadership to force his action, but for him to do it on his own."
The office of Rep. Max Miller, R-Ohio, says his position remains unchanged from the his Jan. 12 statement which said, in part, "I do not believe George Santos can effectively serve and should resign."
In other statements released Tuesday night by Santos' fellow New York Republicans, Rep. Nick LaLota said, "These charges bring us one step closer to never having to talk about this lying loser ever again," while Rep. Mike Lawler said, "I reiterate my call for George Santos to step down" and Rep. Anthony D'Esposito said, "As a retired NYPD Detective, I am confident the justice system will fully reveal Congressman Santos' long history of deceit, and I once again call on this serial fraudster to resign from office."
Other GOP House members from New York who have previously called for Santos to step down include Rep. Nick Langworthy and Rep. Brandon Williams.
Rep. French Hill, R-Ark., told CNN Tuesday night, "I do believe that if a member of Congress is charged with a federal crime they should resign," and Rep. Nancy Mace, R-S.C., told CNN, "We should really hold our own accountable and recruit someone who's going to be better."
-ABC News' Lauren Peller, Gabe Ferris, Katherine Faulders and Jay O'Brien
May 10, 11:16 AM EDT
House GOP leadership standing by Santos
House Republican leadership is continuing to stand by Santos following the 13-count indictment. Among the House's GOP leadership, there have been no calls today for Santos to resign.
Speaker of the House Kevin McCarthy says that Santos, "like every American," will have his "day in court."
"He will go through his time in trial and let's find out how the outcome is," McCarthy said.
The speaker said that Santos "was never put on committee, so he won't serve on committee."
Asked if money laundering, wire fraud, and lying to Congress concerns him, McCarthy responded, "It always concerns me."
House Majority Leader Steve Scalise, during a press conference this morning, said that the charges were serious — but did not call on Santos to resign.
"There's a presumption of innocence, but the charges are serious," Scalise said. "He'll have to go through the legal process."
-ABC News' Gabe Ferris, Lauren Peller and Katherine Faulders
May 10, 10:33 AM EDT
Santos misled House about finances, indictment says
In addition to being charged with defrauding campaign donors and falsely applying for unemployment benefits, the indictment alleges that Santos mislead the House of Representatives about his finances, specifically in to two financial disclosure forms he filed as a candidate.
in May 2020, during his first unsuccessful campaign, Santos overstated one source of income while failing to disclose his investment firm salary, the indictment says.
And in September 2022, while running again, Santos again included falsehoods in his financial disclosure forms, according to the indictment.
Santos lied about earning a $750,000 salary and between $1 million and $5 million in dividends from his company, the Devolder Organization, according to the indictment, and falsely claimed to have a checking account that held between $100,000 and $250,000, and a savings account with deposits of between $1 and $5 million.
"These assertions were false. Santos had not received from the Devolder Organization the reported amounts of salary or dividends," prosecutors said in the indictment.
May 10, 10:17 AM EDT
Santos to be arraigned this afternoon, could face 20 years
Santos was placed under arrest this morning and will be arraigned on the indictment this afternoon.
He was placed under arrest on a 13-count, 19-page indictment that outlines three main schemes.
If convicted on all counts, he faces up to 20 years in prison — though it's by no means certain he would serve that much time.
May 10, 10:11 AM EDT
Santos defrauded campaign donors, prosecutors say
Federal prosecutors in Central Islip, New York, accuse Santos of engaging in a "scheme to defraud" his campaign donors.
According to the indictment, Santos solicited donations for his run for office "under the false pretense" that those funds would actually be used for politics.
Instead, prosecutors said Santos spent "thousands of dollars of the solicited funds on personal expenses, including luxury designer clothing and credit card payments."
Santos is also charged with illegally receiving unemployment benefits during the pandemic even though "he was employed and was not eligible for unemployment benefits," the indictment said.
Santos is also charged with lying to the House of Representatives on his financial disclosures. Taken together, U.S. Attorney Breon Peace said. Santos relied on "repeated dishonesty and deception to ascend to the halls of Congress and enrich himself."
May 10, 9:59 AM EDT
Santos received unemployment while working: Docs
Among the accusations in the charging documents are allegations that Santos applied for unemployment benefits during the pandemic, falsely claiming to have been unemployed since March 2020, according to prosecutors.
He collected money from then until April 2021, "when Santos was working and receiving a salary on a near-continuous basis and during his unsuccessful run for Congress," referring to his first run for the job, which he lost. In total, prosecutors say he collected more than $24,000 in benefits.
He was actually being paid a $120,000 salary as regional director of an investment firm at the time, according to prosecutors.
Copyright © 2023, ABC Audio. All rights reserved.