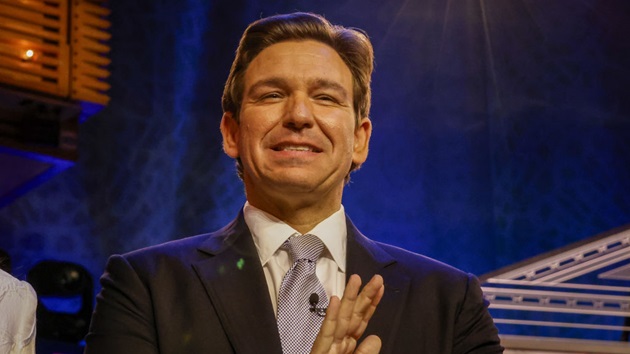 (DES MOINES, Iowa) — Influential Iowa evangelical leader Bob Vander Plaats, president of the Family Leader, is expected to endorse Florida Gov. Ron DeSantis in the 2024 Republican primary race, sources with knowledge told ABC News.
Vander Plaats' support, which is set to be announced later on Tuesday, will come after DeSantis secured the backing of Iowa's popular Republican Gov. Kim Reynolds, who has said DeSantis is the only candidate who can beat former President Donald Trump in the primary despite still notably trailing Trump in the polls.
Another source familiar with the plans told ABC News that Vander Plaats met with the board of the Family Leader on Monday, ahead of his planned endorsement.
The DeSantis campaign has prioritized winning the Iowa caucus, scheduled for Jan. 15, as the governor has spent much of his time in the state and has visited 98 of the 99 counties there.
The governor entered the primary race with much fanfare, but state and national polling shows he has not managed to eat away at Trump's enormous support with the Republican base.
While DeSantis and Trump are campaigning on similar policies, DeSantis has argued the party needs a new leader after a string of disappointments at the ballot box — as Trump faces mounting legal troubles, all of which he denies.
In Iowa, DeSantis has touted his ties to figures like Vander Plaats and Reynolds.
He appeared with Vander Plaats over the weekend, participating in a Family Leader Forum, which Vander Plaats moderated. DeSantis also had the Iowa governor attend several campaign events with him in different parts of the state, including Reynolds going to his campaign office opening in Des Moines.
Supporters of DeSantis see the recent endorsements from Vander Plaats and Reynolds as a result of the governor putting time and energy into Iowa and trying to connect with as many voters in the state as possible.
"Gov. DeSantis has done the work in Iowa, unlike Trump, and it's showing," Dan Eberhart, a donor and supporter of his campaign, told ABC News.
Vander Plaats' endorsement has proven critical in Iowa — though not influential elsewhere. He supported candidates who went on to win the caucus in past elections, like Mike Huckabee in 2008, Rick Santorum in 2012 and Ted Cruz in 2016.
All three, though, did not go on to win the Republican nomination for president.
Asked by reporters in New Hampshire on Tuesday if he had secured Vander Plaats' endorsement, DeSantis played it cool, not saying he has Vander Plaats' support but emphasizing their strong relationship.
"I think that Bob has been somebody that's been very vocal about [how] Donald Trump is not going to be the way forward, not going to be able to get the job done," DeSantis said.
"So we're hopeful that we're able to secure that endorsement, and if that does happen, to have so many members of the Iowa Legislature, to have the governor, then to have Bob and his network, that's going to be a pretty powerful machine," he said, "and we're going to turn all that on — or they'll turn it on — and we're going to go there and do that."
A spokesperson for the DeSantis campaign declined to comment for this story.
Copyright © 2023, ABC Audio. All rights reserved.