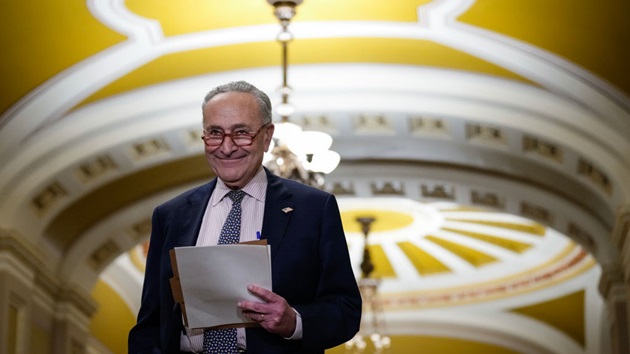 (WASHINGTON) — Senate leaders on Wednesday were hoping to take up the short-term government funding bill the House passed Tuesday night — saying they'll work to get the bill over the finish line as soon as possible ahead of Friday's shutdown deadline.
Speaker Mike Johnson pitched a two-step plan that he described as a "laddered CR" — or continuing resolution — that will keep the government funded at 2023 levels. The bill extends government funding until Jan. 19 for the Veterans Affairs, Transportation, Housing and Urban Development and Energy departments, as well as for military construction. The rest of the government is funded until Feb. 2.
Senate Majority Leader Chuck Schumer announced that the upper chamber intends to work with Republicans to pass the bill as early as Wednesday. Lawmakers are working behind the scenes to see whether they can get unanimous agreement to move forward with a plan that would allow the bill to be swiftly considered.
While Senate bills typically take a long, winding path before they reach a final vote on the floor, Schumer said he plans to work with Minority Leader Mitch McConnell to see if they can expedite it.
"If both sides cooperate, there's no reason we can't finish this bill even as soon as today, but we're going to keep working to see what's possible," Schumer said Wednesday.
The government is set to shut down at the end of the day Friday, but given that there is zero appetite for a shutdown ahead of the Thanksgiving holiday, movement is expected to progress faster than usual.
The White House had originally dismissed the GOP proposal as "unserious" — but President Joe Biden will sign the short-term funding bill if it passes in the Senate, a White House official said Wednesday.
The White House official also called on the GOP to "stop wasting time on extreme, partisan appropriations bills," and pass the president's supplemental aid request for Israel, Ukraine, border security, humanitarian assistance and other priorities. The House-approved bill does not include that supplemental aid for Israel or Ukraine.
A win for Speaker Johnson?
More Democrats than Republicans voted for Johnson's plan to avert a government shutdown — 209 to 127, respectively. Yet the passage of his stopgap spending bill is considered a victory compared to his predecessor, former Speaker Kevin McCarthy, who forged a similar path and was removed in part for reaching across the aisle to keep the government open.
Johnson's financial plan was his first major test as speaker since he was elected last month after McCarthy's historic ouster. Johnson faced a similar challenge as McCarthy: passing a clean CR while carefully maneuvering between moderates and hard-liners in his conference. He also found himself, like McCarthy, needing Democratic votes to help keep the government open.
It's possible Johnson won't face the same fate as McCarthy as Republicans have repeatedly said they hope to give Johnson some leeway to find his footing.
Johnson has come up with a plan that has not only funded the government, but it has also removed the threat of a Christmas shutdown, which is celebrated by many on the Hill.
McCarthy commented briefly about the motion-to-vacate, which led to his ouster, and if he thought there was a double standard.
"No. I just see the same people, eight people, those eight people," McCarthy said in reference to the Republicans who supported his removal as speaker. "They're gonna say I did something that I didn't do."
Still, Johnson's work is not done. He needs to pass individual spending bills that have stalled in the House.
"I'm not frustrated. This is part of the process. I've been on the job for less than three weeks, so I think we've got a great run and looking forward to the days ahead," Johnson said Wednesday.
The House has canceled votes for the week and will not return until after Thanksgiving, according to a notice from Whip Tom Emmer. The chamber has been in session for 10 weeks straight.
Since Johnson took the gavel, he has struggled to move funding bills forward. GOP leadership pulled floor votes for two funding bills last week: transportation, housing, and urban development bill as well as financial services bill. On Wednesday, a group of 19 Republicans voted to kill a procedural motion to advance the Commerce, Justice, and Science funding bill.
ABC News' John Parkinson, Justin Gomez and Allison Pecorin contributed to this report.
Copyright © 2023, ABC Audio. All rights reserved.