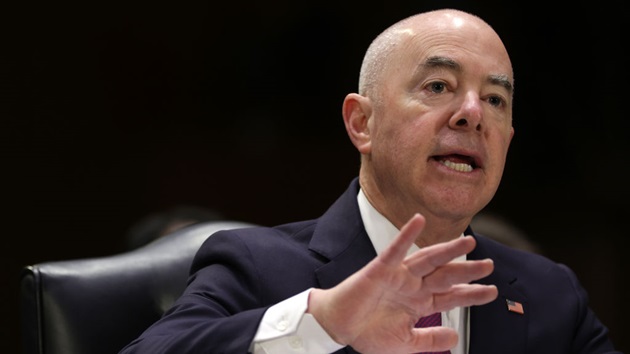 (WASHINGTON) — The House of Representatives voted Monday night to refer a resolution to impeach Homeland Security Secretary Alejandro Mayorkas to the House Homeland Security committee.
Marjorie Taylor Greene, R-Ga., initiated the impeachment resolution last week. On Monday evening, though, eight of her fellow Republicans voted with Democrats on a proposal from the Democrat side of the House, which ended up halting a full House vote on Greene's proposal. Democrats earlier in the evening decided to pull their original effort to table the impeachment resolution and introduced the resolution to send it to committee.
Greene, one of the most controversial and House hardline lawmakers, filed her resolution last Thursday, claiming Mayorkas has failed to secure the southern border from undocumented migrants and drugs. She filed it as a "privileged resolution," forcing the House to vote on the matter within two legislative days.
When ABC News asked Greene last week why she introduced the resolution, she responded, "Because these people just died yesterday," pointing at a photo of two of her Georgia constituents killed during a police car chase last Wednesday with a human smuggler near San Antonio.
"People are dying every single day in America because Secretary Mayorkas is breaking the law, breaking his oath of office. So, nothing matters more than that," she told ABC's Jay O'Brien.
House Republicans were divided on the effort, with some moderates not fully backing the move without completing a full investigation beforehand.
"Look, Mayorkas has been an abject failure in his position. I believe he has committed impeachable offenses, and I have been on a record saying that for a long, long time," Speaker Mike Johnson, R-La., said during an interview on Fox News with Sean Hannity earlier this month.
Greene previously brought forward articles of impeachment for Mayorkas in May, but House GOP leaders never brought them to a vote.
The Department of Homeland Security has cast Greene's push as misguided, insisting Mayorkas has effectively done his job.
"While the House Majority has wasted months trying to score points with baseless attacks, Secretary Mayorkas has been doing his job and working to keep Americans safe," DHS spokesperson Mia Ehrenberg said in a previous statement.
"Instead of continuing their reckless impeachment charades and attacks on law enforcement, Congress should work with us to keep our country safe, build on the progress DHS is making, and deliver desperately needed reforms for our broken immigration system that only legislation can fix," she said.
Copyright © 2023, ABC Audio. All rights reserved.