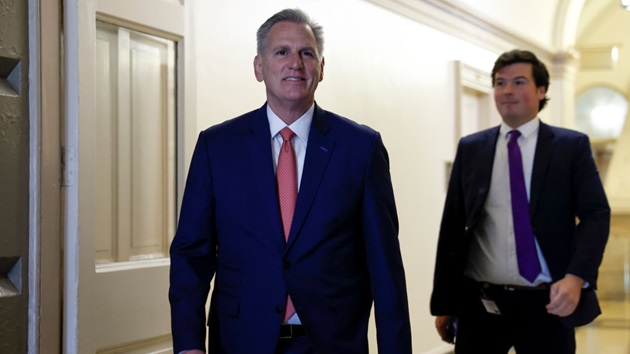 (WASHINGTON) — Tennessee Rep. Tim Burchett, one of the eight Republicans who voted to oust Kevin McCarthy from the speakership last month, claimed to ABC News that McCarthy elbowed him in the back after a House GOP meeting on Tuesday morning.
"He just elbowed me in the kidneys … It was deliberate. It was just a cheap shot," he said.
McCarthy denied this, according to an NPR reporter who said she witnessed part of the altercation and published the audio of what she saw.
He later told ABC News Senior Congressional Correspondent Rachel Scott, "I would not hit him in the kidney. I guess our shoulders hit, because Burchett runs up to me afterwards. I did not know what he was talking about."
"If I would hit somebody, they would know I hit them," he said.
But Burchett said he was speaking to the NPR reporter when McCarthy walked behind him and allegedly put his elbow intentionally into Burchett's back. Burchett said he was pushed forward and then followed McCarthy down the hallway to confront him.
"I chased after him. I mean, because, you know, you're sitting there thinking, 'What the heck just happened?'" Burchett said.
According to the NPR reporter, Burchett asked McCarthy: "Why'd you walk behind me and elbow me in the back?"
The former speaker responded: "I didn't elbow you in the back."
And Burchett replied: "You got no guts, you did so."
On Tuesday afternoon, asked to respond to Florida Rep. Matt Gaetz, another Republican critic, filing an ethics complaint against him over the alleged episode, McCarthy jokingly expressed relief, adding that he may run for reelection just so he can be the chairman of the House Ethics Committee in the 119th Congress.
Gaetz has long been under an ethics investigation but has pushed back, suggesting its politically motivated.
McCarthy also said he had no knowledge of allegedly shoulder-checking former Illinois Republican Rep. Adam Kinzinger, as Kinzinger wrote about in a book.
"You're bringing something up I know nothing of," he said.
ABC News' Arthur Jones II contributed to this report.
Copyright © 2023, ABC Audio. All rights reserved.