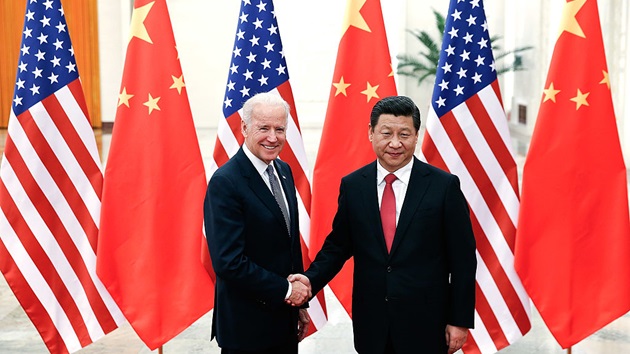 (WASHINGTON) — President Joe Biden and Chinese leader Xi Jinping are set to meet Wednesday in the San Francisco area at an undisclosed location for their first face-to-face meeting in a year.
The bar for success is low – anything that stops the relationship from getting worse would be a win. In fact, the two countries just agreeing to talk more would be considered a victory.
Ahead of his departure to San Francisco, Biden said the goal of the meeting with Xi is "to get back on a normal course of corresponding, being able to pick up the phone and talk to one another when there's another crisis, being able to make sure our militaries still have contact with one another."
U.S. officials say they're going into the meeting with realistic expectations. Rather than yielding major breakthroughs, they hope to manage tensions, keep U.S.-China competition in check, and maintain lines of communication so miscommunication doesn't veer into conflict.
"We're not trying to decouple from China. But what we're trying to do, is change the relationship for the better," Biden said.
Yet, one meeting, no matter how long or substantive, won't change the broader trajectory of the U.S.-China relationship. It also will not reset deep ideological differences between these two superpowers over everything from technology, trade, defense, Taiwan, South China Sea, and conflicts overseas.
"Both in Washington and Beijing, there is some pretty deep-seated distrust and antagonism," said Jude Blanchette, the Freeman Chair in China Studies at the Center for Strategic and International Studies. "The Chinese have a number of transient, tactical reasons to want the meeting, even as Xi Jinping remains broadly, very skeptical and cynical about the United States."
Blanchette says Xi will want some reassurances on Taiwan and a slowdown on any future U.S. curbs on China's high technology industry. Also, amid an economic downturn in China – with rising unemployment and foreign investment slowing — Xi will want to show the foreign business community that China is open for business.
There will be few areas of agreement on those fronts. Biden will likely defend U.S. export controls on semiconductor chips, while again stressing the U.S. is not trying to decouple from China.
U.S. officials say Biden is coming into the meeting in a strong position, given the strength of the U.S. economy.
"From my perspective, if in fact, the Chinese people who are in trouble right now economically … if the average citizen in China was able to have a decent paying job, that benefits them and it benefits all of us, but I'm not going to continue to sustain the support for positions where if we want to invest in China, we have to turn over all our trade secrets," Biden said Tuesday.
When U.S. Commerce Secretary Gina Raimondo visited Beijing in August, she said U.S. companies have told her that China has become "uninvestible," because of fines, raids, and other actions from the Chinese government that have made it difficult for foreign corporations to do business in China.
On Taiwan, U.S. officials have stressed the U.S. is not trying to change the status quo. The U.S. maintains a one-China policy, which means the U.S. acknowledges China's position that there is only Chinese government. Under the policy, the U.S. does not have formal diplomatic relations with Taiwan. But China, which views the self-ruled island as part of its territory, views contact with Taiwan from high-level U.S. officials as undermining the one-China policy.
The most concrete outcome of the meeting would be if the two countries agree to restore military-to-military communication. China suspended talks last August in retaliation to then-House Speaker Nancy Pelosi's visit to Taiwan last year.
National security adviser Jake Sullivan said the U.S. has been having "constructive" discussions with China to restore military communications.
"Having our two militaries in communication is the way you reduce mistake, you avoid escalation, you manage competition, so it doesn't veer into conflict."
Restoring military communications is a key point of leverage that Beijing will not give up until they have extracted the concessions they want, according to Blanchette, because Beijing views many of the friction points as the U.S. interfering in its internal affairs, including in the case of Taiwan. Beijing thinks military dialogue is "really just a way for the U.S. to tie the PLA down," Blanchette said, referring to China's armed forces, the People's Liberation Army.
The talks may yield promises of cooperation in areas like climate change and combatting fentanyl trade. But statements of goodwill out of the meeting will not point to a fundamental change in Xi's view that the U.S. is trying to contain China's rise, according to Blanchette.
"You can see Xi Jinping in important ways preparing the Chinese political and economic system for a period of prolonged, intense geopolitical struggle with the United States," Blanchette said. "And amidst that struggle, there are going to be moments and opportunities for, you know, tactical adjustments, maybe even small compromises, but on the broader trajectory, I think Xi Jinping believes this is going to be a contest to see who outlast the other."
President Biden is expected to bring up the war in Israel, according to U.S. officials. Given warm diplomatic relations between China and Iran, President Biden is expected to urge Xi to use his leverage with Iran to convince Iran and its proxies not to further escalate the conflict.
"President Biden will make the point to President Xi that Iran acting in an escalatory, destabilizing way, that undermines stability across the — broader Middle East is not in the interests of the PRC," Sullivan said.
U.S. officials say Biden is also expected to warn China not to interfere in Taiwan's elections next year or in U.S. elections.
Copyright © 2023, ABC Audio. All rights reserved.