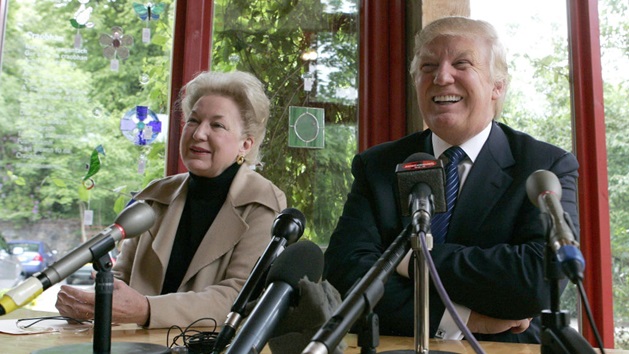 (NEW YORK) — Maryanne Trump Barry, the older sister of former President Donald Trump and a former federal judge, has died, according to sources. She was 86 years old.
She was discovered in her Fifth Avenue apartment at about 4 a.m., sources told ABC News. There were no signs of trauma or foul play.
Emergency crews responded to a call of a person in cardiac arrest, the sources said.
A spokesman for former President Trump declined to comment.
Barry was a senior judge on the U.S. Court of Appeals for the Third Circuit until she retired in 2019. She was appointed to the U.S. District Court for the District of New Jersey by then-President Ronald Reagan in 1983 and was then appointed to the U.S. Court of Appeals for the Third Circuit in 1999 by then-President Bill Clinton.
Barry retired amid an investigation into judicial misconduct related to alleged fraudulent tax and financial transactions made by her father and siblings. The investigation was closed without a conclusion when Barry retired in February 2019.
Three of the president's four siblings have now died. Robert Trump, his youngest brother, died in August 2020 at 71 years old. Fred Trump Jr. died of a heart attack at just 42 years old in September 1981.
The former president's relationship with his older sister was strained toward the end of Trump's presidency when Donald Trump's niece, Mary, published in her book and released audio recordings she made of her aunt, Maryanne, bashing her younger brother.
"All he wants to do is appeal to his base," Barry said in a conversation secretly recorded by her niece as reported by The Washington Post in August 2020. "He has no principles. None. None. And his base, I mean my God, if you were a religious person, you want to help people. Not do this."
But the siblings had been on a road to repairing things, sources told ABC News, and saw each other as recently as this summer at Trump's club in Bedminster, New Jersey.
Copyright © 2023, ABC Audio. All rights reserved.