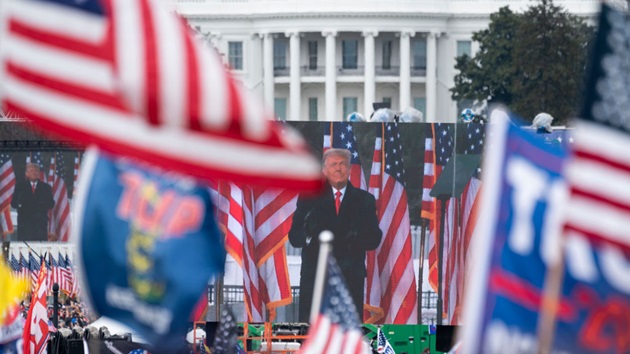 (WASHINGTON) — Despite losing the 2020 election, former President Donald Trump came to believe a fringe conspiracy theory that he could be reinstated long after leaving office and before the next election, a new book by ABC's "This Week" co-anchor Jonathan Karl reveals.
Trump has long publicly aired his grievances over the last presidential election, frequently repeating false claims that it was "stolen." But as Karl reports in his new book, "Tired of Winning: Donald Trump and the End of the Grand Old Party," Trump became fixated on a far-right theory that he could actually replace President Joe Biden.
The idea was not based in law and was clearly unconstitutional, but it was supported by some of Trump's most devout followers, MyPillow CEO Michael Lindell chief among them.
Lindell had claimed that Trump would be able to move back into the White House on Aug. 13, 2021. He promised to reveal terabytes of "evidence" during a three-day symposium he hosted in South Dakota in the lead-up to that deadline. He said the "evidence" would prove mass vote-flipping executed by Chinese hackers.
The evidence, however, did not exist. But Trump was enthralled.
In June of 2021, the former president put out an otherwise typical statement that included the phrase "2024 or before!" at the end.
In a phone call the next month, Karl pressed Trump on what he meant by that.
"You don't really think there's a way you would get reinstated before the next election?" Karl asked Trump.
"I'm not going to explain it to you, Jonathan, because you wouldn't — you wouldn't either understand it or write it," Trump said, according to audio of the call.
Karl learned while reporting for his new book that Trump was talking in private a lot about the baseless notion of being reinstated — so much so that some of his advisers were concerned he actually believed he could somehow force Biden out of the White House before the next election.
Former Trump campaign lawyer Jenna Ellis, who in October pleaded guilty in the Georgia election subversion case for making false statements about election fraud, publicly refuted the idea in May 2021.
She tweeted: "The Constitution has only one process for removal of a sitting president: impeachment and conviction. No, President Trump is not going to be 'reinstated.'"
The theory was even too much for one of Trump's staunchest congressional allies.
Former Rep. Mo Brooks, R-Ala., was the first lawmaker in December 2020 to announce plans to challenge the congressional certification of Biden's victory and spoke — while donning body armor — at Trump's rally immediately preceding the Jan. 6 attack on the U.S. Capitol.
His steadfast support of the 2020 election lies earned Brooks Trump's endorsement in the 2022 Alabama Senate Republican primary.
However, by the summer of 2021, Brooks changed his tune and encouraged Trump supporters to move past the 2020 election fraud claims.
"There are some people who are despondent about the voter fraud and election theft in 2020. Folks, put that behind you. Put that behind you," he said in August 2021, prompting boos — and chants of "fix it now!" — from a hometown crowd in Cullman, Alabama.
Months after Brooks suggested voters move on from the election fraud claims, Trump called him with multiple election-related demands, Brooks told Karl earlier this year. Among them: "He asked me to publicly state that Donald Trump should be allowed to move back into the White House, reinstated as president."
Brooks said he refused and that his refusal led to Trump retaliating by rescinding his endorsement of Brooks the same month. Brooks went on to lose the primary to now-Sen. Katie Britt.
Karl asked Brooks if he thought Trump really believed he could be reinstated.
"I sure hope not," Brooks told Karl. "Because if he truly believed that, then he was way outside the bounds of reality."
Karl's "Tired of Winning" will be published Tuesday.
Copyright © 2023, ABC Audio. All rights reserved.