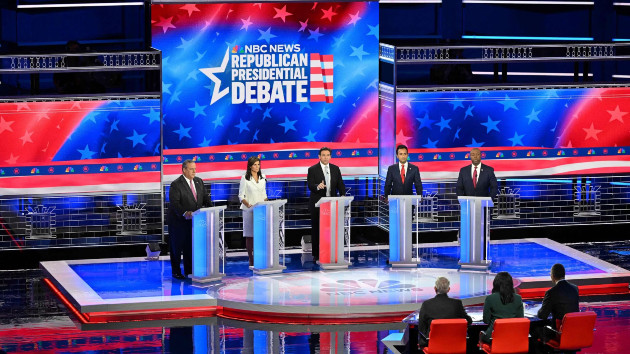 (MIAMI) — Former South Carolina Gov. Nikki Haley was almost exactly center stage in the third GOP presidential primary debate, on Wednesday, trading attacks in a policy-heavy affair in Miami.
Haley mixed it up with Florida Gov. Ron DeSantis and entrepreneur Vivek Ramaswamy. The three were joined by former New Jersey Gov. Chris Christie and South Carolina Sen Tim Scott. For the third straight time, former President Donald Trump skipped the debate entirely — but remains the clear front-runner in the race.
Here are five takeaways from the debate:
Haley in the spotlight
Haley was one podium off from the center of the debate stage, reflecting her standing in the polls, but she was directly in the spotlight on Wednesday night.
The South Carolinian and former U.N. ambassador under Trump has seen her poll numbers steadily rise since the debates started in August, according to 538, rivaling or surpassing DeSantis in some polls as the No. 2 most popular GOP candidate.
The other candidates sometimes went after her head on. Ramaswamy tore into Haley over her past support for American military involvement overseas, but the most pointed exchange occurred during a segment on TikTok when Ramaswamy accused Haley's daughter of using the app.
"Leave my daughter out of your voice," Haley shot back.
As Ramaswamy played down the boos he faced, she added: "You're just scum."
She also fended off an attack from Ramaswamy comparing her to former Vice President Dick Cheney "in three-inch heels."
"I'd first like to say they're five-inch heels, and I don't wear them unless you can run in them. The second thing that I will say is, I wear heels, they're not for a fashion statement, they're for ammunition," she said, drawing applause.
Haley and DeSantis took aim at each other over perceived weakness on China during their terms as governor of their respective states.
They accused each other of opening up their states to Chinese investments as Beijing loomed as the largest foreign adversary.
"Yes, I brought a fiberglass company 10 years ago to South Carolina. But Ron, you are the chair of your economic development agency that as of last week said Florida is the ideal place for Chinese businesses," Haley said after coming under attack.
"I abolished that agency that she's talking about. We abolished it and of course we banned buying the website, banned them from purchasing in Florida," DeSantis responded.
Debate highlights foreign policy views and differences on Ukraine
The debate was advertised as focusing largely on international affairs and it featured lengthy conversations on foreign policy. That also underscored the candidates' differences on how much to help Ukraine fend off Russia's invasion.
Haley, Christie and Scott all appeared eager to send aid to Kyiv, adopting traditional Republican stances in which America is more aggressively involved in foreign affairs to try and achieve key priorities, including supporting America-aligned governments.
"Here is a freedom-loving, pro-American country that is fighting for its survival and its democracy. No, I don't think we should give them cash, I think we should give them the equipment and the ammunition to win," Haley said.
"This is not a choice," Christie added of whether the U.S. should back Ukraine. "This is the price we pay for being leaders of the free world."
Scott, who has been a consistent voice for Ukraine aid, said the U.S. should keep up its support but nodded to skeptics in the GOP who argue Washington is doing too much and that the large sums of money could be better spent on domestic priorities — and not on overseas fighting.
"We have been very effective using our resources and our weaponry and the very high price of Ukrainian blood to achieving that objective," Scott said of degrading Russia's military.
Still, he argued, "The American people are frustrated that they do not have a president who reminds us and tells us where's the accountability, how are those dollars being spent. We need those answers for us to continue to see the support for Ukraine."
DeSantis, meanwhile, veered away from Ukraine, instead only saying he wouldn't send troops there.
And Ramaswamy, a major skeptic of Ukraine aid in the presidential primary, again accused Ukraine of having a corrupt government, which its leaders deny.
"Level with the American people here, Ukraine is not a paragon of democracy," he said. "To frame this as some kind of battle between good and evil, don't buy it."
Candidates largely aligned on Israel in wake of Hamas attack
While the White House hopefuls on stage were divided over Ukraine, they were largely united over Israel.
Most said they would stay out of Israel's way and allow it to respond however it sees fit after the Oct. 7 terrorist attack by Hamas.
"The only thing we should be doing is supporting them in eliminating Hamas," Haley said, while also stressing the need to bring hostages home.
Israeli officials have said Hamas is believed to be holding more than 200 people captive since its attack last month.
Christie added, "You must make sure that Hamas can never do this again."
The five candidates also said they would take hard-line stances on any students at universities who support Hamas, though they did not clarify where they would draw the line between support for the group and general support for Palestinian civilians amid the conflict.
The Biden administration has repeatedly stressed that Hamas is not representative of the Palestinian people as a whole.
"To every student who's come to our country on a visa to a college campus, your visa is a privilege, not a right," Scott said. "To all the students on visas who are encouraging Jewish genocide, I would deport you from those campuses."
Candidates pressed on welfare
The moderators from NBC News and the Salem Radio Network pressed the five on where they stood on Social Security and the potential future in which it runs out of money, though many sought to dance around that issue.
Christie and Haley would not get into whether they would change the retirement age because they wanted to save that as a negotiating point with Congress, they said. Scott, meanwhile, said he would not change it.
However, Trump has advocated for keeping Social Security and Medicare as is, casting himself as a protector of seniors — and with his sway in the GOP, many other Republicans have followed him.
A reminder: Trump wasn't there and is currently the favorite to win
The debate featured fireworks and more in-depth policy discussions than the two previous faceoffs. But it remains to be seen whether it will change the fundamental primary dynamic: Polls all show it's Trump's to lose.
Despite an array of legal troubles, which he denies, and not attending any of the debates thus far, Trump retains a very large polling edge, with DeSantis and Haley still nowhere close to toppling him as the calendar dwindles down to the Iowa caucuses.
The moderators opened the debate by asking the candidates why they were the better choice than Trump, and they notably used that time to attack Trump directly.
"He was the right president at the right time. I don't think he's the right president now," Haley said, going on to attack how the national debt grew during the Trump administration.
Trump separately held an event in nearby Hialeah on Wednesday night, rallying supporters in a heavily Hispanic part of Florida where Republicans have seen gains in recent years.
"Unless you're a fan of cheap knockoffs or out-of-tune tribute bands, tonight's GOP debate was a complete waste of time and money," Trump campaign adviser Chris LaCivita contended in a statement afterward.
Copyright © 2023, ABC Audio. All rights reserved.