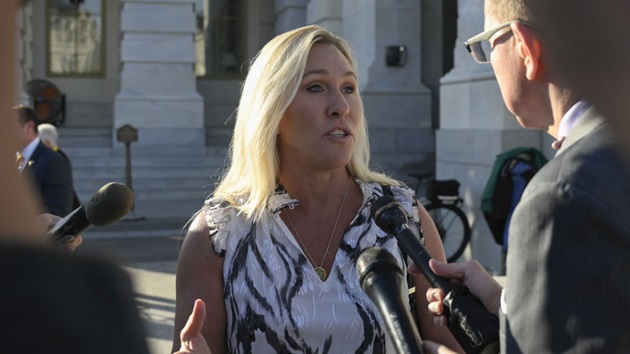 (WASHINGTON) — Republican Rep. Marjorie Taylor Greene on Thursday introduced a resolution calling for the impeachment of Homeland Security Secretary Alejandro Mayorkas over his handling of the southern border.
The so-called privileged resolution requires the House to vote on the matter within two legislative days. likely next Monday or Tuesday.
The resolution accuses Mayorkas of high crimes and misdemeanors related to migrants and drugs crossing the southern border.
Taking up the measure will take up time on the House floor in the coming days, even as time is running out for Congress to avert a government shutdown in eight days
When ABC News asked Greene why she introduced the impeachment resolution now, she answered, "Because these people just died yesterday." She pointed to a photo that she said showed two constituents killed during what police said was a car chase with suspected human smugglers near San Antonio.
"People are dying every single day in America because Secretary Mayorkas is breaking the law, breaking his oath of office. So, nothing matters more than that," she said.
Greene introduced similar articles of impeachment against Mayorkas in May but House GOP leaders never brought them to a vote.
She warned that lawmakers who try to deny her quest to force a floor vote to impeach Mayorkas will have to answer to voters.
"This is the number one issue to Republican voters. It's also becoming a number one issue to Democrat voters. It's an American issue," she said. "So if anyone in Congress moves to table this and doesn't believe it's important, I think the American people will let them know how they feel about that."
When ABC News asked Greene if Speaker Mike Johnson supports impeaching Mayorkas, she replied that she called him Thursday morning to give him a heads-up that the resolution would be introduced.
Johnson didn't call her back, she said.
It's unclear if anyone in GOP leadership supports the move. If the resolution is brought to a vote, it would put Republican moderates in a difficult position. Many have been critical of Mayorkas but don't support using impeachment for political purposes.
Johnson has previously said he thinks impeachment is justified.
"Look, Mayorkas has been an abject failure in his position. I believe he has committed impeachable offenses, and I have been on a record saying that for a long, long time," Johnson said during an interview on Fox News with Sean Hannity.
Back in June when Rep. Lauren Boebert of Colorado introduced a privileged resolution to impeach President Joe Biden, then-Speaker Kevin McCarthy would not support it and referred it to the House Judiciary and Homeland Security committees.
"While the House Majority has wasted months trying to score points with baseless attacks, Secretary Mayorkas has been doing his job and working to keep Americans safe," a DHS spokeperson Mia Ehrenbergsaid in a statement.
"Instead of continuing their reckless impeachment charades and attacks on law enforcement, Congress should work with us to keep our country safe, build on the progress DHS is making, and deliver desperately needed reforms for our broken immigration system that only legislation can fix," she said.
Copyright © 2023, ABC Audio. All rights reserved.