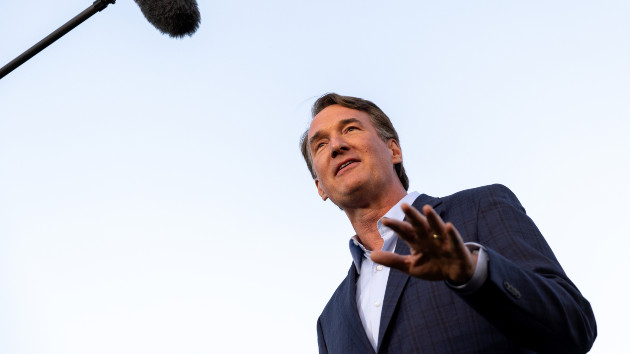 (RICHMOND, Va.) — After Tuesday's election results in Virginia delivered a major defeat to Gov. Glenn Youngkin's hopes for a Republican-controlled state government, he indicated he will not be joining the 2024 presidential race — following months of not entirely dismissing the possibility, which was fueled by the hopes of some major donors.
"I'm not going anywhere," Youngkin said in Richmond on Wednesday. "I'm here to continue to serve Virginians."
The governor will continue to face a divided state government and, experts said, an uncertain political future after Democrats took full control of the state's General Assembly in the closely watched legislative elections.
Every seat in both the state House of Delegates and state Senate was up for grabs. Democrats were projected to have won both chambers, delivering a blow to Youngkin's agenda, including his proposed 15-week ban on abortion with exceptions, a key issue in the races in part because of Youngkin and Republicans' own messaging.
The governor was a major presence on the campaign trail, spending months and raising millions of dollars in support of his party's candidates.
They, in turn, rallied around Youngkin's stance on abortion, hoping the approach would win moderate voters and tip the scales their way. But Tuesday's results revealed the opposite, as Democrats had warned a Republican-led government could pursue sweeping restrictions.
Education was another key issue, according to experts, and both parties heavily campaigned on it, offering contrasting proposals on parents' involvement in the classroom, school funding and more.
Going into the election, Democrats narrowly controlled the state Senate while Republicans narrowly controlled the House of Delegates. Rather than win back the Senate, the GOP lost the other chamber by a few seats.
"Republicans had hoped that the 15-week ban that Gov. Youngkin proposed would be a way to sort of blunt the damage that the Roe v. Wade reversal is causing for Republicans around the country," said Stephen Farnsworth, a professor of political science at the University of Mary Washington.
He said the results showed that Democrats continue to be able to mobilize voters around abortion access while Republicans have to "go back to the drawing board on abortion messaging."
"Democrats should keep on talking about abortion," Farnsworth said. "And it's a particularly powerful issue in the suburbs where a lot of statewide elections are won and lost."
On Wednesday, Youngkin suggested he still believes there is "common ground" for Democrats and Republicans on where to restrict abortion.
"I think one of my aspirations was to find a place to come together on one of the most difficult topics," Youngkin said. "I do believe there is a place we can come together."
"I think Virginian's don't want to be extreme in either direction," he continued. "I think in the long-term, I think reasonableness is where people will come together."
But with Virginia being the only state in the South that has not widely restricted abortion since the Supreme Court struck down Roe v. Wade in 2022, and Democrats having campaigned heavily on the issue, a future agreement on additional abortion regulations is unlikely, political experts told ABC News.
Current state law bans the procedure after 26 weeks of pregnancy.
"Gov. Youngkin's planned 15-week abortion ban is dead on arrival now," Dr. Chapman Rackaway, a professor and chair of political science at Radford University, told ABC News.
"We will continue to be a brick wall for you," Virginia state Sen. Mamie Locke said at a Democratic election watch party on Tuesday night.
"We won because you believed in a woman's right to choose," Locke told the crowd.
And while Youngkin indicated he does not plan on joining the 2024 presidential race, Rackaway said the outcome of the elections could have an impact on a potential 2028 White House bid as well.
Youngkin "bet big on his chance to get the trifecta, and whatever strategy he may have had for pursuing national ambitions were dependent on his success," Rackaway said.
By losing the race for the Legislature, "Youngkin has lost his best ability to establish himself as a 2028 GOP nomination contender, so I think his 2028 path is much narrower now, perhaps even gone entirely," Rackaway said.
In a memo on the election results, Dave Rexrode, a Youngkin political adviser and chairman of his PAC, Spirit of Virginia, pointed to Democrats' "cash advantage" and "difficult odds from the outset" as explanations for the outcome.
Youngkin supporters have also noted that many of the Republican candidates ran very competitive and very close races across the state, which heavily favored Democratic President Joe Biden just three years ago.
Youngkin's political action committee raised more than $22 million since March and launched an aggressive early voting campaign for Republicans.
For Democrats, they believe their success in Virginia and other states on Tuesday is a sign of the "momentum" the party could see in 2024.
"We're off to a roaring start," the Democratic Legislative Campaign Committee's interim president, Heather Williams, said.
Democratic National Committee Chairman Jaime Harrison echoed that in a statement, saying in part: "With so much on the line, voters showed up at the ballot box and sent the GOP a stark warning."
Copyright © 2023, ABC Audio. All rights reserved.