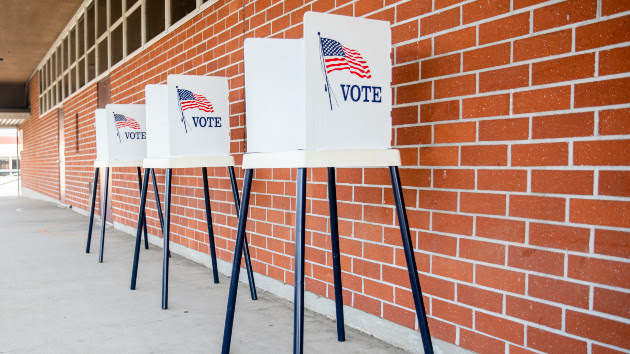 (WASHINGTON) — Striking liberal turnout, a comparative dearth of voters who backed Donald Trump in 2020 and broad support for legal abortion helped make Ohio, on Tuesday, the latest state projected to support abortion rights since the U.S. Supreme Court struck down Roe v. Wade last year, according to exit polling.
A separate referendum legalizing marijuana was also projected to pass on Tuesday.
Liberals accounted for 34% of voters in Ohio exit poll results, up sharply from 20% in the 2022 midterms and 21% in the 2020 presidential election. That's a record-high turnout among liberals in Ohio exit polls dating back to 1984. They backed both the abortion and marijuana referenda by vast margins, 94-6% for abortion and 85-15% for marijuana.
In line with greater turnout by liberals, Trump 2020 voters were in comparatively short supply: Voters said in exit polling that they backed Joe Biden over Trump in 2020, 45-43%. But Trump won Ohio in that election, 53-45%.
What's more, turnout this year among Republicans, 35% of voters, was down 6% compared with the 2022 midterms. That's a low since 2012.
Overall, voters said 61-37% that abortion should be legal rather than illegal in all or most cases, and 89% of those who said it should be legal backed the referendum, establishing a right to abortion in the state's constitution, according to the exit polls.
Fifty-nine percent said they were dissatisfied or even angry about the Supreme Court's ruling eliminating the right to abortion access — with a plurality, 38%, angry about it. Those voters again supported the abortion referendum by broad margins.
At the same time, it was close on which party Ohio voters said they trust more to handle the issue of abortion. Forty-eight percent picked the Democratic Party and 42% the Republican Party. Among those who picked Democrats, 94% supported the abortion referendum — as did 15% of those who said they trust the GOP more on the issue.
Turnout among other groups of interest — women, young adults, evangelical white Christians, racial and ethnic minorities — was roughly on par with past results, though women turned out 5% more compared with 2022, but even with their 2020 turnout level.
As for vote preference, 60% of women and 53% of men supported the abortion referendum, per the exit poll. Majorities also supported the marijuana referendum, 55% and 58%, respectively.
Young voters were particularly apt to back both measures: Seventy-seven percent of those ages 18-29 were for the abortion referendum and 84% were for legalizing marijuana.
While support for the abortion referendum largely split along party lines, independents favored it by a 28-point margin, 64-36%; as did moderates, 69-31%. They looked similarly on the marijuana referendum.
Notably, 30% of Republicans and 23% of conservatives supported the marijuana measure. That compares with 18% and 13% support in these groups for the abortion referendum.
Among other results:
The exit poll indicated broad dissatisfaction with both leading candidates in the 2024 presidential election: Seventy-three percent of Ohio voters participating in this off-year election said Biden should not be running for president and 63% said the same of Trump.
More voters disapproved than approved of the way Biden is handling his job as president, 59-39%.
More said they're worse off than better off financially compared with three years ago, 42-22%, with the rest about the same.
And on handling the economy, 50% of Ohio voters said they trust the Republican Party more; 40% said they trust the Democratic Party more.
Copyright © 2023, ABC Audio. All rights reserved.