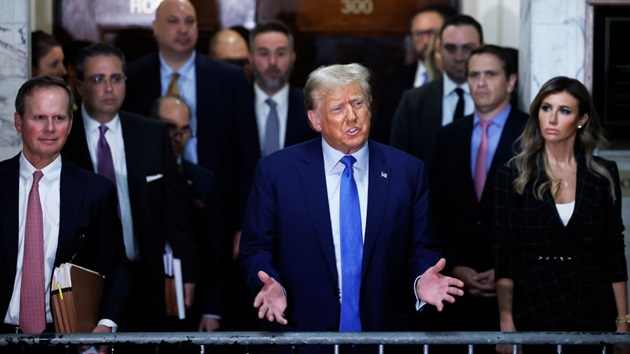 (WASHINGTON) — As five 2024 Republican hopefuls take the debate stage in Miami to make their case to voters on Wednesday night, for the third time this year, the primary front-runner — former President Donald Trump — will once again be absent.
Trump has said he sees no value in attending the debates, despite some outcry and criticism, because his polling lead with GOP voters gives him no incentive to face attacks from the other candidates.
"I like to debate. I probably am here because of debates. I don't mind it at all," he told Fox News' Bret Baier in an interview this summer. "But when you're 40 points up …. Why would I let these people take shots at me?"
Having skipped the first two faceoffs, Trump continues to poll at No. 1 both nationally and in the key early primary states, according to 538.
Instead of debating, Trump has been holding various events as counter-programming. He plans to do that again on Wednesday, with a campaign rally in Hialeah, Florida, just 10 miles northwest of where his primary rivals will be debating.
Speaking in an area where Hispanics and Latinos make up 95% of the population, Trump's rally is intended to help him grow his support among a group who has trended Republican in recent years.
The Hialeah rally will feature celebrity supporters and several of Trump's close allies, including former White House press secretary and now-Arkansas Gov. Sarah Sanders, who just endorsed her old boss. After the remarks, the Trump campaign is hosting a debate-style "spin room" with its own surrogates at the rally site, an attempt to take the spotlight away from his competitors.
The next day, on Thursday, Trump is throwing a party at his Mar-a-Lago Club for Florida Republican Party leaders — a jab at DeSantis in the governor's home state.
In the wake of the second debate, Trump's team called for the Republican Party to cancel the future ones in order to focus on the potential rematch between him and President Joe Biden.
Trump echoed that while speaking at the Florida Freedom Summit over the weekend, saying it was time for the "Republican establishment to stop wasting time and money trying to push weak [Republicans in name only] and 'Never Trumpers' that nobody wants on the ballot."
During the first GOP debate, in August, Trump released an hourlong pre-taped interview with Tucker Carlson. And during the second GOP debate, in September, he held a campaign rally in front of an auto manufacturing plant in Clinton Township, Michigan, to court workers amid the United Auto Workers strike (though the plant itself was non-union).
His primary challengers have been increasingly vocal about their criticism of him not facing them in debates, with DeSantis even mockingly inviting him to bring a teleprompter to the stage if he wants.
Former New Jersey Gov. Chris Christie, a Trump adviser-turned-vocal critic, taunted Trump during the second GOP debate in September for "ducking" the other candidates and not having to defend his record, calling him "Donald Duck."
On Monday, Christie insisted that he believes Trump will, eventually, show up to a debate "because he knows that his most effective moments are when he's on television."
Copyright © 2023, ABC Audio. All rights reserved.