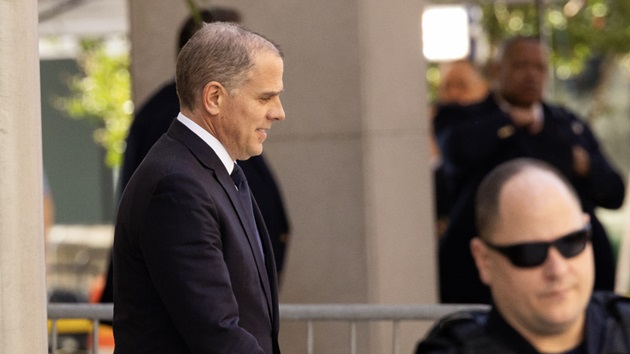 (WASHINGTON) — Chairman James Comer of the House Oversight Committee announced a slew of subpoenas on Wednesday targeting members of President Joe Biden's family, including his son Hunter Biden, brother James Biden, and former Hunter Biden business associate Rob Walker, demanding they appear for depositions.
The subpoenas, which Comer has threatened for months, marks an escalation in his panel's ongoing impeachment inquiry into President Biden. The committee had previously subpoenaed banks for records belonging to Hunter and James Biden.
In addition to the subpoenas, the committee is requesting transcribed interviews with other Biden family members and associates, including both Hunter Biden's wife, Melissa Cohen, and the widow of Beau Biden, Hallie Biden. Also asked for transcribed interviews were James Biden's wife, Sara; Elizabeth Secundy, the older sister of Hallie Biden; and Tony Bobulinski a former business associate of Hunter Biden.
The investigation, which also includes the Judiciary and Ways and Means Committees, had been briefly stalled amid the prolonged speaker fight last month.
In a statement to ABC News, Comer said, "The House Oversight Committee has followed the money and built a record of evidence revealing how Joe Biden knew, was involved, and benefited from his family's influence peddling schemes. Now, the House Oversight Committee is going to bring in members of the Biden family and their associates to question them on this record of evidence."
Abbe Lowell, an attorney for Hunter Biden, said in a statement, "This is a yet another political stunt aimed at distracting from the glaring failure of Rep. Comer and his MAGA allies to prove a single one of their wild and now discredited conspiracies about the Biden family. Nevertheless, Hunter is eager to have the opportunity, in a public forum and at the right time, to discuss these matters with the Committee."
Besides Biden family members, one subpoena targets a former business associate of Hunter Biden, Walker, who in a December 2020 interview with the FBI, Walker, stated he "certainly never was thinking at any time that the V.P. [Biden] was a part of anything we were doing" and explained that the idea that President Biden would ever get involved was "wishful thinking" on the part of another business partner, James Gilliar, akin to "unicorns and rainbows."
Comer's impeachment inquiry has been marked by criticism — even from some Republicans — claiming the nearly yearlong investigation into Biden has still not produced sufficient evidence for impeachment.
Rep. Jamie Raskin, the ranking Democrat on the committee, slammed the subpoenas and "their buffoonish impeachment hearing."
"The Committee has already obtained the personal financial records of the three private citizens Chairman Comer has subpoenaed: the President's brother, his son, and one of their business partners, Rob Walker," Raskin wrote in part in a lengthy statement. "The Committee also has Mr. Walker's interview with the FBI and the summary of his interview with the IRS, which Republicans have already released. These subpoenas and interview requests are yet further proof that this sham impeachment inquiry is driven only by the demands of the vengeful and prevaricating Donald Trump."
Attorneys for Hunter Biden submitted a lengthy letter on Wednesday morning to newly minted House Speaker Mike Johnson — prior to the subpoenas — seeking his intervention in Republicans' probe of Joe Biden and his family and to "[stop] them from continuing their partisan political games."
The 12-page letter, which was obtained by ABC News, lays out seven alleged lies told by Comer, and Reps. Jim Jordan, R-Ohio, and Jason Smith, R-Mo., about the Biden family and their various business endeavors.
Lowell, the author of the letter, said the Republicans' conduct "is ripe for your intervention" and asked him to follow up on his pledge to "restore the integrity and reputation of your chamber."
"Even in the era of 'alternative facts,' your colleagues' manipulation and disregard for the truth is breathtaking," Lowell wrote. "Please remind [them] what you recently said: that House Republicans have a 'constitutional responsibility to follow th[e] truth,' wherever it leads, and you promised to 'only follow facts' and not 'use this for political partisan games.'"
"These chairmen are about to ignore your admonition by continuing to pursue baseless allegations," Lowell added.
Copyright © 2023, ABC Audio. All rights reserved.