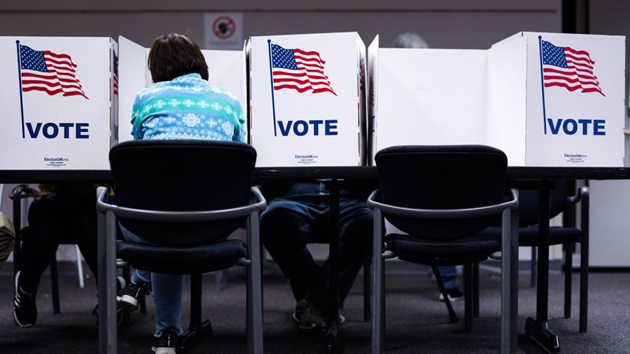 (WASHINGTON) — It's Election Day in Virginia and the entire General Assembly is up for grabs.
Polls opened at 6 a.m. and will close at 7 p.m. local time. Projected election results are expected to begin after that, though officials won't certify the votes until later.
According to the Virginia Department of Elections, 789,704 residents cast their ballots through early voting, including mail-in and in-person ballots.
Commissioner Susan Beals said on Tuesday that while the department is "making every effort this year to provide results as quickly and efficiently as possible," she noted the length of this year's ballot because it includes all 140 members of the General Assembly as well as other offices, from supervisors to sheriff's commissioners.
When asked if there have been any issues at polling locations, Beals said there was a "brief issue" in Chesterfield County but that "everything has been resolved." Two other counties experienced power outages, Beals added.
The state Legislature is currently split between the Democratic-led Senate and the Republican-led House of Delegates. That has stymied Republican Gov. Glenn Youngkin's agenda, including his push for a 15-week ban on abortions, with exceptions for rape, incest and the life of the mother, which the GOP believes is a compromise on the issue.
State Democrats, however, argue that conservatives will go further than that if they gain control of the entire state government and are hoping support for abortion access will be a motivating issue.
Both parties have heavily campaigned on abortion and education.
Political observers say the results will also influence Youngkin's future, given his heavy involvement in the races.
Copyright © 2023, ABC Audio. All rights reserved.