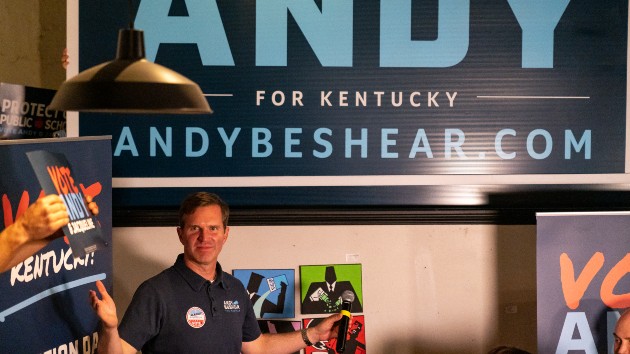 (CAMPBELL COUNTY, Ky.) — Republicans are hoping to sink Democratic Gov. Andy Beshear's reelection bid on Tuesday by tying him to the widely unpopular President Joe Biden.
But in this ruby red state that Biden lost by more than 25 points three years ago, Beshear appears to be offering Democrats hope of local success amid party-wide handwringing: voters supporting both Beshear and his Republican challenger, Attorney General Daniel Cameron, told ABC News that the governor's brand was strong enough to blunt any ties to the White House.
"Andy Beshear is a more liberal Democrat than the average Kentucky Democrat. Kentucky Democrats are pretty conservative. Now, is he the clone of Joe Biden? No," said Steve Megerle, an attorney and lifelong Republican in Fort Thomas, who said he is debating between voting for Beshear and leaving the governor's line blank on Tuesday.
"I probably don't see Beshear as bad as Biden," Carol Taylor told ABC News at a Cameron campaign event in Richmond. "I don't think I can say anything good about [Biden]."
To be sure, Beshear's reelection is no sure thing. A former state attorney general and son of a former governor, he narrowly won his first term in 2019 against an unpopular incumbent Republican and, given how the state usually votes, he'll have to win over a large swath of conservatives to stay in office, with recent polling previewing a neck-and-neck race.
But interviews with more than 20 operatives and voters of both parties revealed a lack of the kind of vitriol about Beshear that is usually evident when a governor is about to be unseated.
The trend could prove notable for other down-ballot Democrats in 2024 as they try to persuade voters to view them separately from Biden while sharing a ticket with him.
The governor's race could also show some signs of how Democrats will fare next year both in House seats the party holds where Donald Trump also won and in Senate races in Montana, Ohio and West Virginia, which like Kentucky often vote for Republicans.
Beshear has some big advantages, strategists and experts said: He holds the edge in fundraising, helping him lap Cameron in advertising, and he has been credited for his handling of floods and tornadoes that struck Kentucky during his term, including repeated travel to the disaster sites and other locations to tout economic development projects.
And while many Republicans continue to criticize closures during the height of the COVID-19 pandemic, voters who spoke with ABC News also spontaneously cited Beshear's daily press conferences to update Kentuckians.
"Oh gosh, what's not to love? He really was a super calming effect during the pandemic," said Laura Taylor, a stay-at-home mom in Fort Thomas.
Adele Gormley, another Beshear backer, put it even more bluntly: "He kept us alive during COVID."
That's not how the GOP sees it.
"Joe Biden was endorsed by Andy Beshear, and I can't think of a bigger slap in the face to Kentuckians," Cameron, his rival, said in an interview after a stop in Georgetown.
The attacks have caught on with some.
"I think his values are the total opposite, and he doesn't align with the values of Kentuckians. I want to see him removed. He's just a puppet for Joe Biden," said Karson Carrier, a 22-year-old Eastern Kentucky University student.
However, most voters who spoke with ABC News said they view Beshear as not just another Democrat, with Megerle dubbing him "Andy dad jeans."
Beshear's disaster and pandemic response "put him in a light of someone that's the healer in chief, with great compassion, and has kind of set him apart from a typical partisan politician," said T.J. Litafik, a Kentucky GOP strategist.
The governor, who said he hasn't spoken with Biden since last year's flooding, swatted away Cameron's attacks.
"He knows that if it's me versus him, he can't win. He's trying to nationalize this race and trick people," Beshear told ABC News at a stop in Newport.
So far, among other issues, he and Cameron have sparred over abortion access and school choice vouchers.
Some Republicans in the state complained that Beshear's bipartisan popularity is undeserved, particularly over his promotion of tax cuts — which were pushed by the state Legislature's GOP supermajority — and updates to the Brent Spence Bridge connecting Kentucky and Cincinnati, which some pointed out was arguably really accomplished by the White House and Congress authorizing new infrastructure money.
"It's disturbing to me to see him take credit for that," Republican state Rep. Kim Moser said of the tax cuts. "Unfortunately, not everyone studies the policy and the legislation that passes as much as, certainly, I do and my colleagues, because we work there."
Whatever the outcome on Tuesday, strategists in both parties suggested Kentucky's election could be something of a tea leaf for 2024. The state's previous six gubernatorial races foreshadowed the results of the following year's presidential election results, with the winning party in Kentucky matching the winning party in the White House.
"I think there are going to be things to learn here no matter whether it's Cameron or Beshear," said GOP strategist Scott Jennings, who has worked with Senate GOP Leader Mitch McConnell.
Other experts didn't go that far, noting that it's an off-year race for state rather than a federal office. And, they said, Beshear has the flexibility to make typical Democratic arguments on issues like abortion and transgender rights because he knows his views on such hot-button issues aren't likely to be enacted and affect voters given that Republicans run the Legislature.
"Andy Beshear's a terrible example for national Democrats of what to do, because he's not by any means taking positions that make him a moderate," said Jake Cox, a Kentucky GOP strategist who worked for Ryan Quarles' gubernatorial primary campaign.
Still, Democrats are likely to take notes from Beshear's tactics, including over his ability to use his massive fundraising advantage to try to win over detractors.
When meeting ABC News at a local bar, Megerle brought two pieces of pro-Cameron mail advertisements that he said he's received. He then handed over eight mailers from Beshear's campaign — saying those were just the ones he had kept.
While "it takes a lot for me to vote for a Democrat," he said, he wasn't ruling it out.
"I think I'll figure it out when I walk into the booth on Election Day."
Copyright © 2023, ABC Audio. All rights reserved.