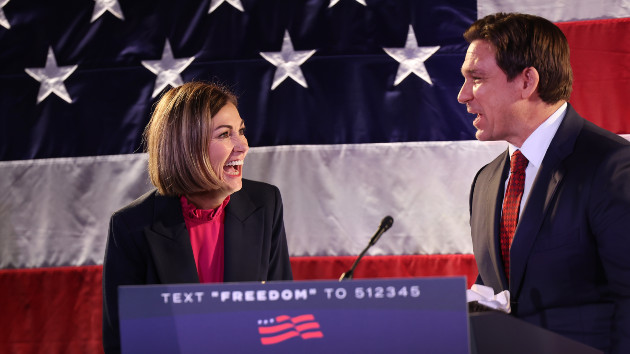 (DES MOINES, Iowa) — Iowa Gov. Kim Reynolds endorsed Ron DeSantis Monday night at a rally in downtown Des Moines, injecting the Florida governor's presidential campaign with a boost he hopes will narrow a poll deficit in a state on which he has banked his campaign.
"I am so proud to stand here tonight and give him my full support and endorsement for president of the United States of America," Reynolds said on stage before introducing DeSantis, whom she praised for his kindness and his leadership, especially during the coronavirus pandemic.
The endorsement — rare for an Iowa governor — had been suspected, as DeSantis and Reynolds are friends and have spoken glowingly of each other in public, but even Reynolds acknowledged Monday the decision was difficult.
"I thought long and hard about making this decision, about telling Iowans and telling you where I stand," she said, saying she enjoyed welcoming and speaking with all the presidential candidates who have visited Iowa.
"We owe each of them a debt of gratitude," she said.
"But I also believe that as a mom and as a grandma and as an American, I could not and cannot sit on the sidelines any longer," she added. "We are living in unprecedented times. There is just too much at stake. Our country is in trouble. The world is a powder keg. And I'm here to tell you, without a doubt, that Ron DeSantis is the person that we need leading this country."
DeSantis, who greeted Reynolds with a hug when he took the stage, praised the Iowa governor as "one of the greatest governors in the United States" with "a great head on her shoulders."
"When I was going through a lot, when we were going through it with COVID, I think Kim and I are the only governors in America that forced all our schools to be open for classroom instruction," he said.
The timing of the endorsement — news of which broke Sunday morning with reports that it would happen the next night — is opportune for DeSantis, who endured a week of rough news: An NBC/Des Moines Register Iowa poll showed him slipping to a tie for second with Nikki Haley, and he endured a flurry of defections to former President Donald Trump by lawmakers in his home state.
The endorsement also gives DeSantis something new to tout on the Republican debate stage Wednesday night in Miami.
In Iowa, there are indications that Reynolds' backing could boost DeSantis.
Norman Uchida, 73, a retired utility worker who attended Monday's rally, said it could "have a big impact" and added the governor is "very popular" among Republicans in Iowa.
Meanwhile, Phil Cronin, a 68-year-old realtor from Johnston who attended a recent DeSantis event but told ABC News there that he was undecided, said in a text message Monday, "I think a lot of [Reynolds] and the endorsement."
"It does maybe help me narrow the field a bit," Cronin said.
Cody Hoefert, a former co-chair of the Iowa Republican Party who has endorsed DeSantis, called Reynolds' endorsement "a big deal" and called their alignment "a natural fit."
Yet if polls are any indication, winning Iowa will be a massive undertaking for DeSantis, who trails Trump in the state by nearly 30 points, according to FiveThirtyEight's polling average.
DeSantis has dismissed the polls as he methodically hop-scotches across Iowa, hoping the frequent stops at small-town diners build a bevy of support that won't reveal itself until the results trickle in on caucus night.
Reynolds' endorsement has caught the attention of Trump, whose relationship with the Iowa governor severed earlier this year as he accused her of being disloyal.
"Why would anybody endorse Ron DeSanctimonious, who is like a wounded bird falling from the sky?" Trump wrote on his Truth Social, using a nickname he coined for the Florida governor, adding, "What's that all about?"
On stage Monday night, Reynolds said a personal touch from Casey DeSantis helped her decide to endorse: Florida's first lady, who battled breast cancer two years ago, visited Reynolds and her husband, Kevin, after he was diagnosed with cancer himself this fall.
"Casey, I want you to know how much that meant to both of us," she said.
Copyright © 2023, ABC Audio. All rights reserved.