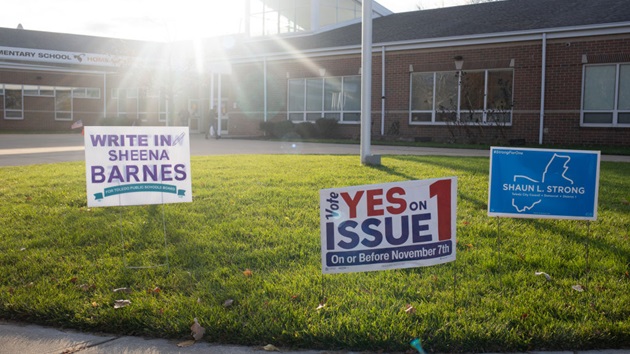 (CLEVELAND) — Ohio voters are casting their ballots on Tuesday to decide whether a proposed amendment will enshrine abortion in the state's constitution.
The ballot measure, known as Issue 1, would change the Ohio constitution to establish "an individual right to one's own reproductive medical treatment, including but not limited to abortion." Treatment includes contraception, fertility treatments and miscarriage care.
If the amendment passes, it will create legal protection for a person or entity who assists someone receiving an abortion and prevent Ohio from "directly or indirectly burdening, penalizing or prohibiting abortion" before viability, generally considered between 24 and 26 weeks of gestation.
In Ohio, abortion is currently banned at 22 weeks or later, according to the Guttmacher Institute, a research group that studies sexual and reproductive rights.
Patients seeking an abortion are forced to make two trips, first for an in-person counseling session and the second at least 24 hours later for the procedure itself.
Additionally, only a physician is able to perform an abortion and not another qualified health care professional.
Under the proposed amendment, the state can ban abortion after viability except when the life or health of the mother is in danger.
What's more, a woman's physician will be able to determine "on a case-by-case basis" whether the fetus is viable.
There is no language in the proposal about what type of health care professional is allowed or not allowed to perform an abortion.
Last year, voters in three states — California, Michigan and Vermont — enshrined abortion rights in their constitutions. Residents of Kentucky and Montana, however, voted against further restricting access to abortion services in 2022.
What's more, during the 2022 primary election, voters in Kansas struck down a proposal to remove the right to abortion from the state's constitution.
If Ohioans vote in favor of the amendment, the state would become the seventh to protect abortion rights via the ballot box since the Supreme Court overturned Roe v. Wade in June 2022.
If the amendment is not passed, it could potentially pave the way for a six-week abortion ban to be reinstated.
In 2019, Ohio lawmakers passed a so-called heartbeat bill that bans abortions after cardiac activity can be detected, which occurs as early as six weeks of pregnancy, before many women know they're pregnant. It was signed into law by Gov. Mike DeWine.
The ban had no exceptions for rape or incest. The only exceptions were cases of ectopic pregnancies and to prevent the mother's death or impairment of a major bodily function.
A federal judge blocked the ban in 2019 but it was reinstated just hours after the Supreme Court decision to overturn Roe.
Stories of the ban's impact quickly emerged and gained national attention, including that of a 10-year-old girl who was raped and had to travel from Ohio to Indiana for an abortion.
In September 2022, an Ohio lower court granted a temporary restraining order before granting a preliminary injunction a few weeks later. The state's Supreme Court is now considering whether to lift the injunction while legal challenges play out in the lower court.
If Issue 1 passes, the Supreme Court decision would have no standing. However, if it fails to pass, the court would have the opportunity reinforce the six-week ban.
Copyright © 2023, ABC Audio. All rights reserved.