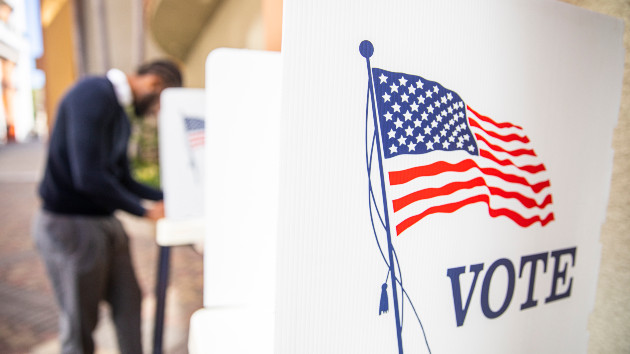 (NEW YORK) — As the one-year countdown to the 2024 general election begins, candidates are looking to the youth vote as a means to grow support.
Building off of 2020 voter turnout, one college campus has become a bastion for a high standard of voter registration.
St. Olaf College in Northfield, Minnesota is home to a student body that turned out to vote at a rate 20% higher than the national average.
According to the school, nearly 88% of eligible students at the school voted in the 2020 election, a stark contrast to the 66% voting rate found at other universities across the country that same year. The latter figure is roughly in line with the national average voter rate, according to the U.S. Census Bureau.
Election ambassadors on St. Olaf's campus approach students year-round looking to combat voter apathy.
Student Elijah Sonntag, who previously served as an election ambassador in 2022, said the role is largely about "being able to make that personal connection, and say, 'Hey, your voice matters.'"
Ambassadors work to increase student body awareness of voter accessibility with stickers, online instructional materials and more. The campus also has its own polling location.
Darartu Musse, another St. Olaf student, said candidate engagement with college campuses could also help inspire the youth vote and inform students.
"Getting candidates or getting representatives to be more engaged with any type of community, including college campuses [and] immigrant communities is one way to increase voter turnout and is a solution for the information gap," she said.
While it is true that college students tend to vote for Democrats more often, Alyssa H. Melby, assistant director for academic civic engagement at St. Olaf College, said that is unrelated to the school's mission.
"We are ensuring that folks understand what their civic rights are and the opportunities to exercise them," Melby said.
As institutions like St. Olaf work to increase voter turnout on college campuses, several historically red states have made moves that could reduce voter turnout among college students. States such as Texas, South Carolina and Tennessee, for example, which are among the 35 U.S. states that require voters to show some form of identification to cast a ballot, do not allow voters to use a student ID as a form of identification, according to the Campus Vote Project.
Abby Kiesa, deputy director of the Center for Information & Research on Civic Learning and Engagement, or CIRCLE, at Tufts University, echoed a similar message to Melby, emphasizing her group's mission to encourage college students to vote.
"I think that we just need to make a decision about whether we as a country want to help people participate in democracy or not," she said.
Earlier this year, Democratic Gov. Tim Walz signed into law a slate of new legislation that, among other things, automatically adds residents to the voter rolls when they register for a driver's license or state-issued ID, and allows 16 and 17-year-olds to preregister to vote, meaning they will be automatically added to the voter rolls once they turn 18.
"We want to be a model for voting," Minnesota Sen. Amy Klobuchar told ABC News. "And I think part of that is we value civic participation."
According to CIRCLE, another way young people can become more engaged in the democratic process is to serve as a poll worker in elections. Currently, 44 states allow people under the age of 18 to serve as poll workers.
"The hands-on experience of serving as poll workers can improve young people's trust in and knowledge about elections, which is often lacking in young people's civic learning and development," the organization said in a press release last year.
With a year to go before the pivotal 2024 elections, Sonntag reflected on the idea that young voter turnout might eventually result in major changes to U.S. policy, especially when it comes to topics like climate change.
"If every single person who thought their vote didn't matter went and voted, we could see a very different election," he added.
Copyright © 2023, ABC Audio. All rights reserved.