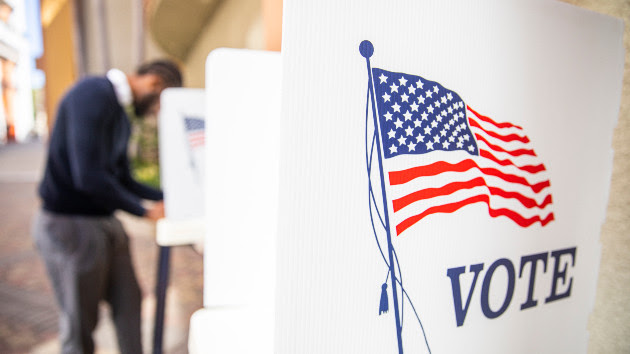 (WASHINGTON) — While a major Republican event down in Florida saw boos and cheers, former President Donald Trump faced mounting legal challenges to his candidacy because of the 14th Amendment — an argument he totally rejects — and Trump's rival Joe Biden sought to play down some notably poor new poll numbers.
Here's a recap of major 2024 campaign updates over the last week:
'Boos' and cheers at the Florida Freedom Summit
On Saturday, Republican presidential hopefuls took the stage at the annual Florida Freedom Summit in Kissimmee. Hosted by the state GOP, the event featured a lineup of officials and conservative voices as well as some of the biggest names in the 2024 race.
The GOP primary's most anti-Trump candidates didn't shy away from condemning the former president in his home state. Former Arkansas Gov. Asa Hutchinson and former New Jersey Gov. Chris Christie were both met with raucous "boos" from the audience as they called for new leadership in the Republican Party.
Hutchinson — who was also shouted at to "go home" by one attendee — predicted that Trump is likely to be convicted of a felony in one of four criminal cases, citing his own experience as a federal prosecutor.
Trump has denied all wrongdoing and pleaded not guilty. He has dismissed criticism from the likes of Christie and Hutchinson, as when he's called Christie a "failed" candidate.
Christie, who has seemingly relished building his campaign in part around an anti-Trump message, invited the "boos" as they poured over him in Florida, noting that "it feels like home." He continued through shouts of "loser" and "traitor," sternly telling the audience that such behavior "will not solve one problem we face in this country and will not make this country better."
"You can yell and boo about it as much as you'd like," he said. "But it doesn't change the truth, and the truth is coming."
Another candidate, Florida Gov. Ron DeSantis, made his case to be the next standard-bearer of the GOP, touting how conservatives in the state have won a slew of elections and overseen major policy shifts since he's been in office. This time, cheers came from the crowd.
"You think of what's happened, and I don't think that there's a parallel anywhere in the modern history of the Republican Party than what's happened in the state of Florida over these last five years," DeSantis said.
Former President Trump, in his own remarks, sought to attack DeSantis but faced a less receptive audience. After praising multiple Republican governors, except DeSantis, the crowd began to chant, "Florida, Florida," leaving Trump to stand there and smirk.
Still, though, fervent support for Trump was not missing. MAGA flags, purses and stickers were on full display.
Both Biden and Trump have major favorability issues, new poll shows
A year out from the 2024 presidential election and the race's leading candidates — President Biden and Trump — are nonetheless not viewed favorably by Americans, a new ABC News/Ipsos poll shows.
Only 33% of Americans view Biden favorably, and even less, 29%, view Trump favorably. Biden's favorability among Black (49%) and Hispanic (33%) Americans is also low, which likely comes as a considerable concern for Democrats since these groups overwhelmingly supported him in 2020, according to exit polling.
Similarly, a large majority of Americans (76%) believe that the country is headed in the wrong direction. And Americans are more likely to trust Republicans to do a better job on the top issues they identified: the economy and inflation.
Those numbers underline what has been an unusual dynamic throughout the 2024 race so far: While Biden and Trump continue to lead in primary polls, other surveys show the general public is seemingly unhappy with them both — and the potential for a rematch.
Separately, and similarly likely to provoke alarm for Democrats, a new New York Tmes/Siena College poll that surveyed registered voters in key battleground states found that in hypothetical matchups between Biden and Trump, the former president comes out on top in most of them.
Trump edges out Biden in the poll's theoretical contest in Arizona, Michigan, Nevada and Pennsylvania, with Biden taking Wisconsin by a slim margin. Biden won all five states in 2020.
Registered voters in the swing states were also asked how they would vote in the case of another Democratic nominee, such as an unnamed generic alternative or someone like Vice President Kamala Harris — and both options polled better than Biden.
Biden's campaign said in a statement that they wouldn't be "fretting" about the new polls, pointing both to Democrats' unexpected success in the 2022 midterms, when Biden was also unpopular, and unfavorable polls in 2011 for former President Obama before he was reelected in 2012.
"Predictions more than a year out tend to look a little different a year later," Biden campaign spokesperson Kevin Munoz said in a statement.
14th Amendment challenges to keep Trump off the ballot are moving ahead
Last week, hearings in Colorado and Minnesota were held as groups of voters attempt to keep Trump off the ballot in their states, arguing that Section 3 of the 14th Amendment of the Constitution prohibits him from holding office because of Jan. 6
Supporters of this theory argue it applies to Trump because of his conduct after he lost the 2020 election but sought to reverse the results, including on the morning of Jan. 6, 2021. Previous such efforts focused on other Republicans have failed, except in New Mexico, where a local commissioner convicted of trespassing at the U.S. Capitol on Jan. 6 was booted from his office.
Trump has rejected the 14th Amendment outright and his attorneys have labeled it "anti-democratic."
A district judge in Denver heard five days of testimony about the matter while in Minnesota, the state Supreme Court heard arguments on Thursday.
A ruling in Colorado is expected this month. One of the main lawyers behind the challenge to Trump recently told ABC News that he expects the U.S. Supreme Court will have to weigh in.
Dean Phillips heads out on the trail
After launching his long shot Democratic presidential campaign in late October, Minnesota Rep. Dean Phillips has been out on the trail in full force.
His primary bid against Biden has been criticized by some other Democrats who see it as an unnecessary — and possibly harmful — obstacle to preparing to run against Trump.
He's also brushed off attacks that his early focus on New Hampshire disregards how Democrats are trying to pivot in their primary to focus on states like South Carolina and Michigan that they feel are more representative of their voters.
Phillips, a third-term lawmaker, former member of Democratic leadership in the House and a wealthy businessman in his own right, has said that he is concerned about the president's age and the future of the Democratic Party. He's said he had been urging Democrats to challenge Biden for months and is now doing it himself.
But that doesn't mean he'll stick around forever. "I'll be clear – if my campaign is not viable after March 5th, I'll wrap it up and endorse the likely nominee – Biden or otherwise," he wrote on X on Saturday, in part. "I will then campaign for them as vigorously as I'm campaigning now. I'm not here for games."
"I'm saying the quiet part out loud. Biden/Harris isn't viable against Trump," Phillips posted on X later in the weekend. "I will defeat Trump."
ABC News' Libby Cathey, Abby Cruz, Hannah Demissie, Devin Dwyer, Lalee Ibssa, Fritz Farrow, Isabella Murray, Oren Oppenheim and MaryAlice Parks contributed to this report.
Copyright © 2023, ABC Audio. All rights reserved.