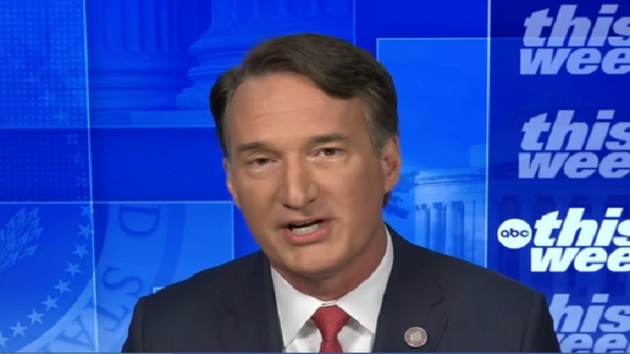 (RICHMOND) — With three days until Election Day in Virginia's pivotal legislative races, Gov. Glenn Youngkin believes the state can "lead" on rather than "fight" about abortion if enough of his fellow Republicans take office to enact a 15-week ban with exceptions, he said on ABC's "This Week" on Sunday.
Virginia is a battleground on the issue this year as the southern-most state that hasn't widely banned or restricted abortion access since the Supreme Court struck down Roe v. Wade.
Control of the state Legislature, currently divided between Democrats and Republicans, could decide the fate of abortion access.
"It's one of the most divisive topics across Virginia," Youngkin told "This Week" anchor George Stephanopoulos.
But, he argued, his stance — a "limit" on the procedure after 15 weeks with exceptions for rape, incest and saving the life of the mother — could be a compromise. Current law bans abortions after 26 weeks.
"I think this is one where Virginians come together around reasonableness. And it then allows us to move onto really important topics," Youngkin said, going on to cite concerns about inflation, education and crime — while touting how the state has added workers and increased education and public safety funding while he's been in office.
Abortion rights advocates and Democrats in Virginia have also heavily campaigned on the possibility of Republican-led restrictions, should the party take control of the Legislature as Youngkin predicts.
In September, Virginia Democratic Party Chairwoman Susan Swecker contended that Youngkin and "the MAGA extremists who are running to control the General Assembly" would seek to "overturn our rights and then keep taking more."
When pressed on Sunday by Stephanopoulos about why Virginia shouldn't preserve its current 26-week law, Youngkin said more restrictions were needed but he stressed that he viewed that as the consensus move.
"I think this is a choice between no limits and reasonable limits, and I think this is one where Virginians come together around reasonableness," he said.
"This is a place we can come together and settle on a very difficult topic," he said, "and I think we can lead here as opposed to fight."
Youngkin won the governorship in what was seen as something of an upset in 2021 and he has since built an increasingly national profile. Asked by Stephanopoulos if he has ruled out joining the 2024 presidential race — especially in light of GOP front-runner Donald Trump's unpopularity in general election polls — Youngkin said he "continues to be very focused on Virginia."
The governor has been eyed by some prominent donors like billionaire Thomas Petterfly as a potential late entrant in the Republican primary race.
"To even have my name tossed around in this is incredibly humbling," Youngkin said.
Copyright © 2023, ABC Audio. All rights reserved.