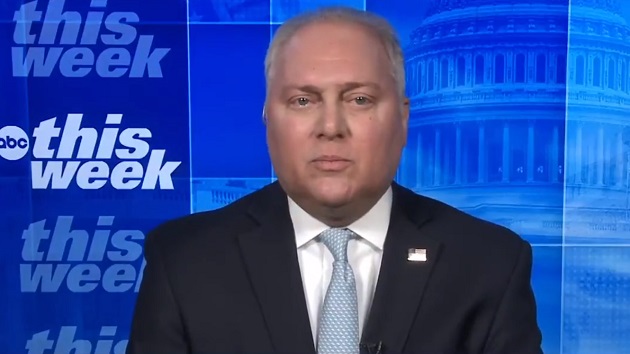 (WASHINGTON) — House Majority Leader Steve Scalise on Sunday defended Republicans seeking to send aid to Israel in its war with Hamas by cutting funding for the IRS to go after tax crimes, including by the wealthy.
"We passed a bill that addressed two problems that our Defense Department talks about: One, we need to get aid to Israel, and we do; but when our generals come and testify before committees like armed services, they say our debt is our biggest national threat. Not other countries like China, Russia — they say it's our debt. We addressed both in this bill in a bipartisan vote," Scalise told ABC "This Week" anchor George Stephanopoulos.
Stephanopoulos had noted that the nonpartisan Congressional Budget Office estimated that the GOP-led funding package for Israel in the House would add $12.5 billion to the government's deficit mostly because it would reduce the ability of the IRS to enforce tax collections.
Scalise was also separately pressed about the issue of the 2020 presidential election after Rep. Ken Buck, a Republican from Colorado, said last week that he would be retiring — and blamed conservatives' focus on election denialism.
"Can you say unequivocally the 2020 [presidential] election was not stolen?" Stephanopoulos asked Scalise.
The majority leader repeatedly declined to answer directly, instead raising concerns with how some states changed their voting rules in 2020 amid the COVID-19 pandemic.
"So you just refuse to say unequivocally that the 2020 election was not stolen?" Stephanopoulos said.
"You want to keep rehashing 2020. We're talking about the future," Scalise responded.
Copyright © 2023, ABC Audio. All rights reserved.