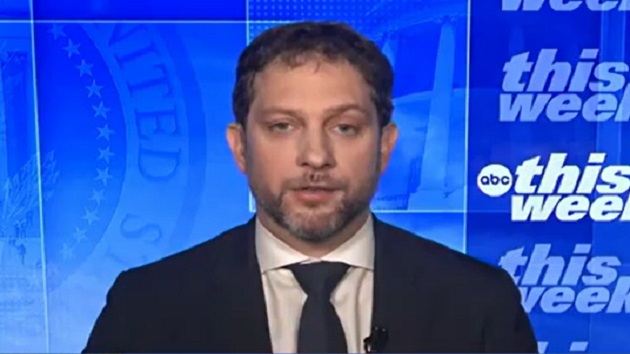 (WASHINGTON) — The U.S. believes the Middle East cannot return to the status quo and must agree on a new future for the Palestinians in the wake of Hamas' Oct. 7 terror attack, which led Israel to launch a war in the region, a top White House official said on Sunday.
"What I think we believe in strongly is that Gaza cannot and should not be allowed to be a platform from which horrific terrorist attacks can be conducted against Israel," Biden deputy national security adviser Jon Finer said in an interview with ABC "This Week" anchor George Stephanopoulos, referring to the Palestinian territory Hamas controls.
"And so to the extent that they are seeking to make that no longer possible, that is both a very legitimate and, we believe, an achievable goal," Finer added.
"Beyond that, what comes on the day after [fighting ends], I think we've also started to speak to: We cannot go back to a pre-Oct. 7 environment in Gaza where [terrorists] can threaten Israel in that way," Finer said.
That applies both to supporting Israel in its current military operations and supporting a political future for the Palestinians living in Gaza and the West Bank next to Israel, Finer said.
"That means resuming the urgent work of giving a political horizon to the Palestinian people, which to President [Joe] Biden means a two-state solution," Finer told Stephanopoulos.
That message was also delivered by Secretary of State Antony Blinken to Palestinian Authority President Mahmoud Abbas during an early Sunday morning surprise visit to the West Bank territory.
Blinken "made clear that Palestinians must not be forcibly displaced" and "expressed the commitment of the United States to working toward the realization of the Palestinians' legitimate aspirations for the establishment of a Palestinian state," his spokesperson Matthew Miller said.
The October attack on Israel by Hamas, designated as a terrorist organization by the U.S., killed more than 1,400, according to Israeli officials.
More than 9,400 people have also been killed in Gaza since the conflict began, the Palestinian Health Ministry said. Israel insists it takes steps to curb civilian casualties, though it has faced mounting criticism over the death and injury toll in Gaza.
Many pro-Palestinian activists and some Democratic members of Congress have called for a cease-fire in light of the Gaza casualties, but it's a move the Biden administrations does not support. Thousands of demonstrators gathered in front of the White House on Saturday.
On Sunday, Stephanopoulos asked Finer about Michigan Rep. Rashida Tlaib, who is perhaps the most vocal Democrat in criticizing the administration's support of Israel in the war. "The majority of the American people are not with you on this one," she wrote Friday in a social media post. She also denounced Palestinian "genocide."
Tlaib has herself come under fire for using controversial language around the conflict, including the phrase "from the river to the sea" — seen by many as a call for the end of Israel's existence, though Tlaib has said it's "an aspirational call for [Palestinian] freedom, human rights, and peaceful coexistence."
Finer, when pressed by Stephanopoulos on Tlaib's criticism, said that the Biden administration "strongly" disagreed with some of the words and phrases used amid the conflict — in what seemed to be a subtle rebuke of Tlaib — but he acknowledged there are "strong views on all sides," including within the administration.
"We have seen strong comments made by members of Congress, we respect the fact that there are people who have deep personal ties to this conflict in way that may be unusual in terms of recent world events," Finer said.
He continued: "All that said, some of the characterizations and the terms used, we believe, have technical definitions, have certain historical resonance and weight, and we do not accept their application to this particular war, even as we continue to raise our serious concerns about the toll that this is taking on civilian life and the need to do even more to protect it."
Stephanopoulos asked Finer if Blinken made progress in the U.S. effort to secure Palestinian sovereignty alongside the Israelis — a long-stated goal of the U.S. that has repeatedly failed amid ongoing tensions in the Middle East.
"There is actually a lot of alignment among the United States and our Arab partners on the fact that we cannot go back to a pre-Oct. 7 mindset," Finer argued.
"None of them are particular supporters of Hamas. That is quite clear. And all of them, I think, are strong supporters of the need for a two-state solution, which is what Secretary Blinken and President Biden have also been calling for, and the need to resume that work." Finer added.
Despite the calls for cease-fire also coming from some American allies in the region, such as Egypt, Finer said: "Secretary Blinken spoke quite clearly to why we believe now is not the time for an overall ceasefire, although we have made clear that we would support and are advocating for humanitarian pauses to allow humanitarian aid to be distributed, to potentially facilitate the release of more hostages and to give some relief and to allow the Palestinian residents of Gaza to take a breath amid this heavy, heavy bombardment."
In the meantime, Finer said, the U.S. continues to engage in "quiet, intensive negotiations" to secure the release of the more than 200 people, including Americans, believed to have been taken captive by Hamas after its terror attack.
"It is a huge priority for the president and for all of us to get as many of those hostages home. … And we believe that it's still possible," Finer said, "but that work is continuing and there is no agreement yet."
Copyright © 2023, ABC Audio. All rights reserved.