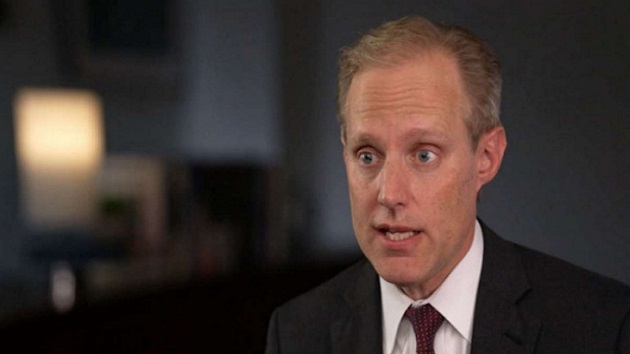 (NEW YORK) — The attorney leading a bipartisan campaign to disqualify former President Donald Trump from the 2024 ballot in every state says there's a "very good chance" a top court in Minnesota, Colorado or Michigan will rule on the issue before the end of the year — teeing up urgent review by the U.S. Supreme Court.
"This question needs to be decided ideally before any ballots are printed, and I hope and expect it will be decided in our favor," said Ben Clements, chairman and senior legal advisor of Free Speech for People, a legal advocacy group behind some of the constitutional challenges to Trump's candidacy.
Judges in Colorado and Minnesota last week heard arguments in cases brought by groups of voters alleging an often-overlooked part of the Constitution — Section 3 of the 14th Amendment — bars Trump from their state ballots.
The district court in Colorado is expected to deliver an initial ruling this month.
A court in Michigan this week will take up a similar case against Trump as his attorneys counter-sue officials in that state to forcibly include him on the ballot.
"We the people have an obligation, the secretaries of state have an obligation, the courts have an obligation to enforce and give meaning to Section 3 of the 14th Amendment. Even if it might be politically hard," Clements said on ABC's "This Week."
Section 3 of the 14th Amendment was ratified after the Civil War to keep former Confederate rebels from being elected to government roles. It says anyone who took an oath "as an officer of the United States to support the Constitution" and who then "engaged in insurrection or rebellion" or gave "aid or comfort to the enemy" cannot hold office.
Trump's critics allege he clearly violated Section 3 given his connection to the Jan. 6, 2021, riot at the U.S. Capitol and efforts to block certification of President Joe Biden's election victory.
"It's very clear cut," said Harvard Law professor and constitutional scholar Laurence Tribe. "The odds are that at least one state court is going to decide that the language of the 14th Amendment means what it says and says what it means, applying in this obvious case."
Trump has called the lawsuits an "absurd conspiracy theory" and "election interference." His legal team argues in court documents that the First Amendment right to free speech protects the former president from allegations he engaged in insurrection.
Trump attorney Scott Gessler, defending him in court in Colorado last week, called the 14th Amendment challenge there "anti-democratic" and contended that "it looks to extinguish the opportunity … for millions of Coloradans, Colorado Republicans and unaffiliated voters to be able to choose and vote for the presidential candidate they want."
The constitutional argument for disqualifying Trump gained steam after two prominent conservative legal scholars wrote an analysis in the University of Pennsylvania Law Review concluding that Section 3 is "valid, enforceable, and self-executing" — and applies to Trump.
"The fact that they are associated with the Federalist Society, that, unlike me, they are not liberals, I think adds credibility," Tribe said.
The claim, under this theory, that each secretary of state has the power to unilaterally remove Trump from ballots is backed up, at least in part, by a 2012 appeals court ruling from now-Supreme Court justice — and Trump nominee — Neil Gorsuch.
In a dispute over a naturalized citizen seeking to run for president in Colorado, Gorsuch concluded "a state's legitimate interest in protecting the integrity and practical functioning of the political process permits it to exclude from the ballot candidates who are constitutionally prohibited from assuming office."
"This is a provision that's supposed to operate whether or not you are prosecuted and convicted," Tribe said of Section 3.
But so far, no secretary of state has enforced Section 3 on their own.
"Eligibility challenges of any kind, whether it's residency or age or anything else, go through one channel and one channel alone, and that's the court," insisted Minnesota Secretary of State Steve Simon, a Democrat.
"We're not an investigatory office. We're not a law enforcement office. The ones who are going to make the legal calls about who engaged in what conduct and whether it rises to the level of constitutional disqualification — that's what a court will do," he said.
The case "is tough," said Sarah Isgur, an ABC News legal analyst and former Trump Justice Department official.
"Was Jan. 6 an 'insurrection' or 'rebellion' in that legal sense of the term? Did Donald Trump 'engage' in that insurrection?" Isgur said of questions the courts will have to weigh. "The other problem, and I think this one's more difficult, is that the language of Section 3 actually only applies to people who took the oath of office as officers of the U.S. When Donald Trump took the oath for president, he did not take the oath for an officer of the U.S."
Clements believes his cases are compelling and will be difficult for the Supreme Court to ignore.
"The purpose of Section 3 was to say certain people engage in conduct that's so egregious that is such a threat to our democracy," he said, "that even if they have the support of the majority of Americans — they should not serve."
Copyright © 2023, ABC Audio. All rights reserved.