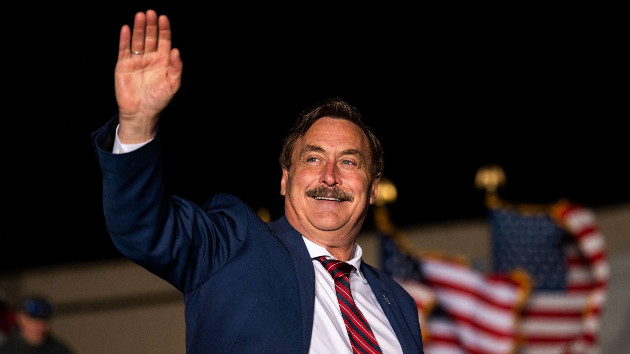 (NEW YORK) — MyPillow CEO Mike Lindell, one of the leading promoters of false 2020 election fraud claims, is facing pushback from election officials and experts after announcing the rollout of a device that he says can help keep elections secure.
Lindell says the wireless monitoring device, which was formally unveiled two weeks ago after Lindell first announced it in August at his so-called Election Crime Bureau Summit, is designed to detect if voting machines are connected to the internet.
The MyPillow CEO, who falsely claims that voting machines were manipulated to steal the 2020 election from Donald Trump, is facing defamation lawsuits from the voting machine companies Dominion Voting Systems and Smartmatic. Lindell has denied wrongdoing.
Lindell told ABC News that the monitoring devices have already been sent to election officials in several states including Kentucky, Louisiana, Mississippi and Missouri.
"We hope to have them in all 50 states," Lindell said.
"All it does is tell you if a [voting machine] is hooked up to the internet and transmitting," Lindell said. "It's already been checked out … 100% legal."
Investigators have, at times in the past, found isolated instances where computer systems that control voting machines were unknowingly connected to the internet. But election officials ABC News spoke with said that, generally speaking, Lindell's device is meant to solve a problem that doesn't exist.
Erran Huber, director of communications for Jefferson County, Kentucky, told ABC News their office "has no practical purpose for the devices" because their voting machines are "physically incapable" of receiving wireless internet connections.
"It is against the law in Kentucky for voting machines to be connected to the internet," Jim Luersen, the clerk for Campbell County, told ABC News.
Michon Lindstrom, director of communications for Kentucky Secretary of State Michael Adams, said the same thing.
"The presence of Wi-Fi in a building does not mean that ballot scanners are connected to the internet," Lindstrom said. "State law prohibits that, and we do not certify ballot scanners for use if they have any capacity for connectivity."
Beyond questions about the device's usefulness, election officials said that in order for any new technology to be used during elections, it must undergo a process of approval and testing. Lindell cannot "just send devices to clerks and expect them to be used," one election official told ABC News.
"It's a regulated field," said Brianna Lennon, the clerk for Boone County, Missouri. "Our voting equipment is certified both at the federal level by the Election Assistance Commission, and then it is certified again at the Secretary of State's level before we are allowed to purchase it."
As a result, said Lennon of Lindell's device, "I do not intend to use it for anything."
One county in Kentucky banned such devices in October after being made aware of them.
"On October 20, 2023, the Kenton County Board of Elections voted unanimously [to] deny entry to a polling location to any person possessing an electronic device, if that device is to be used for the purpose of recording or interfering with the proper functioning of any voting equipment," said Gabrielle Summe, the Chair of the County Board of Elections.
Lindell told ABC News that each device cost him $500 to manufacture, and that he plans to send out 1,000 devices to at least three states that are conducting elections this month.
Lindell said the inventor of the device is Dennis Montgomery, a computer programmer who was subpoenaed by voting machine company Smartmatic for documents and testimony the company said is relevant to its defamation suit against Lindell. According to a status conference record, Montgomery satisfied the request after he sat for a deposition.
Montgomery did not respond to requests for comment by ABC News.
Larry Norden, the senior director of the Elections and Government Program at the Brennan Center for Justice, a nonpartisan voter advocacy group, called Lindell's devices and his continuous push to spread false claims about the 2020 election and voting machines "dangerous."
"This is more peddling of his lies about election equipment," Norden said regarding the device. "And I think the most important thing to know about voting machines in the United States is that virtually all of them have a paper record of every vote."
"Mike Lindell has gotten away with lying a lot about elections, but it's not without consequences and not without harms to individuals who work in elections — and more broadly to the functioning of our democratic system," Norden said.
Copyright © 2023, ABC Audio. All rights reserved.