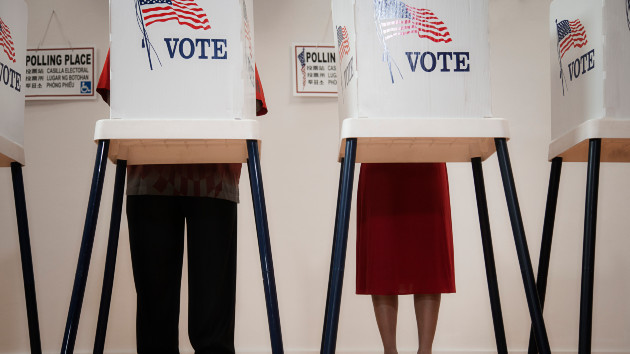 (NEW YORK) — Republican presidential candidate Vivek Ramaswamy and California Democratic Rep. Ro Khanna met for a debate on Wednesday and what started out as a friendly exchange soon turned into a fiery conversation over fundamental differences.
The hourlong event — held at St. Anselm College's New Hampshire Institute of Politics in Manchester and moderated by Boston Globe reporter James Pindell — comes after months of back and forth between the two politicians about facing off.
Ramaswamy has built a national profile through his campaign for the 2024 presidential nomination while Khanna, first elected in 2016, is seen as a lawmaker with potentially larger future of his own
According to organizers, the debate was designed to avoid questions about process, the campaign horse race or hypotheticals. Instead, Ramaswamy and Khanna focused on the economy, foreign affairs, climate change and the future of America, in 10-minute segments.
"I thought instead of just trying to score rhetorical points online, why not have a civil, substantive discussion about the future of America with someone you disagree with?" Rhanna said in breaking the ice with Ramaswamy.
Recent Stories from ABC News
He continued, with a moment of laughter: "I want to stop getting confused at airports for you — I'm hoping this is going to clear that up." (Both men are of Indian descent.)
Foreign policy
The debate became notably heated when the two sparred over wars elsewhere in the world, taking opposite stands on the amount of funding and support that should be given to Ukraine, amid Russia's invasion, and other foreign conflicts.
"My view is that Israel has an absolute right to its own national self-defense. That's the answer," Ramaswamy said bluntly when asked about Israel's war with Hamas in the wake of the extremist group's terror attack on Israel on Oct. 7.
Ramaswamy continued, referring to U.S. military assets in the Middle East largely intended for counterterrorism: "By the way, our bases in Syria and Iraq, where our sons and daughters are sitting, are sitting targets. We shouldn't be there in the first place."
Ramaswamy also reiterated his stance against American military involvement in foreign conflicts — something he called the "George Washington America First conservatism," modifying rival Donald Trump's own platform.
Khanna, who prefaced the conversation on foreign affairs with his background of starting out his political career opposing the Iraq War, disagreed, saying "American leadership" is needed — not "American isolationism."
"One point though …. I agree with you. We should not be in a ground war. We should not get involved in the war," he said of Israel and Hamas. He then said he supports a push for a two-state solution with Israel and the Palestinians.
When discussing Ukraine, Khanna said, "American interest requires American leadership."
Standing with Ukraine was also a useful "deterrent" to China potentially taking any action against self-governing Taiwan, Khanna said.
Ramaswamy then took a swipe at Khanna, saying it disappoints him that people who opposed past conflicts were now "marching into the same conflicts." He also contended that Ukraine has issues with trying to live up to its democracy.
Khanna advised him, repeatedly, to "get a briefing" on the matter "because you're running, you have a big platform."
The economy
On the economy, Ramaswamy argued in favor of increasing the domestic supply of "everything that's worth producing" — including increasing energy production through drilling, nuclear power, fracking and more — but said government regulations and bureaucracy are the "basic obstacle."
He laid the blame with President Joe Biden.
"It is, I think, regrettable to be carrying the water of Joe Biden when in fact … everyday Americans know they're suffering at the hands of policies that came from this administration," Ramaswamy said.
Khanna disagreed with Ramaswamy, stressing what he saw as the importance of government involvement in stimulating economic growth.
"Vivek and I completely disagree with what I call 'economic patriotism': the role of the government to rebuild industry which has been hollowed out," he said.
Khanna called Ramaswamy's proposal to cut the federal bureaucracy by 75% a "horrible idea." Such a move would likely face logistic and legal challenges of its own.
"You need the federal government investments to be able to scale factories. You need it to be able to build," Khanna said.
On energy, he said, "If something is faster and cleaner — use it. No one is saying don't use fossil fuels."
He pushed back on Ramaswamy's broader campaign message: "We're not going to have patriotism if we don't have a vision for economic empowerment. … Just saying, 'Let's study the founders, let's appeal to rhetoric' isn't gonna give us a common ground."
Climate change
Pindell, the moderator, referenced a poll on climate change that suggested one out of three Republicans think it should be declared a national emergency.
Ramaswamy laughed: "I'm not one of those three Republicans."
He contended that "climate change policies" could cause more harm than the changing climate, which has raised numerous alarms from scientists and environmentalists.
Khanna responded in disbelief, saying human flourishing requires a planet. He referenced flooding in the state earlier this year.
"When we were going to have this conversation, I was going to come in with all these scientific facts. And then one of the young folks on my team said, 'Ro, you don't have to convince people in New Hampshire that climate change is real or that it's an existential threat,'" he said.
Ramaswamy took a much more skeptical view: "A lot of this agenda has nothing to do with the climate. It is about flogging ourselves … apologizing for our modern way of life. I'm not against developing alternatives."
The future
One point of agreement? The country's future.
"When I was growing up in Bucks County, Pennsylvania, my parents could not have met a staff member or a member of Congress. Today, there are five South Asians in the United States Congress. This is a country of progress," Khanna said.
He said that what is needed next is an end to the tax cuts favored by Republicans to give "working, middle-class families" a "shot at the American dream."
Ramaswamy stuck to a line he often repeats on the campaign trail.
"I think we're really just a little young right now [as a country]," he said. "Actually — going through our version of adolescence. We're going through hard times. I'm not going to come here and tell you, 'It's morning in America.' It's not. But it can be again."
He concluded that Americans have a lot in common.
"We might disagree on corporate tax rates or whatever those details are. But we agree on the basic rules of the road to meritocracy, free speech, the pursuit of excellence, self-governance over aristocracy, I think most of us in this country do," he said. "We still share the ideals of the American Revolution in common, but now it's up to us to move just beyond celebrating diversity and differences to celebrate those ideals that unite us."
Copyright © 2023, ABC Audio. All rights reserved.