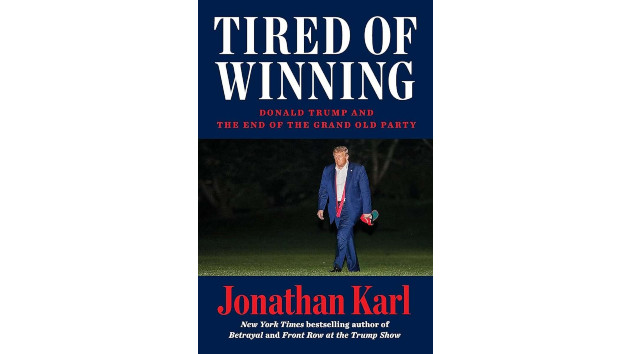 (WASHINGTON) — Former President Donald Trump has repeatedly made a central theme of his 2024 White House bid clear: Retribution.
Now, the story behind that controversial theme is revealed in a new book by ABC News Chief Washington Correspondent Jonathan Karl.
In Tired of Winning: Donald Trump and the End of the Grand Old Party, excerpts of which were first released in The Atlantic on Thursday, Karl reports that Trump's campaign message has its apparent roots in an old Confederate code.
While Trump half-heartedly launched his presidential campaign in November 2022, Karl writes, it wasn't until he stood on stage at the annual Conservative Political Action Conference (CPAC) in early March 2023 that his platform kicked into high gear.
"In 2016, I declared 'I am your voice.' Today I add: 'I am your warrior. I am your justice, and for those who have been wronged and betrayed, I am your retribution,'" Trump said at the time, roughly a month after his first indictment.
It was a language his longtime adviser Steve Bannon told Karl was his "Come Retribution" speech, according to the excerpts in The Atlantic.
Karl says Bannon suggested he read a book about the "Come Retribution" history.
"What I didn't realize was that 'Come Retribution,' according to some Civil War historians, served as the code words for the Confederate Secret Service's plot to take hostage — and eventually assassinate — President Abraham Lincoln," Karl writes.
Karl notes in the excerpts that while Trump's speech was not an "overt call for the assassination of his political opponents," it did push for their "destruction by other means."
Later that month, on March 25, Trump held the first rally of his 2024 campaign in Waco, Texas.
Karl reports that while Trump's team denied any symbolism between the choice of venue and the disastrous, deadly 1993 clash between government agents and the Branch Davidian religious sect, it was no coincidence.
"We're the Trump Davidians," Bannon told him "with a laugh," according to the excerpts.
But even as Trump was publicly pitching himself to the GOP base as its savior, there was one moment where he expressed doubt, according to the excerpts.
It was when New York Judge Juan Merchan set the trial date for the hush-money case against Trump. The former president was listening to the court proceeding on Zoom when he learned the trial would begin in March 2024 — the same time as many of the Republican primaries.
According to The Atlantic excerpts, Trump turned to the lawyer sitting next to him in his Florida estate and unloaded.
"You are going to cost me the presidency!" he told him.
ABC News Chief Washington Correspondent Jonathan Karl also is the author of two other books about Donald Trump, Front Row at the Trump Show and Betrayal.
Copyright © 2023, ABC Audio. All rights reserved.