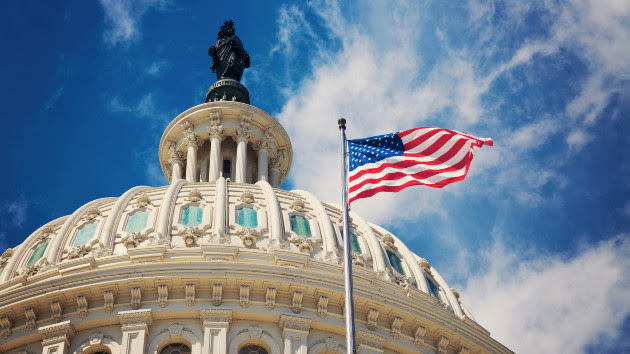 (WASHINGTON) — New House Speaker Mike Johnson spoke with Senate Republicans Wednesday about his controversial Israel-only aid package in an effort to gain their support, telling them that he wants to get additional aid for Ukraine passed, but the Israel aid will likely have to move through first and separately.
Johnson addressed the Senate Republican Conference in a closed-door lunch that lasted about an hour Wednesday afternoon. During it, Johnson discussed his aid package, and signaled a new willingness to advance aid to Ukraine, something that he has voted against in the past.
He's pushing a vote on the House floor Thursday on the bill that would provide more than $14 billion to the American ally but not include $61 billion in aid to Ukraine as President Joe Biden, House and Senate Democrats, and even many Senate Republicans want tied to the same measure.
"He made it very clear that he understands how critical Ukraine aid is," said Sen. Mike Rounds, R-S.D.
But aid for Ukraine, Johnson said, will require some major concessions from the Biden administration, Senate Democrats and those Senate Republicans, including Minority Leader Mitch McConnell, who wish to see Ukraine aid move as part of a robust package that includes funds for Israel, Taiwan and the border.
Johnson told senators that Israel aid will have to go first and separately, according to multiple lawmakers who were in the closed-door lunch.
"He said he has to separate them — he cannot get his majority to pass them together," Sen. Josh Hawley, R-Mo., said. "He wants to do Israel first. And then he said their next order of business would be Ukraine, border."
Israel aid is widely popular in both chambers and could easily pass. But the version that the House is preparing to consider includes a plan to offset the cost of the aid by rolling back funding for the IRS in Biden's signature Inflation Reduction Act bill. Senate Majority Leader Chuck Schumer slammed the bill as a "partisan and woefully inadequate package" that includes "poison pills" that help tax cheats.
Before Johnson spoke to Senate Republicans, McConnell again took to the Senate floor Wednesday to make the case that the U.S. must back Ukraine and provide it more aid.
"Over and over again, history has taught us that the costs of disengaging from the world are far higher than the costs of engaging. And just as the threats we face aren't isolated, neither are the benefits of investing in American leadership," McConnell said.
Leaving their meeting Wednesday, senators were not clear on whether Johnson would be willing to strip the IRS provision out of the bill to move a clean Israel funding bill.
But Johnson was adamant, senators said, that Israel funding must be secured before the House can move on with considering aid to Ukraine.
Senators said Johnson laid out a plan for the House to pick up a separate package that moves Ukraine funding and border security together only after aid for Israel is secured.
Sen. John Cornyn, who has been leading the Senate GOP conference in its efforts to secure policy changes at the border as part of any national security package, said that Johnson sees Ukraine and the border as "inextricably intertwined."
"It's pretty clear to me that he doesn't intend to leave Ukraine behind, and that's reassuring to those of us who support Ukraine funding as well, but there's also going to be a price to be paid on the border, and it's not just going to be money. It's going to be policy that Democrats have refused to do in the past," Cornyn, R-Texas, said.
Sen. J.D. Vance, R-Ohio, said a border deal is central to moving forward.
"I think that what we've heard from not just the speaker, but from a number of House conservatives, whether they're pro- or anti-Ukraine funding, it has to be conditional on a border deal," Vance said.
Johnson presented 12 questions that he said he has posed to the White House regarding the "end game" in Ukraine.
"He really hit a home run," said Sen. Lindsey Graham, a staunch Ukraine-aid advocate. "I feel better that we have a pathway forward that makes sense."
Johnson also told Senate Republicans that a stopgap funding bill will likely be necessary to keep the government open past the looming Nov. 17 deadline.
It's not yet clear what sort of concessions, if any, Johnson will seek from Democrats in order to secure a stopgap funding bill.
Sen. Markwayne Mullin, R-Okla., said that the short-term bill may not be palatable for some senators.
"He said they understand they are probably going to have to have a CR that the Senate may not be able to pick up, but it's going to be a starting point that we're going to try to get together to get sent over to you guys, and we'll see where it goes from there," Mullin said.
Johnson told senators that the proposal would likely kick the funding deadline into next year, allowing lawmakers more time to hash out the 12 appropriations bills that keep the government open through the end of the fiscal year.
Copyright © 2023, ABC Audio. All rights reserved.