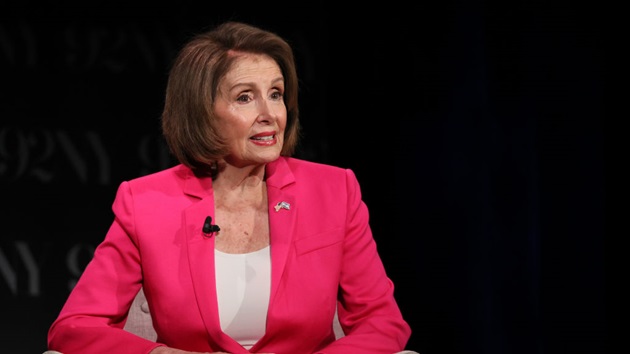 (WASHINGTON) — Nancy Pelosi is pushing back on No Labels — "perilous," she calls it, earning some pushback of her own — as South Carolina Sen. Tim Scott echoed some of the election fraud fears that have become popular among his party.
And Donald Trump share more of what he will be doing next week instead of debating his 2024 rivals in Miami.
Here are campaign takeaways for Thursday.
Pelosi vs. No Labels
"Perilous to our democracy": That's what former House Speaker Nancy Pelosi had to say about the group No Labels possibly launching a third-party "unity" ticket to run in the 2024 presidential race given voter dissatisfaction with the Republican and Democratic front-runners.
"I think that No Labels is perilous to our democracy. I say that completely without any hesitation," Pelosi said at an event with the nonprofit Third Way.
No Label co-founder and former Sen. Joe Lieberman soon shot back with a rhetorical question.
"Do you know what is 'perilous' to democracy? When leaders try to tell Americans what they are allowed to think and when they try to prevent competition from participating in the political process. That's apparently what my friend Rep. Nancy Pelosi said this morning, and it is wrong," Lieberman said in a statement.
-ABC News' Abby Cruz, Hajah Bah and Kelsey Walsh
Tim Scott weighs in on election integrity
During a meet-and-greet in Independence, Iowa, on Thursday, Scott did not defend the integrity of the 2020 election when asked but did say he has more confidence heading into 2024 than in years past.
"I'm more confident today than I was in 2020, and 2022," Scott replied, drawing laughter.
He went on to single out Georgia and Pennsylvania as he raised baseless concerns about the mail ballots used by those states in 2020: That to me sounds like an invitation for high levels of fraud. Anybody disagree?"
He said signature verification and voter ID law, are "common sense, from my perspective," but he also talked about reducing drop boxes and having compact windows for early voting.
-ABC News' Gabriella Abdul-Hakim, Fritz Farrow, Libby Cathey and Hajah Bah
Trump's debate 'spin room'
Former President Trump and his campaign continue to attempt to pull the focus away from the upcoming GOP debate, on Nov. 8 in Miami.
Not only is Trump counterprogramming with a rally in Hialeah, Florida, his campaign just announced they will be holding a "Team Trump Spin Room" after he speaks.
Throughout the Republican primary, Trump has indicated he sees no point in attending the debates, to face scrutiny from the other candidates, given his large polling lead.
ABC News' Lalee Ibssa, Soo Rin Kim and Kendall Ross
Sununu gushes about Haley
Former South Carolina Gov. Nikki Haley attended a town hall alongside New Hampshire Gov. Chris Sununu at the Poor Boy's Diner in Londonderry, where Sununu — a vocal Trump critic — lapped praise on her and called winning "the issue of 2024."
"That's all that matters. If you cannot cross the finish line in November of '24, get your ass off the ballot," he said.
At one point, Haley poked fun at Sununu, asking if he was going to endorse her.
"I'm getting closer every day. Getting closer every day," he retorted, later clarifying he meant that he was getting closer to an endorsement overall as the state's GOP primary draws nearer.
-ABC News' Nicholas Kerr and Abby Cruz
Ramaswamy says he's fighting back with ads
Vivek Ramaswamy is blaming his stagnant polling — after an earlier brush with increased support around the first primary debate — on advertisements targeted at him.
Just one day after telling reporters that he's "going to put [his] money where his [mouth] is, Ramswamy's campaign has announced an eight-figure ad buy in Iowa and New Hampshire.
Campaign spokesperson Tricia McLaughlin tells ABC News that the campaign is investing $7-8 million in Iowa and $3-4 million in New Hampshire.
Ramaswamy has said that the money will not go to more events, as he already has a lot: "I think if the election was held amongst the subset of people who go to events, I think we'd probably win Iowa and New Hampshire right now."
ABC News' Kendall Ross, Kelsey Walsh, Soo Rin Kim and Lalee Ibssa
Copyright © 2023, ABC Audio. All rights reserved.