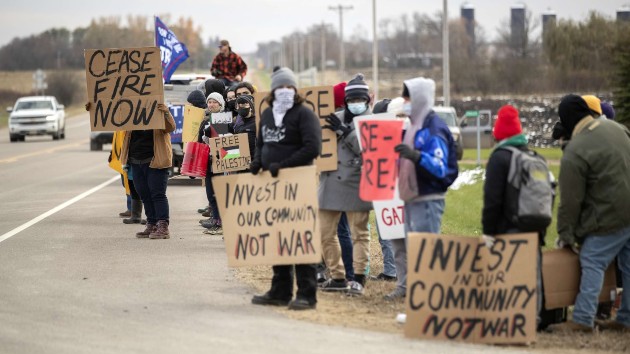 (WASHINGTON) — Both the White House and President Joe Biden's reelection campaign are seeking to highlight his outreach to and support of Muslim and Arab communities in the U.S. as he faces increased pressure from some Muslim leaders to call for a cease-fire to the Israel-Hamas war, which Israel launched in the wake of a Hamas terror attack on Oct. 7.
"President Biden knows the importance of earning the trust of every community, of upholding the sacred dignity and rights of all Americans," campaign spokesperson Ammar Moussa said in a statement on Wednesday to ABC News.
Moussa added: "President Biden continues to work closely and proudly with leaders in the Muslim and Palestinian communities in America, to listen to them, stand up for them, and fight back against hate."
In an open letter, Muslim leaders from around the country last week urged Biden to back a cease-fire in the conflict — or else: They promised to not support Biden's 2024 bid and instead actively campaign against him should he not comply by Tuesday, which they would take as an endorsement of the fighting.
Jaylani Hussein, executive director of the Minnesota chapter of the Council of American-Islamic Relations, said in a statement that the Muslim community was "tired of being ignored, disrespected. … We believe that we have no option but not to vote for President Biden."
Minnesota has a notable Muslim community, as does Michigan — both of which have been closely contested in recent presidential elections, underscoring the importance of voters there.
"We understand the impact that it has," Hussein said, "and we're going to do everything possible to make this happen."
During Biden's trip to Minnesota on Wednesday, protesters gathered at some events calling for a stop to the war.
While Biden has repeatedly reiterated American support for Israel's government and military in the wake of Hamas' attack, including attesting to the country's right to self-defense, he has stressed that the Israelis should follow international law and seek to avoid civilian casualties in the war on Gaza, the blockaded Palestinian territory controlled by Hamas, which the U.S. has designated as a terrorist organization.
The U.N. and outside humanitarian groups have warned of a "crisis" if aid is not allowed into Gaza and civilians aren't protected in the conflict.
Israeli officials have said Hamas' attack killed 1,400 in Israel. More than 8,700 people have been killed in Gaza, according to the Palestinian Ministry of Health.
Rather than a wider cease-fire, administration officials have expressed support for a more limited "humanitarian pause," including to get aid to civilians in Gaza and help Americans and other nationals there leave.
Biden said last week that "Israelis and Palestinians equally deserve to live side by side in safety, dignity and peace."
During a campaign fundraiser in Minneapolis on Wednesday, Biden was interrupted by a heckler pressing him about his response to the Israel-Hamas war and urging a cease-fire, according to reporters traveling with the president.
"I think we need a pause," Biden said back, as the heckler, later identified as an activist rabbi, asked what he meant by that. "A pause means give time to get the prisoners out. Give time." (Israeli officials have said Hamas is believed to have taken more than 200 captives after its terror attack.)
"This is incredibly complicated for the Israelis. It's incredibly complicated for the Muslim world as well," Biden went on to say before reiterating that he wanted a two-state solution for Israel and the Palestinians.
The president's handling of the conflict has been criticized by some members of the Democrats' progressive wing, including Reps. Rashida Tlaib of Michigan and Ilhan Omar of Minnesota.
"I cannot believe I have to beg our country to value every human life, no matter their faith or ethnicity. We cannot lose sight of the humanity in each other," Tlaib said in a statement earlier this month.
On Wednesday, White House spokeswoman Emilie Simons acknowledged the Muslim-led protest against Biden when speaking with reporters on Air Force One the way to Minnesota.
"We know that for millions of Muslim and Arab and Palestinian Americans here in America, there's a deep pain and people are really hurting," Simons said, "and we hear that."
Later on Wednesday, the administration announced the "first-ever" national strategy to counter Islamophobia.
"For too long, Muslims in America, and those perceived to be Muslim, such as Arabs and Sikhs, have endured a disproportionate number of hate-fueled attacks and other discriminatory incidents," White House press secretary Karine Jean-Pierre said in a statement.
The effort will be led by the White House's Domestic Policy Council and the National Security Council to "counter the scourge of Islamophobia and hate in all its forms," Jean-Pierre said.
The Biden campaign on Wednesday also took a shot at rival Donald Trump for recently saying he would "reimpose the travel ban on terror-afflicted countries" — a previous campaign pledge that led to a huge legal battle when Trump enacted it after taking office in 2017.
"The President and this administration have been unequivocal: there is no place for Islamophobia, xenophobia, or any of the vile racism we have seen in recent weeks," Moussa, Biden's campaign spokesperson said, adding: "The stakes of next year's election could not be more consequential."
Copyright © 2023, ABC Audio. All rights reserved.