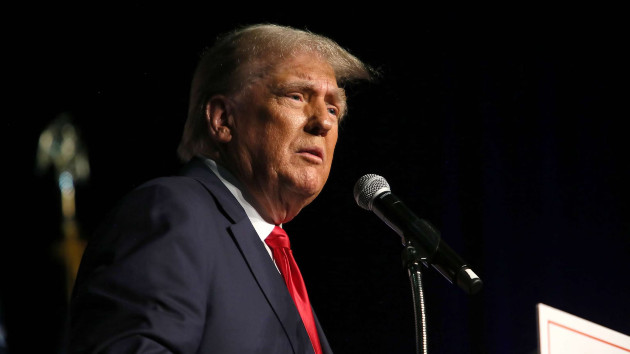 (WASHINGTON) — During his latest rally, while criticizing rival Joe Biden for his gaffes as a candidate, Donald Trump had some stumbles of his own.
"A very big hello to a place where we've done very well: Sioux Falls. Thank you very much, Sioux Falls," Trump boomed into the microphone as he launched into his remarks.
But Trump was actually in Sioux City, Iowa — not Sioux Falls, South Dakota — and while the blunder caught the attention of those in the crowd, who shouted out the right location, he didn't correct himself until a state lawmaker whispered in his ear.
The Biden campaign soon seized on the "Sioux Falls" slip, in the latest example of how Trump is being scrutinized for his own mistakes while trying to make Biden's age and alleged infirmity one of the key issues of 2024.
Polling shows Americans have concerns about the advanced age of both men, who are currently the front-runners to be their party's nominees. However, more people have issues with the age of Biden, who is the oldest-ever president and would be 82 at the start of a second term.
In an ABC News/Washington Post poll conducted in September, 74% of Americans said Biden was too old for reelection — up 6% since May — while Trump was seen as too old by 50% of Americans.
Biden has said it's fair for people to consider his age, but he's also defended his stamina and record.
"I feel good. I feel excited about the prospects, and I think we're on the verge of really turning the corner in a way we haven't in a long time," Biden told ABC News Chief White House Correspondent Mary Bruce in April.
Democrats have been pushing back on Trump, including by circulating a list of his slip ups, like when he said Biden could start "World War II."
The Biden campaign has in recent weeks worked to amplify Trump's slips on their rapid response social media accounts; however, their focus has largely been on critiquing Trump's record, including his role in the ending of Roe v. Wade's abortion protections.
Trump's Republican challengers jumped in as well. Florida Gov. Ron DeSantis, the No. 2 candidate in the primary behind the former president, recently posted a "Trump Accident Tracker" on X.
At Sunday's rally, Trump knocked Biden for, he said, not being able to read a teleprompter. He went so far as to do an imitation of his Democratic rival trying to make out the words on the screen.
"He can't do anything," Trump said to cheers.
Soon after, Trump appeared to struggle to read his own teleprompter: He mispronounced "Canada" while talking about how he had ended the North American Free Trade Agreement and replaced it with another deal with Canada and Mexico.
On Saturday, while speaking in Las Vegas, Trump also struggled to read a "beautiful" prepared speech, saying he didn't have enough lights to see and was "going to have to wing it."
It hasn't just been verbal lapses. Trump has also made factual mistakes while on the stump during his off-script tangents.
At a rally in New Hampshire earlier this month, he incorrectly said Viktor Orbán is the "leader of Turkey," when Orbán is actually the prime minister of Hungary.
At his rally on Sunday, he made a similar mistake when he claimed both Ukraine and Russia bordered Hungary.
Biden's critics point out that he has his own history of saying incorrect things, and Trump's speaking style has long been explained away as freewheeling. Both candidates have had physical issues: Biden has tripped or fallen repeatedly and Trump, in 2020, defended his unusually cautious walk down a ramp while holding onto a service member's arm.
A Trump campaign spokesperson claimed in a statement that his gaffes are different from the ones that he and his allies highlight of Biden, saying "false narratives" haven't affected Trump's standing.
"People know President Trump is the strongest candidate," spokesperson Steven Cheung wrote, in part.
Noting some of Biden's past snafus, such as tripping on Air Force One's staircase, Cheung continued: "There's no correcting that and that will be seared into voter's minds."
On a call with reporters last week, DeSantis suggested Trump has diminished somewhat since his 2016 campaign.
"I think he was energetic, freewheeling back then," DeSantis said. "I think it was really about 'America first.' Now, I think, he's on the teleprompter. Most of the stuff he's talking about is about himself and his issues, and that's not the inspiring message that is going to be able to win the day with the American people."
With Trump expected to skip out on the third Republican primary debate, set for next week, others in the field are using his absence to emphasize their claim that Trump — like Biden — needs assistance.
"I'm willing to allow him to bring his teleprompter to the debate if that's what he wants to do, and we will just do it like that," DeSantis said, echoing sentiments shared by other candidates.
Trump, for his part, has indicated he sees no point in attending debates and being attacked given his commanding lead in the polls.
Former U.N. Ambassador Nikki Haley, 51, has been one of the most vocal candidates talking about politicians' age, going as far as to say politicians over the age of 75 should take mental competency tests.
"I'm not saying that to be disrespectful," Haley said in September while listing Sen. Mitch McConnell, the late Sen. Dianne Feinstein and Rep. Nancy Pelosi — Republicans and Democrats alike.
"At what point do they get it's time to leave?" Haley said. "They need to let a younger generation take over."
But Trump supporters who spoke with ABC News said they are undeterred — and the former president was as strong and fit as ever.
Last week, several supporters that attended a campaign fundraiser at Trump's Mar-a-Lago Club said they were impressed by what they called the energy and the wit of Trump's fiery two-hour speech, which they said he appeared to be freestyling.
"Then he finally closed the binder and said, 'Do you need me to read the speech?'" recalled attendee Bill White, a donor and a longtime friend of Trump. "Can you imagine Biden doing that?"
Copyright © 2023, ABC Audio. All rights reserved.