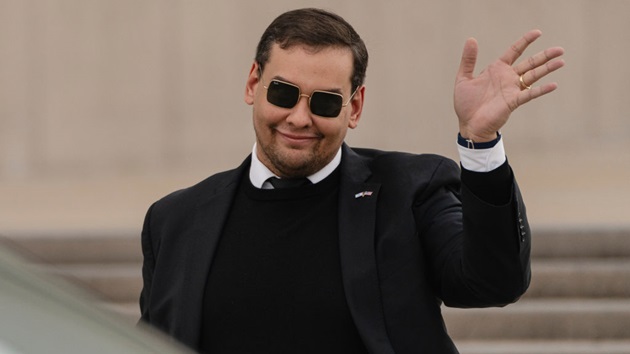 (WASHINGTON) — The House has scheduled a Wednesday night vote on a Republican-led resolution to expel embattled Rep. George Santos, who maintains his innocence after being indicted on a slew of federal charges.
The push to try and oust Santos is coming from fellow GOP lawmakers in the New York delegation, who argue his past lies and embellishments about his personal history and his various legal entanglements make him unfit for office.
Rep. Anthony D'Esposito on Thursday formally filed the expulsion resolution as privileged — which forced the House to move quickly on Santos' possible removal. D'Esposito was joined by Reps. Mike Lawler, Nick LaLota, Marc Molinaro and Brandon Williams.
The resolution would need a two-thirds majority to succeed, or 289 votes if all 433 members are present — a high bar for passage.
D'Esposito sent a letter from the group to colleagues on Wednesday urging them to back the resolution to force Santos out.
"We strongly urge you to vote in favor of this resolution and encourage you to contact any one of us should you have any doubts about expelling George Santos from this body," they wrote.
Only five members in U.S. history have been expelled from the House. If this resolution passes, Santos would be the first expulsion since 2002, when Ohio Democrat James Traficant was removed after being convicted of 10 felony counts of racketeering, bribery and fraud.
Santos hasn't been convicted but is charged with 23 counts as prosecutors allege he stole people's identities, made charges on his campaign donors' credit cards and lied to federal election officials.
The congressman pleaded not guilty last week and has repeatedly said he won't step down. His trial is set for 2024.
"I'm strong in my convictions that I can prove my innocence," he told reporters last month.
Republicans often count on Santos, who represents a swing district on Long Island, to help pass legislation in the House because of the party's single-digit majority. Newly-elected Speaker Mike Johnson has signaled concern that expelling him could endanger that.
It's not the first time that Santos has been threatened with an expulsion vote.
Democrats tried to force the House to consider an expulsion resolution back in May, when the first set of charges came down against Santos. Republicans avoided that vote, instead choosing to refer the matter to the House Ethics Committee — which released a rare statement Monday saying they'll announce next steps for their Santos investigation on or before Nov. 17.
The committee's investigative subcommittee, which has been reviewing allegations involving Santos, said it "has contacted 40 witnesses, reviewed more than 170,000 pages of documents and authorized 37 subpoenas."
Santos has said he intended to cooperate with the committee.
ABC News' Alexandra Hutzler contributed to this report.
Copyright © 2023, ABC Audio. All rights reserved.