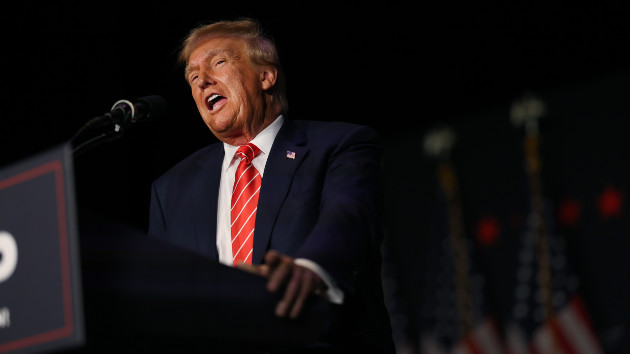 (MIAMI) — The judge overseeing the probe into former President Donald Trump's handling of classified documents is set to hear arguments Wednesday as she considers a request from Trump to extend deadlines in the case.
At issue is how the classified materials at the center of the probe are to be handled by the defendants and their attorneys, based on national security requirements.
After Judge Aileen Cannon established several deadlines for ruling on those issues, Trump's legal team filed a motion asking her for a three-month extension, saying that Trump and his co-defendants have still not received access to "significant portions of the materials that the Special Counsel's Office has characterized as classified."
Cannon subsequently paused any litigation involving the classified materials in question in order to consider the request.
Special counsel Jack Smith previously said that some documents were so sensitive that they couldn't even be viewed in a Sensitive Compartmented Information Facility or SCIF — a specially-equipped secure room for viewing highly classified materials. In a subsequent filing, the government said that a SCIF had been approved to store the documents, and that they were prepared to arrange for delivery of those documents.
Last month, Cannon issued a protective order over the classified information central to the case, clearing the way for the special counsel to begin providing classified discovery materials to Trump and his lawyers to review in a SCIF.
On Tuesday, Trump joined his attorneys in Miami for a visit to a SCIF to conduct his first known review of classified evidence, according to sources.
Trump's legal team has also asked the judge to consider their request for the trial to take place following the 2024 presidential election. The trial is currently set to begin this coming May.
Wednesday's hearing could provide an indication from Cannon as to whether she intends to keep or move the trial date.
Trump pleaded not guilty in June to 37 criminal counts related to his handling of classified materials, after prosecutors said he repeatedly refused to return hundreds of documents containing classified information ranging from U.S. nuclear secrets to the nation's defense capabilities, and took steps to thwart the government's efforts to get the documents back.
The former president has denied all wrongdoing.
Copyright © 2023, ABC Audio. All rights reserved.