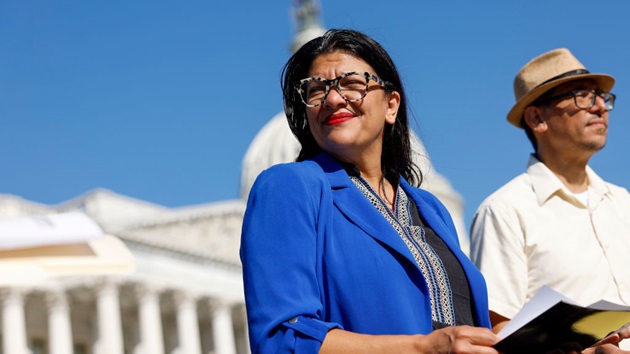 (WASHINGTON) — The House on Wednesday will weigh two censure resolutions, one of which is against Democratic Rep. Rashida Tlaib for her criticism of Israel over its response to the deadly Hamas terror attack.
Tlaib last month drew the ire of colleagues, including some Democrats, after she refused to apologize for blaming Israel for a deadly hospital blast in Gaza in the early days of the Israel-Hamas conflict. U.S. officials said the initial evidence suggests the blast came from an errant Palestinian Islamic Jihad rocket, not Israel.
The resolution to censure Tlaib, brought by Republican Rep. Marjorie Taylor Greene, cites several of her comments dating back to 2019 and her recent participation in a demonstration at the Capitol calling for an end to the war.
Greene has accused Tlaib, who is the first Palestinian-American woman elected to Congress, of "anti-semitic activity" and "sympathizing with terrorist organizations." The U.S. has designated Hamas a terrorist organization.
The Michigan Democrat slammed Greene's measure as "unhinged" and "deeply Islamophobic."
"I am proud to stand in solidarity with Jewish peace advocates calling for a ceasefire and an end to the violence," Tlaib wrote in a statement. "I will not be bullied, I will not be dehumanized, and I will not be silenced. I will continue to call for ceasefire, for the immediate delivery of humanitarian aid, for the release of hostages and those arbitrarily detained, and for every American to be brought home."
Greene's resolution goes so far as to falsely allege Tlaib led an "insurrection" at the Capitol complex on Oct. 18 when thousands of people gathered both in the rotunda of the Cannon Office Building and outside on the National Mall calling for an end to the Israel-Hamas war.
The protest, which was organized by the Jewish Voice for Peace, a progressive Jewish group that has organized several demonstrations demanding a cease fire in the Israel-Hamas war. The D.C protest led to more than 300 people being arrested for demonstrating in the Capitol but it never turned violent in the way the Jan. 6, 2021 insurrection did.
Tlaib spoke to demonstrators outside the National Mall. She became emotional as she called for a cease-fire and criticized President Joe Biden for what she called his unwavering support of Israel, which she alleged was committing genocide.
"President Biden, not all Americans are with you on this one and you need to understand that. We are literally watching people commit genocide and killing the vast majority just like this, and we still stand by and say nothing. We will remember this," Tlaib said.
Hours after Greene introduced her resolution against Tlaib, Democratic Rep. Becca Balint fired back by offering her own against the Georgia congresswoman — who has her own history of inflammatory rhetoric.
Balint claimed Greene has "repeatedly fanned the flames of racism, antisemitism, LGBTQ hate speech, Islamophobia, anti-Asian hate, xenophobia and other forms of hatred."
A vote to censure a member of Congress does not hold power beyond a public condemnation of the member's behavior. It does not deny privileges in Congress or expel the member. A simple majority is all that is needed for a censure resolution to pass.
Newly-elected House Speaker Mike Johnson, when asked about the resolutions earlier this week, told reporters, "We got a lot of discussions this week, we'll see what happens."
The House on Wednesday will hold its first votes of the week on efforts by party leaders to table, or effectively kill, the resolutions.
ABC News' Lauren Peller contributed to this report.
Copyright © 2023, ABC Audio. All rights reserved.