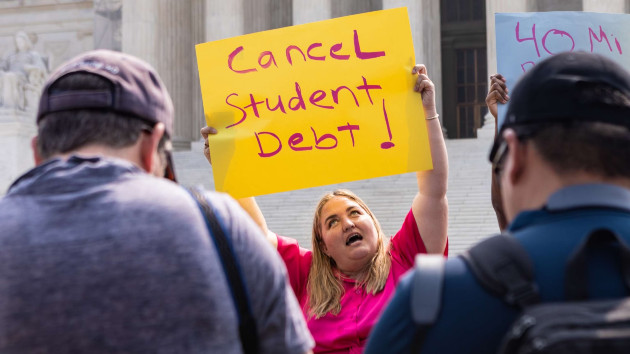 (WASHINGTON) — The Biden administration has released the first draft of a debt relief policy targeted at the hardest-hit student loan borrowers, providing more clarity on what the next steps are in a monthslong rulemaking process to make good on President Joe Biden's efforts to provide debt relief.
The first attempt at broad debt relief, rolled out by Biden last year, was overturned by the Supreme Court in June. That policy would've cancelled debt for more than 40 million borrowers. After it was halted by the court, Biden announced that the administration would try again, under a different law called the Higher Education Act.
Since then, the rulemaking process has been playing out with updates on a monthly basis. Though it's still preliminary, the latest draft released Monday by the Department of Education focuses on borrowers who have more debt now than they initially took out, have loans that they first took out over 25 years ago, have large loans from schools that provided insufficient career advancement opportunities, and who qualify for debt relief already under programs like Public Service Loan Forgiveness or income-driven repayment plans, but haven't received it.
The department is also looking into debt relief for borrowers who are "experiencing financial hardship" that isn't recognized by the current student debt repayment system.
The meeting for committee members to discuss the policy draft takes place next week, on Nov. 6 and 7. The 16 members include people from civil rights organizations, student borrower advocacy groups, higher education officials and government officials.
On a call with reporters Monday night, senior department officials declined to provide a number for how many borrowers could be impacted by the policy, citing "outstanding policy questions" that have yet to play out.
"But we do think these are, generally speaking, large categories of borrowers that would provide significant amounts of relief," one official said.
For some categories of borrowers, the entirety of their debt would be canceled, whereas other people might see partial debt cancellation.
But officials cautioned that elements of the policy could change over the next few months.
"We are still in the early stages of our rulemaking process. And we are releasing this text for discussion with the negotiated rulemaking committee. We're required to include and consider public feedback at a variety of stages between now and the time in which the rules will be finalized. And we think the final rules will be better as a result of that process," a department official said.
To move into final stages, the committee needs to reach a consensus — and then the policy has to be enacted by the Department of Education, which could face legal challenges from Republicans who have said they'll argue that debt relief is not within the administration's bounds.
In the meantime, the Department of Education has continued to cancel debts for different borrowers who have been caught up in errors in the repayment system. So far, those efforts are estimated to impact 3.6 million borrowers — though there have been issues with servicers carrying out the cancellation process.
So far, the Department of Education is aware of at least 16,000 people who were sent bills they should never have gotten because they'd had their debts forgiven after their colleges had been deemed fraudulent, according to an internal memo confirmed to ABC News by a department spokesperson.
In all, however, the department has identified 1.3 million borrowers in total who will have their debts canceled because their universities have been cheated by their schools.
The department has also canceled debt for 855,000 borrowers who were eligible for forgiveness through income-driven repayment but hadn't seen their debts canceled because servicers had lost count of their payments and 715,000 people enrolled in the Public Service Loan Forgiveness (PSLF) programs who hadn't seen their debts canceled after 10 years.
Copyright © 2023, ABC Audio. All rights reserved.