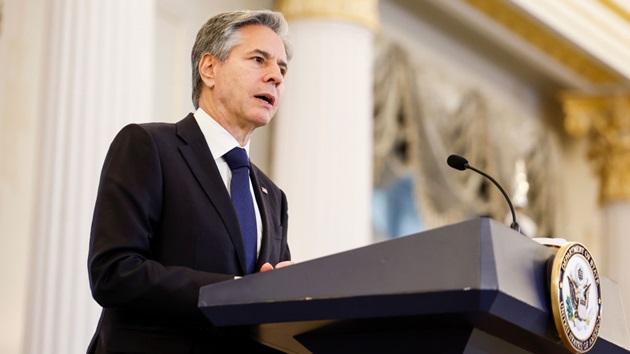 (WASHINGTON) — Secretary of State Antony Blinken on Tuesday gave the most specific number to date on how many Americans are trapped in Gaza following Hamas' surprise terrorist attack on Israel.
"We're working on this every single day. We have about 400 American citizens and their family members, so it's roughly 1,000 people who are stuck in Gaza and want to get out. I'm focused on this intensely," Blinken said in an exchange with Sen. Jack Reed, D-R.I., during Tuesday's testimony before the Senate Committee on Appropriations.
While between 100 and 120 U.S. citizens are estimated to live in Gaza, the majority of those 400 were visiting the enclave when it was sealed on Oct. 7. Although shipments of aid have been able to cross into the area through Gaza's border with Egypt, no foreign nationals have been permitted to leave. Humanitarian agencies have repeatedly warned of an unprecedented humanitarian crisis unfolding in Gaza amid Israel's siege.
The secretary again cited Hamas as the only hurdle blocking their exit.
"The impediment is simple: It's Hamas. We've not yet found a way to get them out by whatever — through whatever place and by whatever means that Hamas is not blocking, but we're working that with intermediaries," he continued.
"They are also another roughly 5,000 third-country nationals from other countries seeking to get out," Blinken added.
State Department spokesperson Matthew Miller signaled during a Tuesday afternoon press conference that the administration might be close to securing safe passage through the Rafah crossing into Egypt for the American citizens trapped in Gaza, saying negotiators "have made good progress on this even in the past few hours" — but stopping just short of making any announcement.
"I will say that we are making very good progress on this issue. You may see have seen some reports that have moved from the region just in the last few hours about the possibility of Rafah gate opening tomorrow," Miller said, without confirming the reports he mentioned.
Miller was asked specifically about reports from Egypt state-linked TV channels claiming the Rafah border crossing between Egypt and Gaza will open Wednesday to receive injured Palestinians, but he suggested that if they prove to be correct, it would possibly clear the path for Americans.
"If that report turns out to be true, it will mean that Rafah is open for not just one way traffic — trucks going in — but also individuals going out. And we would hope that any agreement to get any individuals out would also unlock the possibility of American citizens or their families and other foreign nationals coming out," Miller said.
Blinken also stressed during the hearing that State Department officials had been in frequent contact with U.S. citizens in Gaza over the past few weeks.
"We've been in close communication as best we can with Americans who are stuck in Gaza. We've had about 5,500 communications that we've initiated — phone calls, emails, WhatsApp — to be in touch with them to try to guide them as best we can and to work for their ability to leave," he said.
The hearing, held to discuss President Joe Biden's $106 billion national security supplemental request for aid to Israel, Ukraine and Taiwan, was interrupted multiple times by protesters in the chamber.
First, demonstrators raised their red painted hands in the back of the chamber. Later, while Blinken was speaking, they shouted demands for an immediate ceasefire and chanted, "From Palestine to Mexico, all the walls have got to go."
During each outburst, the committee's chair and vice chair paused the testimony while Capitol Police escorted the protesters out of the chamber, but it took several moments to restore order.
ABC's Ellie Kaufman contributed to this report.
Copyright © 2023, ABC Audio. All rights reserved.