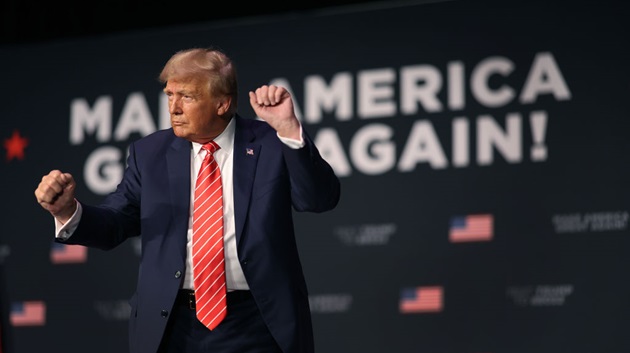 (DENVER) — Hearings began this week on whether the 14th Amendment disqualifies Donald Trump from running for president in 2024 because of his actions around the Jan. 6 attack on the U.S. Capitol.
On Monday morning in Denver, a historic five-day evidentiary hearing got underway for a lawsuit filed against Trump by six Republican and unaffiliated Colorado voters represented by the watchdog group Citizens for Responsibility and Ethics in Washington (CREW).
A similar hearing is set for Thursday in St. Paul, Minnesota.
CREW President Noah Bookbinder has said that his organization brought its suit in Colorado because "it is necessary to defend our republic both today and in the future." The group's complaint accuses Trump of inciting and aiding the mob at the Capitol two years ago, which he denies. He was impeached on similar charges but acquitted by Republicans in the Senate.
Trump and his campaign have dismissed the 14th Amendment clause being used against him. "The people who are pursuing this absurd conspiracy theory and political attack on President Trump are stretching the law beyond recognition," a spokesperson previously said in a statement.
Among their witnesses in the Denver hearing, CREW called two police officers who were at the Capitol that day and California Rep. Eric Swalwell, who was inside. The group also plans to call two professors.
"The events on Jan. 6, 2021, in the United States Capitol were horrific. It was a terrorist attack on the United States of America, an assault on democracy and an attempt to prevent the peaceful transfer of power," one of the officers, Danny Hodges, testified.
Swalwell, in his testimony, described his concerns that Trump wouldn't accept the 2020 presidential election results and some of what he saw during the rioting. "War-like," he called it.
Under cross-examination by Trump's attorneys, Swalwell was shown past social media posts by Swalwell urging voters to "fight" for Democratic causes — and they showed Trump's comments from later on Jan. 6 where he did ask for the violence to end.
An attorney for CREW claimed in an opening statement that "Trump incited a violent mob to attack our cattle to stop the peaceful transfer of power under our Constitution. … And we are here because Trump claims after all that he has the right to be president again."
Trump's attorney Scott Gessler, a former secretary of state for Colorado, said in his own opening remarks that the suit is "anti-democratic."
"It looks to extinguish the opportunity … for millions of Coloradans, Colorado Republicans and unaffiliated voters, to be able to choose and vote for the presidential candidate they want," Gessler said.
He said Trump's team will call two professors as witnesses to focus on the meaning of Section 3 of the 14th Amendment. They also plan to call organizers of the rally outside the White House on the morning of Jan. 6, where Trump gave a speech, and Gessler indicated they will call another House lawmaker.
He rejected the contention that Trump engaged in the insurrection.
Gessler said much of the case against Trump was based on the work done by the House special committee that investigated Jan. 6 and produced a series of lengthy committee hearings and a report outlining Trump's behavior in the lead-up to the riot.
Over the past few months, efforts to bar Trump from the Republican primary ballot under Section 3 of the 14th Amendment, which was first enacted after the Civil War, have gained traction in a few states.
The idea has also been endorsed by some conservative legal scholars, though some notable Republican elections officials, like Georgia Secretary of State Brad Raffensperger, who has criticized Trump's election rhetoric, have been skeptical of it.
Multiple state-level suits have been filed, but Colorado and Minnesota are seen as the most notable and have prompted the first major hearings on the issue.
Section 3 of the amendment states that someone isn't eligible for future office if, while they were in office, they took an oath to support the Constitution but then "engaged in insurrection or rebellion against the same, or [gave] aid or comfort to the enemies thereof," unless they are granted amnesty by a two-thirds vote of Congress.
Supporters of this theory argue it applies to Trump because of his conduct after he lost the 2020 election but sought to reverse the results, including on the morning of Jan. 6, 2021. Previous such efforts focused on other Republicans have failed, except in New Mexico, where a local commissioner convicted of trespassing on Jan. 6 was booted from his office.
Trump maintains he did nothing wrong.
In an ABC News/Washington Post poll conducted late September, some 44% of adults said Trump should be prohibited from serving as president under the 14th Amendment. Slightly more, 50%, said the amendment should not bar Trump from office.
The hearing in Colorado is the first time the 14th Amendment's prohibition has been tested against a presidential candidate.
"I look forward to the court providing guidance, of course, to me in Colorado but to election officials across the nation as to whether Trump has disqualified himself for engaging in insurrection," Secretary of State Jena Griswold said in an interview with ABC News.
Griswold, a Democrat, will certify Colorado's presidential primary ballot on Jan. 5 and is named as a defendant in the 14th Amendment lawsuit because of her office.
She has not declared a position on Trump's qualification standing, though she is critical of Trump's character.
His attorneys have challenged the suit on various grounds, including arguing that the litigation is unfolding too soon before the state's Republican primary in March and invoking anti-SLAPP laws, which are based on the notion that people should not be targeted with lawsuits for exercising their First Amendment rights as Trump claims he did in attacking the 2020 election results.
Colorado District Judge Sarah Wallace, an appointee of Democratic Gov. Jared Polis, has rejected motions to dismiss.
Trump's team also unsuccessfully sought for the case to be moved from state to federal court.
Topics for this week's hearing include the history and application of Section 3 of the 14th Amendment, if the section is self-executing, if it applies to presidents, the meaning of "engaged" and "insurrection" as used in the section and how often and on what basis does the secretary of state exclude candidates based on constitutional deficiencies, among other items.
Then, on Nov. 15, the various parties will come back to court to deliver closing arguments. Wallace has indicated she will issue a ruling within 48 hours of that.
No witness lists have been released but Trump will not testify, according to his lawyers. An earlier motion to depose Trump so that his testimony may be presented at the hearing was denied by Wallace.
He has been fundraising off of the start of the hearing, however.
Griswold is not presenting evidence in the case but has said she will comply if called as a witness and would answer any legal questions about Colorado election law, their certification process or any other inquiries.
"We've never had a president incite an insurrection and attack our democracy like Donald Trump. And then we've never had a president who has done that and then decided to run for office again. So my job through all of this is to follow the law and uphold the Constitution," Griswold said.
The Minnesota Supreme Court on Thursday will hear a similar challenge brought by Free Speech For People (FSFP), a nonprofit representing several state voters, including a former state secretary and a former Minnesota Supreme Court justice.
That hearing, which is expected to be of a smaller scope than the multiday hearing in Denver, will decide whether or not Trump can appear on the Minnesota primary ballot.
Ron Fein, the legal director of FSFP, told ABC News in an interview that his group believes Section 3 of the 14th Amendment applies to the former president, claiming Trump broke his oath to the Constitution.
FSFP had unsuccessfully challenged the candidacies of several members of Congress in 2022, citing Section 3. In one notable case against Georgia Republican Rep. Marjorie Taylor Greene, the judge found the plaintiffs provided insufficient evidence.
Still, Fein argued that their challenge against Trump relies on "far stronger" evidence.
Minnesota Secretary of State Steve Simon, a Democrat, is also named in the lawsuit because of his role.
Simon told ABC News that his office is not taking any position on the legal merits of the challenge but they will be taking a stance on the scheduling and timeline of the case to ensure that voters receive a timely answer ahead of the state's March 5 primary.
Amid the various state-level suits against Trump's eligibility, Simon predicted that if any legal jurisdiction agrees with the Section 3 argument, the U.S. Supreme Court will have to step in to make the ultimate decision.
"Donald Trump will either be on the ballot everywhere or nowhere," Simon said. "There will be a blanket rule for the country."
Copyright © 2023, ABC Audio. All rights reserved.