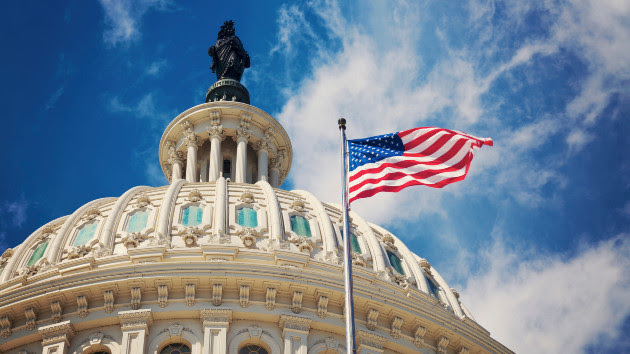 (WASHINGTON) — Los Angeles police dealt with an intruder at the home of independent presidential candidate Robert F. Kennedy Jr. while the Republican field got slightly smaller as one hopeful dropped out and another contender urged donors to help him make the next debate stage.
Here are the campaign takeaways for Thursday:
An intruder at Kennedy's home
Kennedy's campaign said that he was at his LA property at the time an intruder was detained by his security team and arrested on Wednesday — and that the man returned a second time after being released earlier in the day.
LA police have also confirmed to ABC News that the suspect, who was initially arrested and then cited and released on Wednesday morning, returned to Kennedy's home again later that day despite a restraining order against him.
The suspect was then again taken into custody and booked into jail, authorities said.
Kennedy's wife, actress Cheryl Hines, was also home, according to his campaign.
According to the campaign, the man asked specifically to see Kennedy.
The candidate has repeatedly requested Secret Service protection for his White House bid. Such protection is not often extended this far out from a general election — though it has happened multiple times.
Kennedy and his team have cited, in part, his family's own history of being targeted including his father and uncle's assassinations.
-ABC News' Nicholas Kerr, Abby Cruz and Alex Stone
Elder exits the race
Former radio show host and California gubernatorial candidate Larry Elder has dropped out of the 2024 presidential campaign race and endorsed former President Donald Trump.
"The reason that I'm doing this is because in the very beginning, the [Republican National Committee] shafted me … if you can't make the first debate, it's almost impossible for you to make the second debate, let alone the third debate. So I'm being realistic," Elder told ABC News, referring to how he failed to meet the national party's donor and polling qualifications to be at the debates.
Elder is the fourth Republican candidate to drop out.
He never reached the 1% mark, according to 538's national polling average. He had about $244,000 cash on hand in the third quarter of 2023, according to his filings, and he told ABC News he hopes to put those funds toward his PAC to get rid of "soft on crime" prosecutors.
The first thing he'll do after campaigning? "Rest."
-ABC News' Gabriella Abdul-Hakim
Scott campaign pleads for donations ahead of next debate
Despite confidently telling reporters "I'll see you in Miami" a couple of weeks ago, as the deadline ticks down to qualify for the third GOP primary debate in Florida in November, South Carolina Sen. Tim Scott's campaign has still not crossed the donor threshold.
He initially told Fox News that he was just a few hundred donors away and then later, on a radio show, said he was a "few thousand" donors short.
His fundraising emails are underscoring that urgency:
"Sorry to bother you, but I just had an important meeting with my team. As of right now, I'm not going to qualify for the debate stage in Miami next month and we have 9 days left to turn things around!"
With millions still on hand, according to his federal disclosures, Scott has not yet had a breakthrough in polling, according to 538.
-ABC News' Gabriella Abdul-Hakim
Biden's potential Dem challenger draws intraparty ire
Minnesota Rep. Dean Phillips' expected decision to launch a long shot Democratic primary challenge against President Joe Biden on Friday has upset several major non-white members of the party who think him starting a campaign by filing for the New Hampshire primary will be emblematic of what they argued was his "disregard" for Democrats' emphasis on the South and diverse voters.
"He's skipping a very diverse state to go to a non-diverse state," one senior Black Democrat, who requested anonymity to speak candidly, told ABC News, adding, "I think that is a telltale sign of where your values are."
Phillips' team did not respond to a request for comment for this story.
He has repeatedly teased a bid against Biden in the primary but hasn't confirmed one yet, though he is thought to be gearing up to file for New Hampshire's nominating contest on Friday — the deadline to enter.
Indeed, a number of state residents received a mass text that states Phillips will announce he is running for president on Friday in front of the Statehouse, according to messages reviewed by ABC News, which state that they were "paid for by Dean 24."
-ABC News' Brittany Shepherd, Isabella Murray and Kelsey Walsh
Copyright © 2023, ABC Audio. All rights reserved.