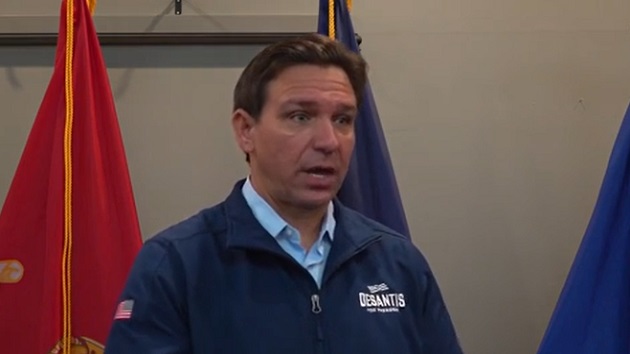 (NEW YORK) — As the 2024 primary season rapidly approaches, influential Republican donors have been gathering across the country, putting their heads together to determine how to move forward as front-runner Donald Trump continues to hold a huge polling lead over the rest of the candidates.
But several anti-Trump donors and those familiar with the GOP fundraising world told ABC News they are feeling as fractured as ever between their personal favorites to take on the former president. And some of these same donors are also becoming increasingly alarmed that the 2024 field is showing no signs of consolidation behind an alternative to Trump.
"Nothing seems to work," said Francis Rooney, a former representative from Florida, U.S. ambassador in the Bush administration and fundraiser for past presidential candidates Mitt Romney and Jeb Bush.
Rooney is an outspoken Trump critic looking for a challenger to successfully take on the former president. "No one has been able to crack the code to gain on Donald Trump," he told ABC News.
Bobbie Kilberg, a longtime Republican donor and fundraiser, said "donors instinctively know the field needs to consolidate, narrow and they say so to each other. But it is almost always not the person you are supporting who should drop out. It is the other guy [or] gal." (Kilberg considers former New Jersey Gov. Chris Christie the strongest Trump challenger.)
As Kilberg indicated, Trump's grip on the party is not absolute: While national polling shows he currently has about 57% support with conservative voters, the other candidates, all combined, are drawing nearly 40%, according to 538.
Many of Trump's rivals argue he is not the best nominee for the party, given his many controversies and legal challenges. He denies all wrongdoing and has pleaded not guilty in four criminal cases.
But the clock is ticking, Kilberg said, with some donors saying the field should slim down before the Iowa caucuses in mid-January while others say right after the subsequent New Hampshire primary.
"I don't see donors yet coalescing around one alternative … but it is still four months until the first contest," Kilberg said.
Earlier this month, two major donor summits took place in Utah and Dallas. Many of those gathered are looking to find a suitable 2024 candidate that can beat Trump. Meanwhile, the other GOP presidential hopefuls are ever more aggressively pitching themselves, urging uncertain donors to get off the sidelines.
The Utah summit, organized by Romney and former House Speaker Paul Ryan, sought to galvanize deep-pocketed supporters by inviting several of the current presidential candidates — former U.N. Ambassador Nikki Haley, former Vice President Mike Pence, former New Jersey Gov. Chris Christie and North Dakota Gov. Doug Burgum — to speak directly before their potential backers.
The Dallas summit, led by an exclusive network of billionaire donors like Ken Griffin, Paul Singer and the Ricketts family, heard from representatives from a slightly different pool of campaigns — Florida Gov. Ron DeSantis, Haley and South Carolina Sen. Tim Scott — to present their cases to some of the nation's top GOP donors.
"I don't know if, at the end of the day, anyone was moved enough to switch allegiance or to cut a check," one attendee of the Dallas donor summit, who asked to remain unnamed to speak candidly, told ABC News afterward.
"But that's to be seen in the fourth quarter," when campaigns and various groups supporting them are scheduled to disclose their hauls in the final months of the year to the Federal Election Commission, the attendee said.
In Virginia Beach, Virginia, last week, a two-day donor retreat hosted by Gov. Glenn Youngkin's allied super PAC ahead of the state's legislative races in November attracted several national-level Republican benefactors that are have been sitting on the sidelines. Both Kilberg and Rooney attended while weighing their options in the 2024 primary.
"I would love to get involved — I just want to see somebody that can beat this guy," Rooney said, adding that as of now, DeSantis, who remains a distant No. 2 in primary polling, seems to be the only one with the chance of beating Trump.
Rooney said he'll have to make a final decision on his level of contribution in the fall.
He was a generous Republican donor during Romney's presidential campaign in 2012, with his company dropping $1 million into a super PAC supporting the now-retiring Utah senator early in the primary season. Rooney did the same for Jeb Bush during the 2016 cycle, pouring millions of dollars into a super PAC supporting him early in the primary season before Trump won the Republican Party's presidential nomination.
This election cycle, Rooney said, he's been largely waiting in the wings until a persuasive Trump challenger arises.
Rooney said he mostly halted his donations to the Republican Party a couple of years ago because of the Republican National Committee footing legal bills for Trump, and he says he has only given $3,000 so far this cycle — to Arkansas Gov. Asa Hutchinson, who has indicated he will drop out of the race by Thanksgiving unless his support increases.
The donor gatherings are taking place as an increasing number of the party's biggest givers begin to reconsider their moves for 2024.
Griffin, the single biggest GOP donor after the late casino mogul Sheldon Adelson and one of the key members of the American Opportunity Alliance, the donor network that hosted the Dallas meeting, is among those putting the brakes on as he reassesses the field.
Earlier this year, Griffin expressed support for DeSantis as a challenger to Trump. But more recently, as DeSantis slid in the polls, Griffin halted his contributions and said he was "still on the sidelines."
That sentiment, in which the enthusiasm for DeSantis has cooled, was present at the Dallas donor gathering, the attendee said.
Haley is seeking to capitalize on that — and what she has called her own bump in momentum in the wake of two debate performances — by fundraising last month with real estate mogul Harlan Crow, who also hosted the recent American Opportunity Alliance summit at his Dallas mansion.
ABC News has reported that Haley also nabbed a fundraiser with investor Keith Rabois, who previously expressed support for DeSantis.
One donor who asked to be unnamed so as to talk candidly told ABC News that several major GOP donors have turned away from DeSantis and are expected to coalesce around Haley soon.
"When you're not growing, you're dying. … Poll decline and donor enthusiasm cannot go together," this donor said about DeSantis.
"If people are not wanting another Trump-Biden match up, they need to be in to go with the person who best is able to do that," the donor said. "And right now it's Nikki. There's nobody else who's growing, not one of them except for Nikki."
As Haley has noted, and as this donor referenced, some polls have shown her as the only Republican candidate who beats President Joe Biden in a hypothetical race in next year's general election.
Hal Lambert, a fundraiser for DeSantis, disputed the sentiment that DeSantis' campaign is not growing in its donor base, saying that earlier this week the governor raised $500,000 in Boston.
"I can assure you, nobody but Trump is raising $500,000 on a campaign stop," Lambert said.
Another DeSantis fundraiser, Jay Zeidman, dismissed the idea that losing donors like Griffin is a big blow.
"One guy has an issue; there's another guy stepping right up to the plate," Zeidman said. "You can't win them all, of course. We just got to keep putting our best foot forward and hope that over time, everybody will coalesce around the governor."
Other DeSantis supporters remain committed to him. Some of his wealthy supporters are throwing a private fundraiser in Las Vegas ahead of the Republican Jewish Coalition annual summit, a source familiar with the event told ABC News, while the governor's allied super PAC Never Back Down and former Nevada Attorney General Adam Laxalt are hosting a breakfast gathering at the Treasure Island Saturday morning.
"DeSantis has a longer shelf life than Trump," this source familiar with the fundraiser said, explaining donors' mindset when supporting the Florida governor.
Despite many of the key members of the American Opportunity Alliance expressing interest in finding a Republican to replace Trump, some major allies of the former president were at the Dallas summit, too, including former Small Business Administrator Linda McMahon and former Trump White House Domestic Policy Director Brooke Rollins.
Rollins, who now leads the Trump-aligned America First Policy Institute nonprofit, which can't participate in campaign activities, was at the Dallas gathering to pitch the group's agenda, which is to set the foundation for Trump's possible second term, a person familiar with her attendance said.
As for the Trump campaign, the former president's massive grassroots following has allowed him to continue to expand his war chest for 2024 despite some of his financial backers from past cycles turning away from him. His Mar-a-Lago and Bedminster clubs, in Florida and New Jersey, have been popular locations for events among his wealthy supporters.
Some in the GOP donor world who spoke with ABC News said they are hopeful the field will narrow soon, while some others remained uncertain about the best path forward — echoing a dynamic during the 2016 primary race, when Trump defeated primary rivals despite polls showing Republican voters, like donors, fractured among the long list of choices.
"I think there's still a lot of questions about what consolidation looks like," the person that attended the Dallas gathering said of the discussions there.
This attendee said nothing huge is happening anytime soon: "The indication by all three campaigns [DeSantis, Haley and Scott] and a lot of the folks that presented is that it probably doesn't happen until New Hampshire."
"Mainstream major donors were never big on Donald Trump and they're never big on him now," the donor that asked to be unnamed said. "Some of them might engage with him — they have to, at least eventually, but nobody wants to. So is it late? Yeah, just by the number of donors that aren't engaged, waiting on the sidelines. But I think a lot of them will be coming off the sidelines soon."
Copyright © 2023, ABC Audio. All rights reserved.