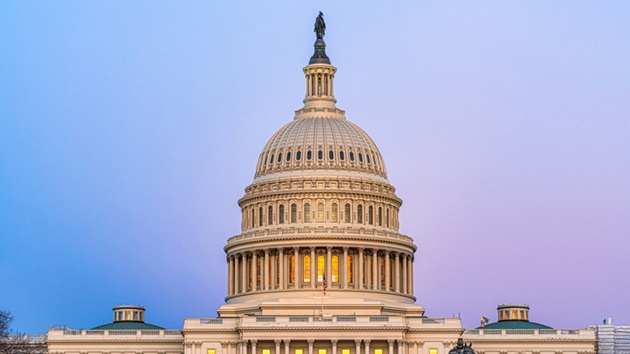 (WASHINGTON) — Hours before a suspect, a U.S. Army reservist with mental health concerns, fatally shot 18 people in Lewiston, Maine Wednesday, the Senate approved an amendment that would scale back background check requirements for some veterans and service members with mental health issues.
The amendment was authored by Republican Sens. John Kennedy and Jerry Moran, who had concerns that veterans could lose gun rights. It prohibits the Department of Veterans Affairs from reporting certain veterans to the National Criminal Background Check system when their finances are being managed by a conservator at the VA.
According to Kennedy, under current law, if the Department of Veterans Affairs steps in to help manage a veteran's financial benefits in a conservatorship, the VA is required to report that veteran to the criminal background check system.
The Kennedy amendment, which passed by a vote of 53-45, prohibits the secretary from transmitting the information to the criminal background check system unless "a relevant judicial authority rules that the beneficiary is a danger to himself or others."
"Every veteran who bravely serves our country has earned VA benefits, and it's wrong for the government to punish veterans who get a helping hand to manage those benefits. Veterans who sacrificed to defend our Constitution shouldn't see their own rights rest on the judgment of unelected bureaucrats — but right now, they do. The Veterans Second Amendment Protection Act would prevent government workers from unduly stripping veterans of their right to bear arms," Kennedy said in a statement when the amendment was introduced over the summer.
Maine mass shooting suspect Robert Card allegedly behaved "erratically" while deployed over the summer with his Army Reserve Unit to Camp Smith Training Center in upstate New York to support summer training for West Point cadets. Investigators are probing potential mental health issues Card may have had, and how he was in possession of a weapon when he opened fire at two different locations in Lewiston Wednesday evening, killing 18.
Maine officials did not speak to a potential motive, but said they are looking into Card's mental health when asked during a Thursday press briefing about his background and gun possession.
Card is still at large — considered armed and dangerous.
Democratic state lawmakers in Maine have repeatedly tried to pass laws that require universal background checks for all firearms but have failed. Certain people with criminal and medical histories are prohibited from legally owning a firearm in Maine.
In the 2016 election, Maine voters were presented with a referendum that would have required background checks for all firearm sales with the exception of "hunting, self-defense, lawful competitions, and shooting range activity." Roughly 51% voted no.
Kennedy's office did not immediately respond to a request for comment from ABC News about this amendment given the Maine shooting.
The amendment is still a long way from becoming law.
It passed as an amendment to a package of three massive spending bills that the Senate is working through in an effort to fund the government. The Senate is currently considering dozens of amendments to the package, Schumer said Thursday he expects work on amendments to take the chamber through next week.
Even if the package passes the Senate, it will still need to go through a lengthy process to be squared with the House's version. Right now, the chambers are on very different pages about their spending bills, so it's unclear if the Kennedy amendment would make it on to the final product. It could easily be stripped from the bill in conference.
And then, both chambers will then have to pass the bills before they are signed by President Joe Biden. That's if Congress even ends up passing individual appropriations bills at all, which is far from a given in the current political environment.
ABC News' Sarah Beth Hensley and Ivan Pereira contributed to this report.
Copyright © 2023, ABC Audio. All rights reserved.