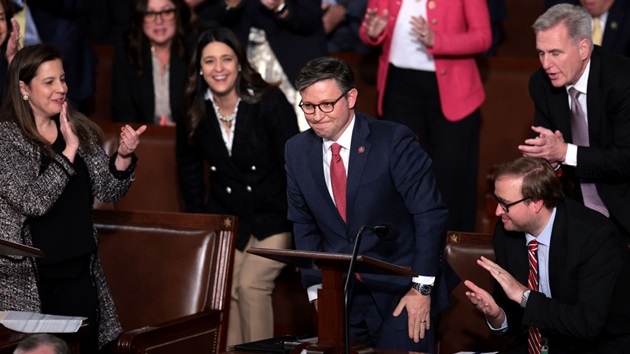 (WASHINGTON) — Republican Rep. Mike Johnson, a conservative hard-liner, staunch ally of former President Donald Trump, and a 2020 election denier, was elected House speaker Wednesday after three failed GOP tries to choose a leader over three weeks.
Johnson's election is the latest twist in the chaotic speaker battle. Three other lawmakers — House Majority Leader Steve Scalise, House Judiciary Committee Chairman Jim Jordan and House Majority Whip Tom Emmer — could not unify the party enough to be elected as McCarthy's successor, leaving one half of Congress in unprecedented limbo.
Who is Mike Johnson?
At 51, Johnson is the third-youngest speaker in more a century and has the least experience in Congress of any speaker in the last 140 years.
He was first elected to Congress in 2016 and is currently serving his fourth term. He represents Louisiana's 4th Congressional District, which includes the northwestern part of the state.
Before coming to Capitol Hill, he served in the Louisiana Legislature for nearly two years, from 2015 to 2017. He also has experience as an attorney with a focus on constitutional law.
Johnson is the House Republican Conference vice chair — making him the No. 5 House Republican. He previously served as chairman of the Republican Study Committee, the largest group of House Republicans. He also holds seats on the Judiciary and Armed Services committees.
He and his wife, Kelly, have four children.
Trump and the 2020 election
Johnson has been a vocal Trump supporter and was one of the 147 GOP lawmakers who voted to overturn the results of the 2020 election. He also led the charge to get 125 of his Republican colleagues to sign an amicus brief to the Supreme Court, supporting Texas' lawsuit that would have invalidated the election results in key battleground states.
On Nov. 7, 2020, the day the election was called for President Joe Biden, Johnson tweeted that he had spoken to Trump and that they would continue to fight for "election integrity."
"I have just called President Trump to say this: 'Stay strong and keep fighting, sir! The nation is depending upon your resolve. We must exhaust every available legal remedy to restore Americans' trust in the fairness of our election system,'" Johnson posted to the social media network.
He served on Trump's legal defense team during his two Senate trials on impeachment charges.
Abortion access and religious issues
Johnson has a long history of opposing abortion rights. He has endorsed a bill that would ban abortion nationally after 15 weeks, with exceptions for rape, incest, and the life of the mother. Johnson's home state of Louisiana has a total abortion ban, with limited exceptions. Johnson has also endorsed anti-abortion legislation that would effectively ban abortions nationwide after six to seven weeks.
In May 2022, Johnson drew criticism for a line of questioning to a board member of a reproductive rights group in a congressional hearing.
"Do you support the right of a woman who is just seconds away from birthing a healthy child to have an abortion?" he asked.
The witness reminded Johnson "that has never happened."
"Never happened in your practice, ma'am, but it happens," he responded.
Johnson is a deeply evangelical Christian. In a podcast recorded last month, he indicated he does not believe in the separation of church and state.
He referred to the "so-called separation of church and state" and said "the founders wanted to protect the church from an encroaching state, not the other way around."
"If anybody tries to convince you that your biblical beliefs or your religious viewpoint needs to separated from public affairs, you should politely remind them to review their history and you should not back down."
For the last more than 70 years, the Supreme Court has consistently found the First Amendment's establishment clause — "Congress shall make no law respecting an establishment of religion or prohibiting the free exercise thereof" — puts a wall up between the government and religion.
Johnson has repeatedly voted against Ukraine aid. Also, he has opposed protections for same-sex marriage.
What to expect
As soon as a speaker is sworn in, that person is immediately in charge and a sign with the new speaker's name is placed above the door to the speaker's office at the Capitol.
Johnson, as the incoming speaker will come in with several pressing needs: action on new aid to both Israel and Ukraine, and finding a way to fund the government to avert a partial shutdown by Nov. 17 — a development that would have consequences for millions of federal employees and recipients of social services.
In a letter to colleagues on Saturday, Johnson outlined seven goals if elected speaker which included restoring trust, promoting individual members and focusing on effective messaging.
"We all agree the urgency of this hour demands a specific plan and bold, decisive action," Johnson wrote.
-ABC News' Jay O'Brien and John Parkinson contributed to this report.
Copyright © 2023, ABC Audio. All rights reserved.