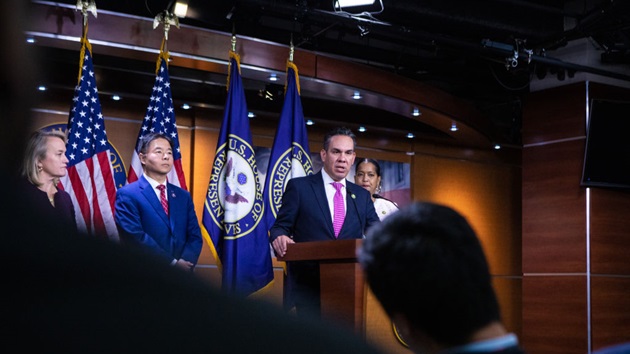 (WASHINGTON) — House Republicans' chaotic speaker battle has left many Democrats saying they're frustrated yet willing to find solutions for a path forward.
But would that include helping a new speaker candidate get enough votes to clinch the top spot?
House Majority Whip Tom Emmer won the speaker nomination Tuesday after several rounds of secret ballots knocked out his competitors — however, hours later he dropped his bid for the top job in the House. Now Republicans are back to square one, seeking a fourth nominee in a process that has dragged on after House Majority Leader Steve Scalise and Rep. Jim Jordan both faced enough Republican opposition to gain the speaker's job.
Democrats says they are growing weary of the speakership "dysfunction" since the historic ouster of former Speaker Kevin McCarthy earlier this month, said House Democratic Caucus chair Pete Aguilar at a news conference Tuesday.
"It's not on us to fix the Republican dysfunction and their round-robin voting that is going on right now. But we are serious about making this place work. We are serious about funding the government. We are serious about making sure that we look out for our allies in Israel and Ukraine. Those are things that we all want to get accomplished," he said.
He called on Republicans to get their leadership mess sorted out immediately, so the House can provide aid to both Israel and Ukraine, and work to find a way to fund the government to avert a partial shutdown with consequences for millions of federal employees and recipients of social services.
"The American people and our allies abroad can't afford any more delays. Every day of this MAGA madness is another day of not sending aid to Israel and Ukraine, not taking meaningful steps to fund our government and not making sure that we're looking out for working families across this country," Aguilar said.
Despite Aguilar's public comments, multiple sources told ABC News that there were ongoing conversations among House Democrats about what to do if Emmer were unable to get the votes needed for speaker and whether Democrats would make a play to help. While no decision had been made, multiple Democrats had signaled they would be open to helping Emmer by voting "present" or sitting out the vote to make it easier for him to win. It's unclear if that changes now that Emmer is out of the race.
The catch: Democrats would want assurances that the speaker candidate would back the deal made between McCarthy and President Joe Biden to keep the government funded at the levels previously negotiated plus agree to put the bill with funding for Ukraine and Israel on the floor for a vote.
Rep. Dean Phillips, D-Minn., posted to X earlier Tuesday that he would "sit out the vote" to help Emmer get elected if Emmer agreed to work with Democrats on several legislative priorities.
Aguilar dismissed the idea that Democrats are seriously considering voting "present" to help a Republican get elected as speaker when the vote hits the House floor.
"That isn't a conversation that we've had," Aguilar told reporters Tuesday.
Aguilar said Democrats are willing to engage with Republicans to find a bipartisan solution, but said he didn't believe it fell on them to mend the GOP.
"House Republicans can continue down the path of destruction, or they can work with House Democrats in a bipartisan path forward to get back to doing the people's business," he said.
ABC News' Sarah Beth Hensley contributed to this report.
Copyright © 2023, ABC Audio. All rights reserved.