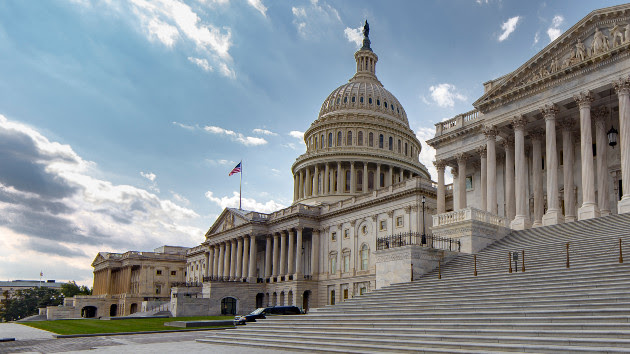 (WASHINGTON) — After three weeks without a speaker, House Republicans are again trying to fill the top spot after rejecting Rep. Jim Jordan and at least four have reached out to former President Donald Trump, possibly hoping for his endorsement.
Nine Republicans are officially running for speaker. On Monday night, House GOP lawmakers heard from each candidate in a closed-door forum. On Tuesday morning, the conference will hold a closed-door secret-ballot vote with the goal of selecting the party's nominee.
A floor vote on that nominee could happen as early as later Tuesday.
This will be the third nominee for speaker since the historic ouster of former Speaker Kevin McCarthy earlier this month.
The chaotic battle for the gavel has dragged on after House Majority Leader Steve Scalise was nominated, but backed out when it became clear he didn't have the votes. Last week, the conference dropped Jordan as their nominee after his speakership bid failed for a third time on the House floor.
Now the candidates for speaker include: Reps. Jack Bergman of Michigan, Byron Donalds of Florida, Tom Emmer of Minnesota, Kevin Hern of Oklahoma, Mike Johnson of Louisiana, Dan Meuser of Pennsylvania, Gary Palmer of Alabama, Austin Scott of Georgia and Pete Sessions of Texas.
Emmer is seen as a front-runner for the House's top job. Emmer, the House majority whip, has served as the No. 3 Republican behind McCarthy and Scalise.
Emmer is just one of two Republicans running for speaker who voted to certify the results of the 2020 election, a sticking point for Trump's most conservative allies in Congress.
Trump has spoken to several of the candidates for speaker including Emmer, Hern, Sessions and Donalds, multiple sources tell ABC News.
While Trump insisted, he has "always" gotten along with Emmer, sources say the former president has privately told allies he does not support Emmer.
"I think he's my biggest fan now because he called me yesterday. He told me, 'I'm your biggest fan.' So I don't know about that," Trump said at the New Hampshire statehouse Monday. "We're looking at a lot of people, and you know, sort of trying to stay out of that as much as possible, but they'll get it straightened out. But no, I've always got along with him, and I get along with all of them."
"I said there's only one person that can do it all the way you know, that is Jesus Christ," he said. "Jesus came down, said I want to be a speaker. He would do it. Other than that I haven't seen. I haven't seen anybody that can guarantee it."
Copyright © 2023, ABC Audio. All rights reserved.