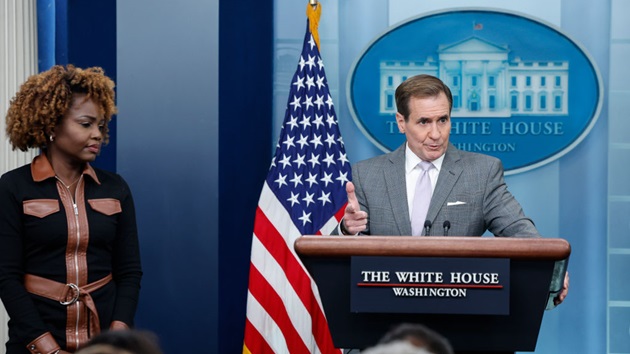 (WASHINGTON) — The White House on Monday wouldn't say publicly whether the U.S. has asked Israel to delay an expected ground invasion to give more time for more hostages to be released and to allow more aid into Gaza.
The administration is counseling caution and delay, an administration official told ABC News Sunday. CNN, The New York Times and other news outlets also reported the delay request.
But at the same time, National Security Council spokesperson John Kirby said the U.S. has been communicating with Israel from the start about strategies and goals in responding to Hamas' unprecedented terror attacks.
And those conversations, he said, include asking Israel "tough questions" about what he called the potential "unintended consequences" of a larger military operation.
President Joe Biden spoke with Israel's Prime Minister Benjamin Netanyahu on Sunday.
While Kirby declined to say if there is effort from the U.S. and other countries to urge Israel to delay a ground assault, he made clear the Biden administration supports Israel's right to go after Hamas after 1,400 Israelis were killed and thousands more injured.
"It's our view that the Israeli Defense Forces need to decide for themselves how they're going to conduct operations," Kirby said when asked if it was his view Israel should begin their Gaza offensive whenever they are ready.
"We're not in the business of dictating terms to them and we certainly are not gonna be in the business here in the White House of previewing any future operations one way or the other," he continued. "That would be inappropriate."
Israeli forces struck more than 320 targets overnight in Gaza, where at least 5,087 people have died and more than 15,000 have been wounded.
Some humanitarian aid started to make its way into the territory last week after Biden secured an agreement from Israel to allow trucks carrying food, water and medical supplies through the Rafah border crossing.
Kirby said it's "critically important" that the assistance continue to flow into Gaza whether there is a ground invasion or not. He said the administration shared concerns of aid potentially falling into Hamas' hands but there's been no indication that's happened with any of the deliveries so far.
"We know that they need fuel to be able to electrify and power up their tunnels, for instance, and keep the lights on," Kirby said of Hamas. "We understand that. We are not blind to potential concerns here over diversion, which is why Ambassador [David] Satterfield is on the ground, his whole purpose to make sure the humanitarian assistance can get to the Palestinian people."
Kirby also said the U.S. wants to secure a safe passage for the hundreds of American citizens and other foreign nationals who want to leave Gaza, but that there are still a number of factors to work through, including Egypt's security concerns.
Efforts to free hostages held by Hamas also remains a top focus, Kirby said, but he declined to provide any updates or details. He told reporters that where they are in the process "makes it impossible for us to publicly detail" those discussions.
"We have no higher priority than the safety of Americans held around the world and we are going to continue around the clock to see if we can get them home to their families where they belong," Kirby said. "It is an hour by hour effort here at the White House and the State Department to find out where these folks are and to try to make the effort to get them out and get them back."
Shortly after the press briefing, Hamas released two more hostages: a pair of elderly women who are both Israeli nationals. Last week, two American hostages — a mother and daughter — were freed.
President Biden, asked Monday if he supported a ceasefire in exchange for the freeing of hostages, said, "We should have those hostages released, and then we can talk."
Kirby appeared to shut down the idea of a humanitarian ceasefire during Monday's briefing.
"What we want right now is to make sure Israel has the tools it needs to defend itself and to go after a Hamas and that humanitarian assistance keeps flowing," he said.
Copyright © 2023, ABC Audio. All rights reserved.