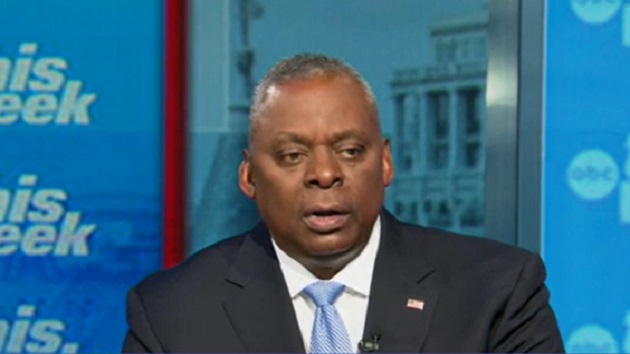 (WASHINGTON) — The U.S. is "concerned" that fighting between Israel and Hamas, in the wake of Hamas' Oct. 7 terror attack, could spill over into a broader conflict throughout the Middle East that would imperil American military forces, Defense Secretary Lloyd Austin said Sunday.
"We're concerned about potential escalation. In fact, what we're seeing is the prospect of a significant escalation of attacks on our troops and our people throughout the region," Austin told ABC "This Week" co-anchor Jonathan Karl. "And because of that, we're going to do what's necessary to make sure that our troops are in the right position, they're protected and that we have the ability to respond."
Austin's comments come as officials say Iranian proxies have attacked U.S. military bases in Iraq and Syria, the Navy recently intercepted missiles fired from Yemen and there has been increased fighting along the Israel-Lebanon border — all as Israel continues its military operations on Hamas in the Palestinian territory of Gaza in retaliation for Hamas' attacks.
The U.S. has sent the USS Dwight D. Eisenhower carrier strike group to the Middle East and the USS Gerald R. Ford carrier strike group is in the Eastern Mediterranean Sea. The U.S. is also deploying the Terminal High Altitude Area Defense battery and Patriot battalions, both of which can intercept missiles.
Fears of a widening fight in the Middle East have spiked since the missile launch from Iranian-backed Houthis in Yemen that was reported last week.
Pentagon officials had said it was unclear whether a U.S. vessel or Israel was the intended target but Austin, on "This Week," indicated the weapons were targeted toward the U.S.
"When you have cruise missiles heading towards one of our DDGs, one of our destroyers, that vessel is going to do what it needs to do to protect itself," he said.
He said America's deployment of additional assets is another message to "those who would seek to widen this conflict."
"If any group or any country is looking to widen this conflict and take advantage of this very unfortunate situation that we see, our advice is: don't. We maintain the right to defend ourselves, and we won't hesitate to take the appropriate action," Austin said.
He said the U.S. will continue to give Israel the military resources it needs while advising them to follow the laws of war and take steps to protect civilians in Gaza. Palestinian officials say more than 4,600 people have been killed there so far and Israel's campaign against Hamas has been criticized by some as indiscriminate.
Jordan's King Abdullah II, a U.S. ally, this weekend called it "collective punishment of a besieged and helpless people."
Israeli officials have long said they take steps to spare civilians but have acknowledged that because Hamas embeds its militant operations in civilian life — such as firing rockets from civilian locations — Israel will target those places, too.
Austin said Sunday that the U.S. is repeatedly reminding Israel of its obligations under international law and that Israel takes necessary precautions.
"We encourage them at every opportunity … to make sure that we're accounting for those civilians that are in the battle space, that we're providing corridors for them to leave the battle space if necessary, and that they're allowing humanitarian assistance to get into that space as well," Austin said.
Israeli forces are widely expected to soon launch a ground invasion of Gaza, which Hamas controls — which will immediately increase the scale of the war as well as its casualties.
Austin said any military operation to remove Hamas from Gaza would be difficult for Israel given that the territory is densely populated and urban, where combat is "extremely difficult" and "goes at a slow pace," and Hamas utilizes a large network of underground tunnels.
"They have had a long time to prepare for a fight. So I think you'll see a fight that's characterized by a lot of [improvised explosive devices], a lot of booby traps, and just really grinding activity going forward," Austin told Karl.
Pressed about what the broader goal was for Israel after the war, Austin said the solution would have to be systemic — and aimed at broader social and political reforms to resolve the decadeslong enmity between Israelis and Palestinians.
"At the end of the day, Israel wants Hamas to be gone from Gaza. What does it transition to? Left to be defined, but I think that's an issue for the region and for the world to work together on. Hamas is not only just an organization. It's an ideology," Austin said.
"It's an idea. It's a bad idea," he said of Hamas, which governs Gaza. "And the way you defeat a bad idea … is with a better idea. And I do think, going forward, the community needs to work together to address the underlying causes of instability here. And until we do that, then I think we're going to have — continue to have challenges. But I think the Israelis understand that."
Copyright © 2023, ABC Audio. All rights reserved.