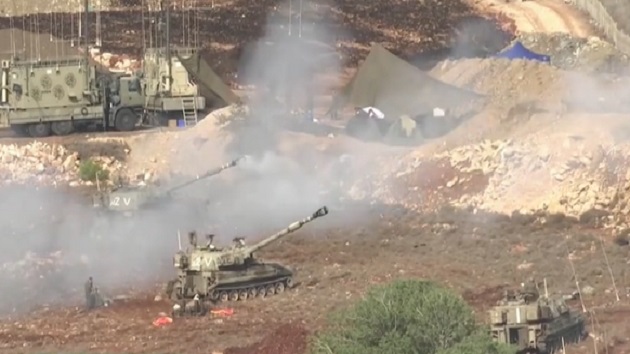 (WASHINGTON) — The Pentagon announced late Saturday that it will send an aircraft carrier and air defense systems to defend U.S. military troops in response to a growing number of attacks on U.S. facilities, presumably by Iranian-backed groups as tensions mount amid the Israel-Hamas conflict.
Additional U.S. military forces in the U.S. have also been placed in a higher state of readiness for a possible future deployment to the Middle East on short notice.
In a major change, the aircraft carrier USS Eisenhower and its strike group of a cruiser and destroyers is being redirected to the Middle East instead of to the eastern Mediterranean where it was supposed to join the USS Ford strike group as an additional deterrent for Iran and Hezbollah from broadening the conflict between Hamas and Israel.
"Following detailed discussions with President Biden on recent escalations by Iran and its proxy forces across the Middle East Region, today I directed a series of additional steps to further strengthen the Department of Defense posture in the region," Defense Secretary Lloyd Austin said in a statement released late Saturday night.
"These steps will bolster regional deterrence efforts, increase force protection for U.S. forces in the region, and assist in the defense of Israel," he added.
Over the last week, there have been a growing number of security incidents involving drone and rocket attacks on U.S. bases in Syria and Iraq that appear to have been carried out by Iranian-backed groups opposed to the U.S. support of Israel in its war against Hamas.
A U.S. citizen working as a contractor at Al Asad airbase in western Iraq died from a cardiac episode during an attack on the base last Wednesday.
In the most visible attack on Thursday, the destroyer USS Carney intercepted four missiles and 15 drones fired from Yemen, by the Iranian-backed Houthi militia that the Pentagon said may have been headed towards targets in Israel.
At the time, the destroyer was located in the central Red Sea and used SM-2 air defense missiles and other capabilities to bring down the Houthi missiles and drones.
Austin is also adding more air defense systems and troops to the Middle East to protect U.S. military forces in the region including a THAAD (Terminal High Altitude Air Defense) missile battery and additional Patriot air defense battalions.
"Finally, I have placed an additional number of forces on prepare to deploy orders as part of prudent contingency planning, to increase their readiness and ability to quickly respond as required," said Austin.
"I will continue to assess our force posture requirements in the region and consider deploying additional capabilities as necessary," he added.
The additional air defense units being sent to the Middle East were likely among the more than 2,000 U.S. military forces that Austin had placed on prepare to deploy orders last week. Those additional personnel were told to be ready to deploy on 24 hours' notice if needed and included units specialized in air defense, security, logistics, medical support, intelligence, surveillance, reconnaissance, transportation, and other capabilities.
Copyright © 2023, ABC Audio. All rights reserved.